Eat yourself slim with healthy snacks - the ultimate snack guide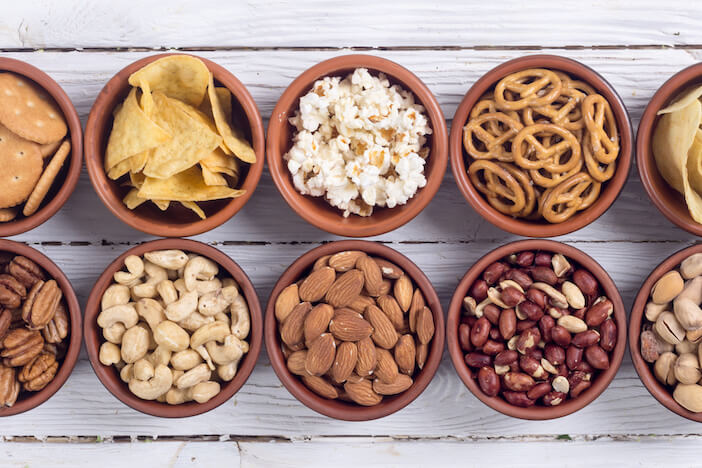 For many people snacking between meals is part of everyday life. Unfortunately though they often resort to unhealthy snacks, which makes it difficult to lose weight.
Want to stick to your nutritional plan, but don't want to give up snacks? No problem! We outline some healthy alternatives to the classic snacks that you can enjoy without a guilty conscience.
Basically it is important to pay attention to the nutritional value of your snack. While high calorie snacks are best avoided, certain other snacks are ok and even support your health.
Snack 1: Chocolate

Give up chocolate? – No, thanks! Many people feel this way, because chocolate is one of the most popular snacks for after lunch or as a treat in the evening. But is all chocolate unhealthy? No, dark chocolate has several advantages over other types of chocolate.
Why is dark chocolate the healthier alternative?
Dark chocolate has better nutritional values than classic milk or white chocolate. However, dark chocolate is also impressive in other health aspects:
Dark chocolate…
keeps you full longer,
protects your arteries,
reduces stress,
strengthens your heart,
and lifts your spirits.
Healthy snacking: comparing chocolate varieties
| Nutritional values per 100g | Milk chocolate | White chocolate | Dark chocolate |
| --- | --- | --- | --- |
| Energy | 541 kcal | 540 kcal | 496 kcal |
| Protein | 7,3g | 5,0g | 7,0g |
| Fats | 33,2g | 30,2g | 32,7g |
| Carbohydrates | 51,8g | 61,9g | 44,0g |
Snack 2: Crisps

The packet of crips has been opened, you have taken your first delicious handful and now you can't stop. Sound familiar? The addictive quality of crisps quickly leads to an excess of calories. Many supermarkets already offer 'light' crisp varieties. However, even in these products there are ingredients hidden in them that can prevent you from losing weight and can have a negative effect on your health. The high salt content in crisps increases the risk of high blood pressure and heart failure. Lower calorie versions of crisps are not necessarily more nutritious, they are still empty calories, i.e. pure energy sources without any nutritional benefit. But what alternatives are there to the standard crisps?
Healthy crisp alternatives - vegetable crisps
Vegetable crisps offer the optimal solution for crisp fans trying to lose weight. They contain much less fat and significantly fewer calories than conventional crisps. In addition, you support your health, because the vegetables provide your body with important plant substances. Many supermarkets sell vegetable crisps, but with a few simple ingredients you can also make them yourself.
Healthy snacks: comparison of crisps
| Nutritional values per 100g | Potatoe crisps | Crackers | Nachos | Courgette Chips |
| --- | --- | --- | --- | --- |
| Energy | 536 kcal | 504 kcal | 306 kcal | 174 kcal |
| Protein | 7,0g | 7,0g | 8,0g | 1,7g |
| Fats | 35,0g | 26,0g | 17,0g | 16,0g |
| Carbohydrates | 53,0g | 61,0g | 32,0g | 1,9g |
Courgette Crisps Recipe
Ingredients:
1 courgette
Olive oil
Mixed herbs
Salt & pepper
Preparation:
Preheat oven to 110°C.
Wash the courgette and cut into thin slices.
Mix the thin slices of courgette in a bowl with a little oil, salt and pepper. You can add whichever herbs you like.
Finally, spread the slices generously on a baking tray and bake for about 60 minutes until they are slightly crispy and brownish in colour.
Snack 3: Wine gums

Wine gums not only make children's hearts beat faster, but also the hearts of many adults. Unfortunately though, eating these types of sweets is likely to prevent you from reaching your nutritional goals. The usual ingredients of wine gums include glucose syrup, sugar and gelatine. Frequent consumption of such sweets increases the risk of diabetes, obesity and similar diet-related diseases. It is difficult to find similar but healthy snack alternatives. However, if you are flexible, it is recommended to snack on fruit instead. Berries in particular are a great alternative because they are much lower in calories and score points for their high vitamin content.
Healthy snacks: comaprison of wine gums and similar
| Nutritional value per 100g | Haribo | Liquorice | Marshmallows | Strawberries |
| --- | --- | --- | --- | --- |
| Energy | 348 kcal | 381 kcal | 333 kcal | 33 kcal |
| Protein | 6,1g | 4,4g | 2,0g | 0,7g |
| Fats | < 1,0g | 0,9g | <1,0g | 0,3g |
| Carbohydrates | 78,6g | 86,7g | 80,0g | 8,0g |
Snack 4: Nuts

"Unhealthy calorie bombs with way too much fat" – fortunately this myth surrounding nuts was dispelled a long time ago. In fact it is precisely due to their high fat content that makes them so healthy when eaten in moderation. Regardless of which nut it is, whether it is a walnut, macadamia nut or peanut – they all contain important vitamins and minerals. As an important supplier of healthy, unsaturated fatty acids, nuts help to lower cholesterol levels and prevent heart disease in old age. A handful of nuts can help to stave off food cravings and the nutrients in nuts help to keep you satisfied for longer.
Which nut is the healthiest variety?
Not all nuts are equal, they differ considerably in terms of their nutritional values. There is also a significant difference between roasted and unroasted nuts, which should not be ignored. The unroasted variety are considerably healthier. Avoid salted nuts, because their high salt content can lead to high blood pressure and water retention.
Healthy snacks: Nuts in comparison
| Nutritional value per 100g | Macadamia | Walnut | Peanut, rosted | Peanut |
| --- | --- | --- | --- | --- |
| Energy | 718 kcal | 654 kcal | 615 kcal | 564 kcal |
| Protein | 8,0g | 15,0g | 26,9g | 26,0g |
| Fats | 76,0g | 65,0g | 52,9g | 48,0g |
| Carbohydrates | 14,0g | 14,0g | 9,3g | 16,0g |
Snack 5: Popcorn
Popcorn: the popular cinema and party snack. Who isn't a fan? Many people think of it is an unhealthy snack, but if prepared correctly, it can be healthy as well as delicious.
The key is to not use any butter, oil or sugar while preparing the popcorn. The numerous fibres in popcorn support digestion and regulate blood sugar level. In addition, the antioxidants protect the body and its cells from dangerous carcinogens and harmful environmental influences. In addition one portion of popcorn covers two thirds of an adult's daily whole grain requirement.
Healthy snacks: a comparison of popcorn
| Nutritional value per 100g | Sweet popcorn | Salted popcorn | Unsalted, unsweetened popcorn |
| --- | --- | --- | --- |
| Energy | 522 kcal | 533 kcal | 347 kcal |
| Protein | 6,2g | 7,5g | 8,5g |
| Fats | 26,3g | 30,5g | 3,8g |
| Carbohydrates | 65,0g | 57,0g | 65,0g |
Healthy popcorn recipe
Ingredients:
75g popping corn
1 tablespoon of oil
15- 20g Xucker (depending on taste)
Preparation:
Put the oil and popping corn into a pot and put the lid on.
On a medium to high heat, let the corn burst open. Shake the pot in between to mix the grains.
Then mix the popcorn with some Xucker according to your taste.
Healthy snack alternatives - conclusion
Healthy snacks can give you valuable energy for the day and can support your health and weight loss efforts. Our Upfit healthy snack alternatives are ideal for everyday life. With some good planning, you won't be tempted by small, unhealthy snacks. Healthy snacking can really be so easy!
Healthy snacks - the checklist
First rule: a snack should not replace an entire meal.
Pay attention to your calorie requirements: even 5 healthy snacks can lead to a calorie surplus – find out your individual calorie requirements.
Pay attention to its nutrients: avoid snacks with excessive salt, sugar and fat.
Fruit and vegetables are always a safe choice: low in calories and rich in vitamins, you will find our strawberry snack in this article.
Support your health: some snacks we think our unhealthy may not actually be so bad, this article should help you to get clued up on what is healthy.
Frequently asked questions and answers
When sudden cravings occur, it is advisable to reach for a healthy alternative. Vegetable crisps will combat the need for something salty whereas a handful of nuts will satisfy your appetite and stabilise your blood sugar levels. If you after something sweet, dark chocolate is a good compromise.
Nuts contain various nutrients and are a valuable source of energy. They are rich in important unsaturated fats and proteins. Nuts also help to prevent heart disease. However, you should refrain from salted and roasted nuts.
Many people consider popcorn an unhealthy snack. However, it depends on how it is prepared. If you prepare your popcorn without sugar, oil and butter, you can eat it without a guilty conscience.