Vegan Meal Plan for Weight Loss
Your Vegan Meal Plan – for your life without animal products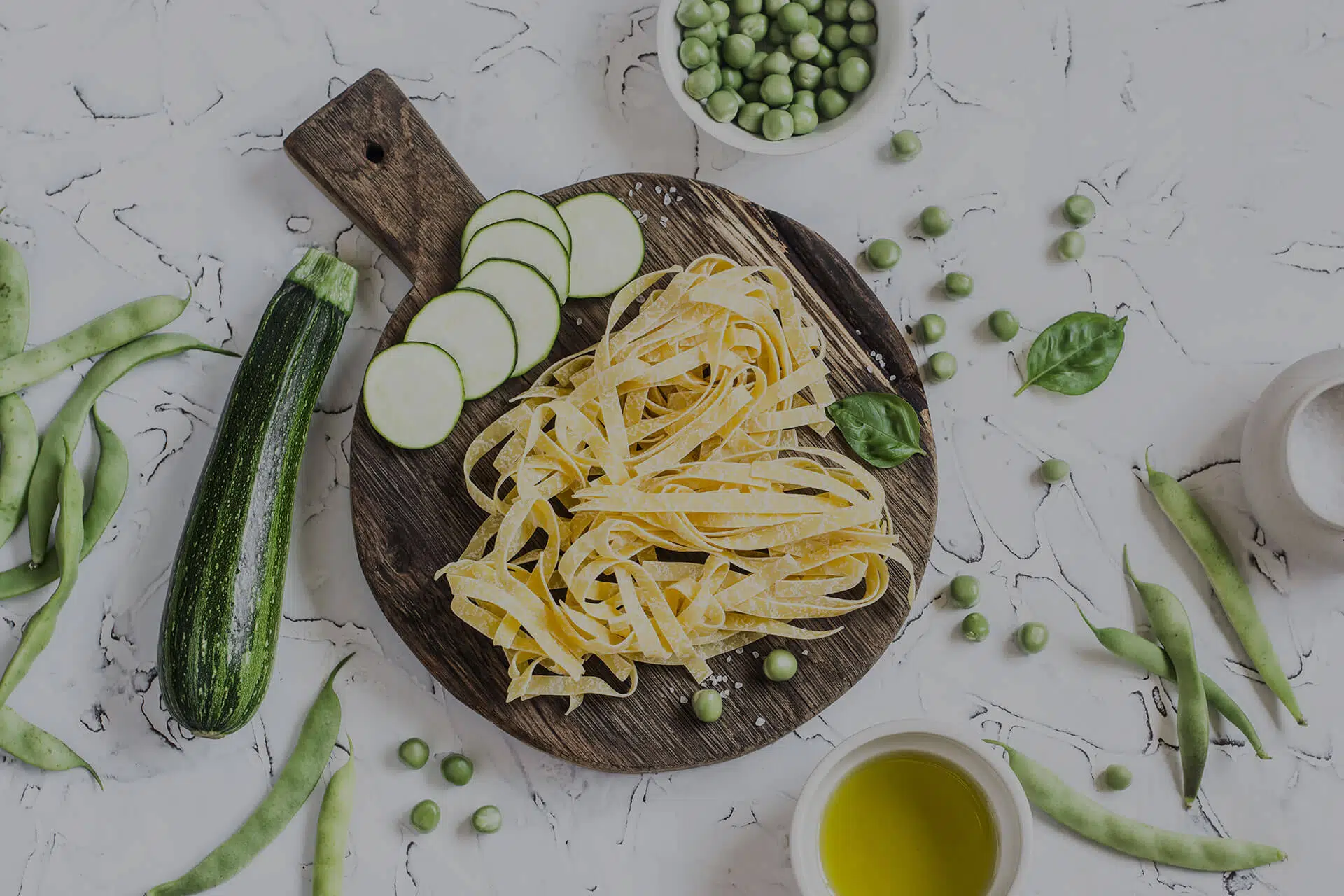 1. What is a vegan diet?
Vegan diets have become very popular. Unlike vegetarian diets, vegan diets dispense with all animal products, not just meat. People's reasons for going vegan are versatile. In addition to animal ethics and environmental protection, the interest in vegan nutrition is often due to its health benefits. Currently around 1 million people in Germany are vegan, i.e. they replace all animal products with plant-based foods. Giving up on meat and dairy products, however, does not limit your quality of life.
On the contrary, the alternative food options are so numerous that your vegan diet plan will surely have many delicious new discoveries for you. It should not pose much difficulty for you to eat a vegan and healthy diet – and to say goodbye to those extra pounds. Your Upfit Nutrition Plan will help you on your way to the desired weight and adapt to your vegan diet 100 percent.
2. The cornerstones of vegan nutrition
"Your vegan diet plan consists of only plant-based foods. Fruits, vegetables, legumes, grains, potatoes, nuts, and seeds provide you with the nutrients you need and enable you to eat a varied and balanced diet. Your vegan diet plan lets you decide for yourself what and how you eat.
Foods that you do not like or tolerate can simply be excluded and will not appear in your meals. With delicious and simple dishes, your vegan diet plan will be your guide to enjoyment. We design your Nutrition Plan to fit your individual needs, schedule, and budget, so that following your vegan diet is as simple as possible. In addition, the vegan diet is also much more balanced than many suspect – learn more about the vegan diet now."
3. Example day in your Vegan Meal Plan
We make it easy for you! With our Nutritional Plans, healthy food is not just child's play, it's also delicious, varied, and above all sustainable.
A personalized Nutrition Plan for Clean Eating helps you take the first step, and every following step along the way to reaching your goal. From the weekly Shopping List for everything you need for your Meals, to exact guidelines on when and how to prepare the delicious and nutritious dishes, to tips for shaping your life around the goal of health, you'll find everything you need. For more details, see example in the picture above or look at other examples from the Plan here.
By the way: Did you know that over 90% of the Upfit recipes can be prepared in under 20 minutes?
4. How does a Vegan Meal Plan for Weight Loss work?
Your Vegan Nutrition Plan combines your personal weight (with our BMI Calculator you can easily calculate your optimal weight) with the optimal composition of all the important micro and macronutrients. So we break down all the food and look not only at calories, but also at carbohydrates, proteins, fats, fiber, vitamins, as well as biotin, folic acid, niacin, minerals, trace elements, and amino acids. The result is a scientifically optimized Vegan Nutrition Plan that meets your needs and minimizes excess. We ensure that you always feel fit and full of vitality, do not suffer from hunger and fatigue, and make real progress to reaching your goal weight. Start now and see for yourself what successful, healthy weight loss looks like!
5. Who is a Vegan Meal Plan perfect for?
Have you decided to quit eating animal products? Whether you're a long time vegan or a complete newbie, a Vegan Meal Plan offers you plenty of new recipes. Whether you're making a total lifestyle change, or just want to lose weight, our balanced Vegan Nutrition Plans will open the door to new inspiration and your dream self. A vegan diet plan is also suitable for working people. Many vegan lunch dishes don't even have to be cooked, which further simplifies following your vegan diet. Just make yourself familiar with some of our recipes. For example, you can check out our Low Carb Recipes for Weight Loss here.
6. Customer Feedback for Upfit

Philippe U.

"Great plans, great service, perfect advice! Thank you! can only recommend further." [translated]

Tine S.

"I lost 20 kg in 12 weeks. Plans are easy and inexpensive to buy …" [translated]

Anna Y.

"In 8 weeks I was able to lose 5 kg and not once did I have the feeling that I was on a diet." [translated]

Philipp W.

"Individual, practical, and inexpensive. Especially considering how much is included in your Plan." [translated]