Eat a cheap and healthy diet for just 5 pounds a day - it's that easy!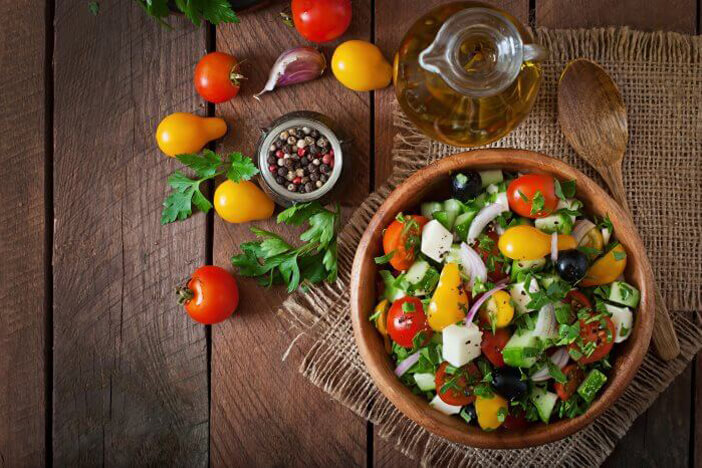 No matter whether you're on a tight budget, you're a student, it's coming to the end of the month or you're simply trying to cut down your food bill: when it comes to saving money, everyone likes to listen. We often turn to cheaper convenience products because we believe that cooking fresh and healthy food from scratch is more expensive. This article will convince you that the opposite is true. With a budget of just 5 pounds we took on the challenge of putting together 3 delicious meals for one day. At the same time, of course, these should be healthy, varied and delicious! Cheap, healthy food does not necessarily have to be difficult.
Eat healthily on just 5 pounds a day
We all get a buzz from making a saving and the same applies to our food bill. But should one really save on healthy food? In cities, the option "to take away" is on the rise. Whether it's a snack bar or a café, anyone who is hungry and short on time will find a solution. The inevitable question then arises: why should I spend 5 pounds on a smoothie when I can get a burger and fries for 4 pounds over the road?
Find out here how you can eat healthy and cheap food on the go.

3 meals for 5 pounds a day is impossible, right? Wrong! Here we show you how it can be done with three delicious meals (prices of the ingredients included). These meals can be easily adapted to meet your personal preferences.
Three healthy and balanced meals for under 5 pounds

The following recipes are all cheap, healthy and quick to prepare. They can be easily adapted, so there is a little variety on your plate every day.
Breakfast: Low-fat quark with fruit and oat flakes
A healthy breakfast gives you energy for the whole day. Don't be put off by frozen products. Of course there are exceptions, but as a rule, frozen fruit is of high quality and can be stored much more easily than fresh fruit.
| INGREDIENTS | Price |
| --- | --- |
| 250g low-fat quark | 34p |
| 50 g frozen berries | 26p |
| 50 g oat flakes | 4p |
| Total | 64 Euro |
Preparation breakfast
Defrost the frozen berries in the refrigerator overnight. The next morning, mix the low-fat quark with the berries and oat flakes. Of course you can also use any other kind of fruit or berries. This provides variety every day!
Lunch: Wholemeal spaghetti with fresh spinach
Pasta is a staple food in many cultures. The Italian cuisine for instance is hardly imaginable without the many types of pasta. Just like the potato, pasta is a real all-rounder!
| Ingredients | Price |
| --- | --- |
| 100 g organic wholemeal spaghetti | 20p |
| 250 g frozen spinach | 85p |
| 1 onion | 18p |
| 1 garlic clove | 5p |
| 50 g herb cream cheese | 17p |
| Total | £1.45 |
Preparation lunch
Cook the pasta in salted water al dente. In the meantime, heat the oil in a pot or frying pan, chop up the onion and fry it until transparent. Then add the packet of spinach and the chopped garlic. Once the spinach has defrosted, mix in the herb cream cheese. Season a little and let it simmer. Stir frequently so that nothing burns. Then put the pasta on a plate, spread the spinach sauce over it, et voilà!
Dinner: Vegetable omelette
Omelettes offer an ideal protein base. The vegetables used can be varied to your heart's content. And it is also quick to prepare!
| Ingredients | Price |
| --- | --- |
| 3 free-range eggs | 51p |
| 1 garlic clove | 5p |
| 1 tomato | 20p |
| 1 onion | 18p |
| 1 red pepper | 60p |
| 1 small courgette | 35p |
| 50 g Gouda | 22p |
| Total | £2.11 |
preparation dinner
Peel the vegetables and chop them as desired. Fry the onion and garlic in some butter, or oil, until transparent. Add the pepper, courgette and tomato, season and let it stew until the vegetables are soft. Break the eggs and mix. Then place them on the vegetables, season and let them fry on medium heat. Now and then, prick with a spoon so that the liquid egg touches the bottom of the pan. Fry only one side. Grate the cheese on top and close it so that a half moon is formed. Bon appetit!
Total bill of all prices
| Meal | Price |
| --- | --- |
| Breakfast | 64p |
| Lunch | £1.45 |
| Dinner | £2.11 |
| Total | £4.20 |
For just £4.20 you can cook 3 delicious meals, which are also healthy and satisfying. Note that the basic ingredients such as oil and spices are missing from these calculations. This is because they are usually to be found in most kitchens and can be covered by the remaining 80p.
Please note: if you march straight into the supermarket with this shopping list in your hand, you will quickly find yourself exceeding 5 pounds. This is because the prices listed are for one portion, whereas you will need to buy an entire packet of spaghetti or oats. However, those who shop smart and cook regularly will use the remaining ingredients another time and will seldom have leftovers.
Tips & Tricks: Food

There are a few foods that are particularly suitable for a healthy and inexpensive diet. Even though some of these may sound boring, a few tricks can turn them into a culinary highlight which also provide you with important nutrients. (Tip: you can easily determine your optimal nutrient requirement with our BMI calculator).
1. Oats: 8p per 100 g
With all the muesli and granola variations out there, the classic oatmeal is often forgotten about! With an unbeatable price of 40p for 500 grams, the humble oat offers many health benefits. Oats are a first-class supplier of carbohydrates. Oatmeal will give you strength for the day and is a good alternative to the heavily sweetened, processed muesli. But that's not all: oats also contain a lot of protein and fibre. Good for digestion and for your purse strings!
Luxury version: add low-fat quark and bananas for a super fitness breakfast! If you have a sweet tooth, add a little cocoa powder.
2. Cottage cheese: 30p per 100 g
Some love it, some hate it. But there are plenty of reasons to give cottage cheese a chance. Whether eaten pure as a snack or spread on bread, at less than 100 kcal per 100g it is a lighter alternative to cream cheese, which contains on average 5 times as much fat. It is also a pure protein bomb. Ideal for muscle building or as a quick snack.
Luxury version: add honey for a sweet version or salt and pepper for a herby treat. There are no limits to your fantasy!
3. Potatoes: 60p per 1 kg
Okay, not exactly an insider tip, yet often underestimated. Potatoes are often feared in a low carb diet but shouldn't be, as long as you are mindful of quantity. They are an ideal side dish, contain a lot of potassium and are cheap. Cooked in the oven with rosemary, fried in the pan, mashed or simply boiled, its variety alone gives the potato its place on this list. By the way, it is a widespread misconception that eating carbohydrates in the evening makes you fat!
Luxury variant: sweet potatoes are a little more expensive than white potatoes, but have a completely unique flavour. They are also tasty when mixed with other ingredients!
General tips for a cheap yet healthy diet

Cheap healthy food vs. fast food
A few foods are perfect for a healthy and inexpensive diet. Even though some may sound boring, a few tricks can turn them into a culinary highlight.
1. The weekly farmer's market
Weekly markets offer plenty of fresh, unprocessed local produce. This can often be rather pricey. However, just before the end of the day, many traders often sell their goods at very low prices. Large quantities of fruit will often be sold at lower prices than at the supermarket. With a little savvy you can save a lot of money here. Even if you end up not buying anything, weekly markets have a unique charm, so you never really go away empty handed.
2. Create a plan and make a shopping list
Sometimes you have to trick yourself a little: if you go shopping spontaneously every day (especially when you are hungry), you run the risk of buying superfluous food. Fixed shopping lists not only save you time in the shop, but are also a mental support. Those who study the weekly offers at home before save even more.
3. Batch cooking
Often, if we cook something in large quantities it not only tastes better, but it also saves a lot of time! You can cook ahead for the next few days and then simply heat the meal up when you want it. Alternatively, you can freeze individual portions. This works especially well with stews. There is also less leftover food, which brings us on to the next point.
4. Recycling leftovers
According to the Society for Consumer Research, we throw away almost 50 kg of food per person each year! This is not only a moral problem, but also a huge waste of money. This doesn't mean you have to throw all your leftovers from the week into a stew at the weekend, but rather it is important to have an idea of what you are going to do with all the food you buy. A little tip: there are various culinary websites that suggest delicious recipes for using up your leftovers
Cooking healthily on 5 pounds a day- Conclusion
Reaching for fast food can be the simpler and cheaper option. But junk food usually only fills you up short term and in the long run we pay for it with something that money cannot buy: our health. Occasional unhealthy food is part of life, but the advantages of a healthy diet far outweigh the disadvantages. Many people don't have the time or desire to search endlessly for healthy recipes. So how would you like it if someone suggested recipes to you every day that are not only quick to prepare but also healthy? Create an individual nutrition plan and try it out!