Alcohol and weight loss? The (sober) truth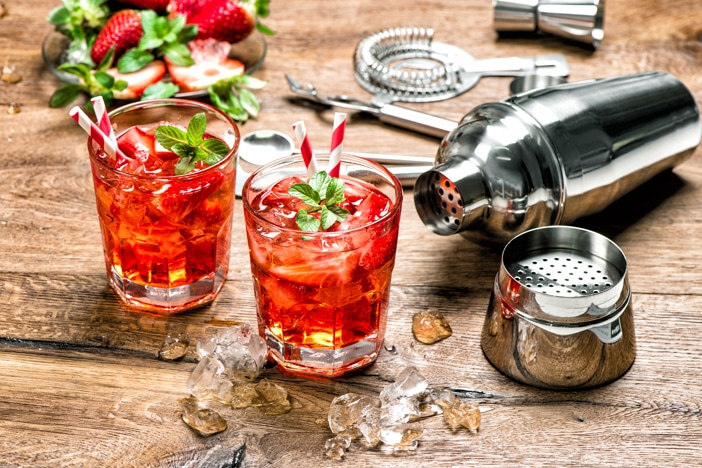 What can you do against the dreaded hangover?

You usually experience the first symptoms of a hangover as soon as you wake up. What causes a hangover and what helps against the resulting nausea and headaches? We explain that here.
When you are under the influence of alcohol, you lose more water than you take in. This causes the body to become dehydrated and is one of the causes of those dreadful headaches. The first solution to those terrible headaches is therefore to drink lots of water. Ideally, you should drink water during the party, to normalise your water levels. Still, water is best. If the alcohol is already in your system, there are two ways to get it out of your body:
Through sweating
Through your bladder
This means that moderate exercise, as well as drinking plenty of fluid, can help remove alcohol from the body quicker.
Alcohol Myths
There are a lot of myths surrounding alcohol. We will debunk a few of them here.
1. Mixing your drinks - does this get you drunk quicker?
"Wine before beer makes you feel queer, but beer before wine and you'll be fine."
Everyone has heard this saying. But is there any truth behind it?
Unfortunately not. It makes no difference whether you drink your beer before your wine or vice versa. It is far more dependant on the quantity. The quantity is key!
The reason that mixing your drinks often gets blamed for your hangover is that that if you keep switching drinks, you often end up drinking more than you would have if you had stuck to the same drink the whole night. Drinking the same drink over and over gets boring for your taste buds so you automatically drink less.
Summary: It is irrelevant which order you drink your alcoholic drinks in. It's the quantity that matters. If you want to lose weight you should reduce your alcohol consumption, because it just contains unnecessary calories! If however, you do decide to throw caution to the wind, we have some helpful tips for making your hangover less severe.
2. A schnapps after dinner aids digestion
Who hasn't heard that? At the end of a meal in a restaurant, we are often offered a "digestif". Does it really help alleviate that full feeling?
Unfortunately not! Despite many people claiming this, it's simply not true. In fact the opposite is true. Alcohol actually leads to worse digestion. It paralyzes the muscles in the stomach walls, which slows down the stomach action and the food stays in the stomach longer.
""The more alcohol you drink after eating, the slower your digestion becomes""
You should stick to tea and water after a meal, they do boost digestion!
3. Why is it that women often tolerate less alcohol than men?
The answer is quite simple. Women have fewer enzymes that are responsible for the breakdown of alcohol than men. Consequently, alcohol remains in their bloodstream longer and it takes longer before it is completely broken down. Furthermore, women have proportionally less body water and more fat than do men of the same body weights. Because alcohol is dispersed in body water (body fat does not absorb alcohol), a woman's blood alcohol concentration will be higher than a man's who has drunk the same amount of alcohol.
Hence women get drunk quicker.
You want to lose weight with alcohol? Then stick to these rules!

Before you throw all of your good intentions out of the window due to frustration – there is a small consolation: as is so often the case – quantity matters. You can continue to drink a moderate amount of alcohol if you stick to the following five rules:
Plan a minimum of one hour movement for the day following the alcohol consumption. That helps break down the alcohol, stimulates circulation and burns excess calories from the prior evening.
On days when you drink alcohol, you should reduce your fat and carbohydrate intake. You can find ideas for low carb recipes for weight loss here. Lean protein sources and lots of vegetables should dictate your menu. This way you save calories and don't give your body any materials which it can quickly store in the fat tissues. However, be aware not to drink alcohol on an empty stomach as it will get into your bloodstream even quicker.
If you are drinking alcohol then don't mix it with sugary juices, sodas, syrups or cream. A glass of wine or a beer isn't the end of the world as long as it doesn't become a daily ritual. In addition, sugar and carbonated drinks accelerate the absorption of alcohol.
It is important that you drink enough water whilst you are consuming alcohol. Drink a large glass of water before you go to bed and a little more than usual the next day. This prevents dehydration and helps your body to detoxify quicker. Furthermore, it reduces the risk of headaches which are often associated with alcohol consumption.
Someone who is trying to lose weight should not drink alcohol more than once a week. Of course you shouldn't go overboard. Depending on alcohol content, you should limit yourself to one glass of wine (0,2l) or one to two beers.
Summary

All that being said, we'd like to reiterate that alcohol is bad for weight loss. Sure one glass now and then is ok, but this should be the exception rather than the rule. If you do decide to drink alcohol, be sure to follow these 5 tips so that you don't completely sabotage your weight loss efforts. And be aware that it will take longer to reach your goal with alcohol than without it. It's your choice!
Sources
Singer und Teyssen (2005). Alkohol und Alkoholfolgekrankheiten. Grundlagen – Diagnostik – Therapie (Hrsg.: Singer MV, Teyssen S)
Massey University (New Zealand) – Sportspeople warned: alcohol will affect performance