Courgette pasta - A low carb diet recipe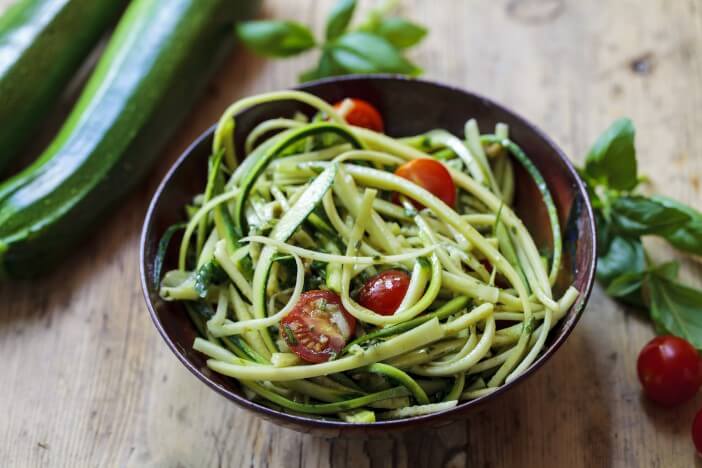 Loose weight with low carb
This tasty and healthy courgette pasta takes just 15 minutes to make and will help you lose weight healthily.
You will need these ingredients for this diet meal:
1 courgette
2 tomatoes
3 tbsps tomato puree
1 tsp cream cheese
1 tsp olive oil
A pinch of salt
A pinch of parsley
A pinch of black pepper
2 tablespoons of water
Instructions:
Peel the courgette and use a peeler or spiralizer to cut it into thin spaghetti-like strips.
Fry the courgette strips in the olive oil.
Meanwhile, cut the tomatoes up small and add them to the courgette strips. Then add 2 tablespoons of mineral water.
Add the tomato puree and cream cheese. Finally add the herbs and season with salt and pepper to taste.
Allow the courgette pasta to simmer for a few minutes before serving. Bon appetite!
Delicious recipes in your diet plan — designed for losing weight
Do you want to lose weight in a healthy way and keep it off long-term? A diet plan from Upfit will help you on the way to your desired weight. All your needs will be taken into account when drawing up your nutrition plan. Whether you're a meat-eater or a vegetarian, you can create your own tailor-made nutrition plan in just a few minutes. In addition to food intolerances or allergies, the plan also takes into account any foods you don't like and specifically addresses your needs.