5 Low Carb TV Snacks - Eat well without gaining weight
Author:
Lynn Erdmann (B.Sc. Nutritional Science)
· Proofread:  · Updated: · 2 min read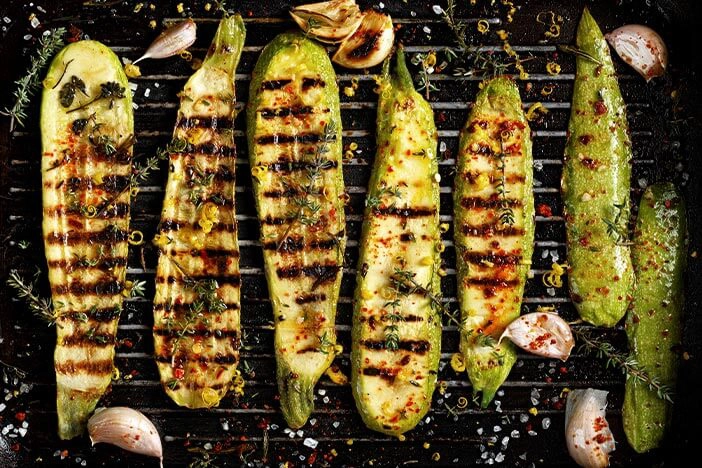 As the weather keeps getting warmer, between getting an ice cream on your lunch breaks and going to barbeques in the evenings, your motivation to eat well and keep exercising can wane. Our tips for healthy eating on the road will help you maintain your summer body even when out and about. Huge summer sporting events, in particular, will put your discipline to the test. For those who don't want to sabotage their weight loss success with unhealthy nibbles in front of the TV, we have have some delicious and healthy low carb snacks for you to enjoy while you're cheering along your team.
1. Carrot Chips
4 carrots
5 tsp grated parmesan
1 tsp olive oil
1 pinch garlic powder
1 pinch salt and pepper
Cut the carrots lengthways into 'chips'. Mix with oil, parmesan, garlic powder, salt and pepper. Spread on a baking tray lined with baking parchment and cook in the oven for about 15 minutes. For a low carb dip use 2 tbsp natural yoghurt mit 1 tbsp lemon juice, garlic powder, salt and pepper.
2. Courgette Crisps
1/2 courgette
1 tsp olive oil
1/2 tsp paprika powder
1 pinch salt and pepper
Preheat oven to 230°. Cut the courgette into slices (as thin as possible) and mix with the other ingredients. Cook in oven for 25 minutes and serve your low carb snack. 
3. Strawberry Praline
10 strawberries
75g greek yoghurt
1/2 tsp honey
15g hazelnuts (grated)
Add the honey to the yoghurt and mix. Dip the strawberries into the yoghurt and then into the grated hazelnuts to coat them. Next, put the strawberries in a bowl in the freezer for an hour. Finally, enjoy your low carb pralines. 
4. Brussel Sprout Crisps
10 brussel sprouts
1 tbsp olive oil
1/2 tbsp balsamic vinegar
1 pinch salt and pepper
Use a knife to cut off some of the lower part of the brussel sprouts and remove the leaves. In a bowl, mix the leaves with the oil and balsamic vinegar. Spread them out on a baking tray lined with baking parchment and sprinkle with salt and pepper. Cook in the oven for 7 to 10 minutes or until the leaves are crisp and slightly brown. Now enjoy your low carb snack.
5. Sweet Potato Wedges
2 sweet potatoes
1 tsp olive oil
1 tsp paprika
1/4 tsp onion and garlic powder
1/4 tsp thyme and rosemary
1 pinch of chilli powder, salt and pepper
Preheat oven to 190°. Mix the spices in a bowl. Cut the sweet potatoes into wedges and brush with oil. Next, mix with the spices and spread out on a baking tray lined with baking parchment. Cook your low carb snack for about 45 minutes.
Lose weight with your own individual nutrition plan
Do you want to lose weight for the long term and in a healthy way? Then a nutrition plan from upfit.de will help you on the road to your dream weight. All your needs will be taken into account when creating your meal plan. Whether you are a meat eater, vegetarian or vegan – in just a few minutes you can create your tailor-made meal plan. In addition to food intolerances or allergies, we also take into account the foods that you don't like and specifically address your needs.