Vegan scrambled eggs - A vegan diet recipe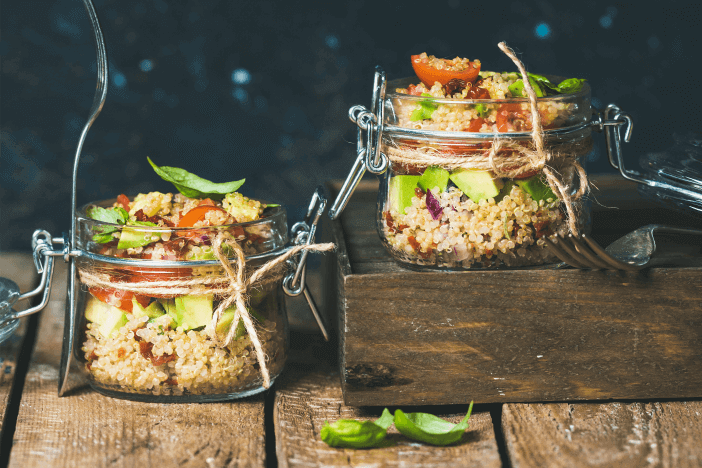 Intro
Who says vegans have to give up scrambled eggs? The vegan scrambled egg is a vegan alternative to the chicken egg. It is an extremely tasty and satisfying diet recipe.
You will need these ingredients for your vegan scrambled eggs:
¼ onion
65g tofu
¼ sweet pepper
30g mushrooms
1 pinch of salt
1 pinch of black pepper
2 pinches of curry powder
½ tsp sunflower oil
1 slice of bread (wholemeal)
Method:
Heat half of the sunflower oil in a pan.
Crumble the tofu into the pan by hand, ensuring the pieces are not too small.
Fry the tofu until it is golden yellow.
Meanwhile, chop the pepper, mushrooms and onion.
Season the tofu with a little curry powder so that it takes on the colour of scrambled eggs.
Add the chopped vegetables to the pan and fry them together with the tofu.
Add a little more salt and pepper to taste and mix in the herbs. Serve the vegan scrambled egg on a slice of toasted wolemeal bread.
Enjoy!
Delicious recipes in your diet plan — designed for losing weight
Do you want to lose weight in a healthy way and keep it off long-term? A diet plan from Upfit will help you on the way to your desired weight. All your needs will be taken into account when drawing up your nutrition plan. Whether you're a meat-eater or a vegetarian, you can create your own tailor-made nutrition plan in just a few minutes. In addition to food intolerances or allergies, the plan also takes into account any foods you don't like and specifically addresses your needs.