The pumpkin - the autumn all rounder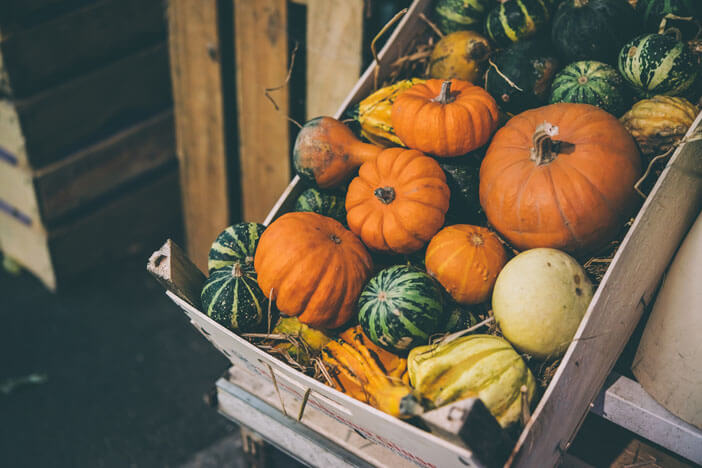 The pumpkin is packed with nutrients and is a versatile vegetable that should not just be used as a decoration at Halloween. Thanks to its many vital nutrients and high content of dietary fibre, it is a real superfood. As well as helping against inflammation, depression and parasitic infections, it is also a great addition to a weight loss diet.
Pumpkin - micronutrients, nutritional values etc.

In season: September – November
The pumpkin belongs to the family of berry fruits so is related to the melon, for example. According to botanical definition, the pumpkin is actually a fruit and not a vegetable, but is often regarded as a vegetable because of its lack of sweetness. The size of the fruit can vary, from the size of a fist to over a meter in diameter.
Fun fact: the largest measured pumpkin in 2019 weighed 1,190.5 kg and was grown in Belgium.
Nutritional values (per 100g)
Calories: 25 kcal
Protein: 1 g
Carbohydrates: 4.6 g
of which sugar: 3.6 g
fat: 0.1 g
dietary fibre: 2.2 g
Different varieties of pumpkin
Orange pumpkin, or the "Halloween pumpkin" (100g):
104 kJ / 25 kcal
1.1 grams protein | 0.1 grams fat | 5.5 grams carbohydrates
1.2 grams of fibre | 12mg vitamin C | 92% water content
Hokkaido pumpkin (100 g)
264 kJ / 63 kcal
1.7 grams protein | 0.6 grams fat | 12.6 grams carbohydrates
2.2 grams of fibre | 30mg vitamin C | 80% water content
Butternut squash (100 g)
149kJ / 38kcal
1.1 grams protein | 0.1 grams fat | 8.3 grams carbohydrates
1.6 grams of fibre | 21mg vitamin C | 93% water content
Origin
The pumpkin originated in Central and South America. The Europeans brought the pumpkin back to Europe after settling in Amercia and it has been on our menus here ever since.
Purchase and storage
As with melons, it can be tricky to know how to pick out a good, ripe pumpkin. Here are some tips that guarantee you will pick a good one:
Knock your fist against the pumpkin: a hollow noise indicates that the pumpkin is ripe
Squeeze the pumpkin slightly: if it gives a little then it's ripe. But be careful, it should not be too soft
If the stalk base is dry and woody, the pumpkin is ripe
Once you've got the pumpkin back home, you should pay attention to the following upon storing it:
Store the pumpkin in a dark, dry but cool place (about 10-15 degrees celcius). There it will keep for up to 6 months.
"Opened" pumpkins can be kept for up to a week in the refrigerator.
Raw or cooked pumpkin (e.g. in the form of soup) can be frozen.
How healthy are pumpkins?

Pumpkins are extremely healthy due to their wealth of vital nutrients. They contain the following ingredients that will help your body:
High in beta-carotene: gives the pumpkin its characteristic orange/red colour. Beta-carotene helps the retina to absorb light (so is good for the eyes) and is converted into vitamin A in the body as needed.
Rich in potassium: counteracts high blood pressure.Excellent source of fibre: helps digestion and balances blood sugar levels.
Contains vitamins A, C and E: strengthen the immune system.
Folic acid: supports metabolic and growth processes.
Magnesium and iron: regulate fluid balance in your body.Silicic acid: strengthens hair and nail structures.
Antioxidants: bind to free radicals and improve appearance of skin.
On top of this, pumpkins contain hardly any fat, making them the perfect addition to your diet.
The pumpkin is therefore a real superfood and is also suitable for a digestion-friendly bland diet and even babies because it is so easy to digest.
How to prepare pumpkin

The pumpkin is as versatile as it is healthy! Here we give you some ideas and tips on how to prepare pumpkin in a variety of ways so that you can enjoy pumpkins all autumn long without getting bored of them:
The classic: pumpkin soup! Most commonly made with the Hokkaido Pumpkin, but possible with any type of pumpkin. Add potatoes, carrots or ginger for variation.
Roasted as wedges: cut the pumpkin into wedges (the Hokkaido Pumpkin can be eaten with its skin on, otherwise it's best to remove the hard skin first) and brush with oil and spices then roast in the oven. This makes a super filling, healthy and low calorie side dish. You can find out here which spices even help you to lose weight.
Puree it: boil the pumpkin and then mash it until it becomes an uniform puree. This is also a great side dish.
In a salad: fried, roasted or boiled cubes or slices are the perfect addition to an autumnal salad.
Pumpkin seeds: true to the motto "waste not, want not", you can also use the seeds of the pumpkin! Simply wash and dry them and then use them as a topping on salads, soups or as a snack.
Pumpkins and a vegan diet
It's clear that the pumpkin is suitable for a vegan diet, it is after all a vegetable, isn't it? Well, strictly speaking, the pumpkin is a berry, because like a fruit, it develops from a pollinated blossom – in fact it is the largest berry fruit known to us. But taking a step back – the pumpkin grows annually and is cultivated on the ground and from this perspective is more of a vegetable. Either way the pumpkin is suitable for vegans.
The flesh of the pumpkin is not only particularly tasty, but also contains a high proportion of antioxidant beta-carotene, which acts as a defence against free radicals and thus has an anti-inflammatory effect. In addition, its immune-strengthening effect also lowers the risk of chronic diseases. Great for vegans and non-vegans alike.
Pumpkin in a low carb diet - is that possible?
How many carbohydrates you should eat per day depends on your objectives when following a low carb diet. A healthy, sustainable value lies between 120-160 grams per day, depending on body mass and activity level. If the low carb diet is to help you lose weight, then the average should be between 60-110 grams. That doesn't sound like much, but do you know how much pumpkin you could eat for that? Of course it depends a bit on the variety, see above for the three most popular types of pumpkins and their nutritional values.
In order to reach your carbohdrate limit in a low carb diet, you would need to eat several 100 grams of pumpkin, making it a wonderful addition to this type of diet.
Tip: pumpkin seeds are a perfect snack for a low carb diet:
Pumpkin seeds (100g):
2,364 kJ / 565 kcal
24.3 grams of protein
45.6 grams of fat
2.3 grams of carbohydrates
Dietary fibre: 8.7 grams
Paleo nutrition plan with great pumpkin recipes
In the Paleo diet, or rather with the Paleo method, a low carbohydrate intake is not a specific goal, but rather a natural side effect. This is why this diet is often confused with a low-carb diet. In fact, the Paleo diet plan of an athlete, for example, can be full of carbohydrate-rich vegetables.Over the years, different variations of the Paleo diet have developed, but the core statement of Dr. Loren Cordain remains the same, that with Paleo "[…] we not only lose weight, but also restore our health and well-being."
The pumpkin therefore belongs in your Paleo diet. Here we have a delicious and light stuffed pumpkin recipe for you, suitable for a Paleo diet but delcious for anyone:
You will need these ingredients for your stuffed pumpkin:
1 small Hokkaido Pumpkin
200 g minced meat
½ Onion
1 garlic clove
1 carrot
100g spinach
60 g cashew nuts
50ml vegetable broth
1 egg
1 tbsp coconut oil
1 tsp curry powder
1 tsp. cumin
½ chill
1 handful of parsley
A pinch of salt, pepper, paprika powder
This is how to prepare the dish:
Preheat the oven to 180 degrees. Wash the pumpkin, cut off the top and remove the seeds. Remove the pumpkin flesh leaving a thin, even edge. Put the hollowed-out pumpkin in the oven for 30 minutes. Cut the pumpkin flesh into small cubes. Finely chop the onion and garlic. Peel the carrot and cut into small cubes. Coarsely chop the cashew nuts. Heat some coconut oil in a pan. Add the onion and garlic and fry briefly. Add the minced meat and fry. Add the pumpkin flesh, carrot and the spices and steam everything together over a medium heat for about 5 minutes. Add the spinach and the cashew nuts and continue steaming for another 3 minutes. Whisk the egg with the vegetable stock and season with salt, pepper and chopped parsley. Take out the pumpkin, fill it with the minced meat, vegetables and pour in the vegetable stock. Put the pumpkin 'lid' back on it and bake for 15 minutes. Bon appetite!
After pumpkin season comes Christmas
The pumpkin season is over and you are looking for new, delicious recipes for the Christmas season? Our healthy Christmas snacks will help you to pursue your goals and stay fit during the Christmas season. Achieve results, with 100% enjoyment and 0% deprivation.