Lactose intolerance - how to get through life symptom-free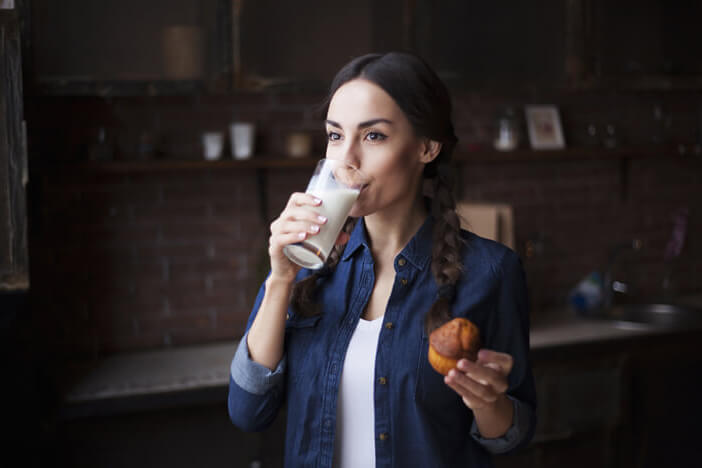 What is lactose?
Lactose is the natural sugar in milk. It is a double sugar, i.e. it consists of two sugars: glucose and galactose.
Lactose cannot be absorbed (ingested) by the body in its compound form and is therefore firstly broken down into glucose and galactose in the intestine. This happens through the enzyme lactase, which is present in the small intestine.
People without the enzyme lactase are considered lactose intolerant.
Where does lactose intolerance come from?

As infants, humans are able to produce enough lactase to properly process the lactose in breast milk.
After an infant stops breastfeeding, lactase production in their body decreases. The body can no longer process as much lactose as it did when breastfeeding.
This does not cause a problem for around 80% of the people in the UK. But there are also many people whose lactase production is so low that they can hardly process any lactose, if at all.
The result is what we call lactose intolerance. The lactose reaches the large intestine untreated, where it is finally broken down by bacteria through a "fermentation process".
(Tip: Learn more about human digestion in our coach article)
Which countries are lactose intolerant?
In a global comparison, lactose intolerance increases from north to south.
The difference is evolution: milk and dairy products have been a staple for northern Europeans for thousands of years. The bodies of Northern Europeans have become accustomed to consuming lactose and as a result keeps producing the enzyme lactase. The ability to process lactose thus emerged as an evolutionary advantage.
| North | South |
| --- | --- |
| Europe, North Asia, North America | Africa, Asia, South America |
| 5-20% of the population is lactose intolerant | 95-98% of the population is lactose intolerant |
How much lactose can you tolerate?
Without lactose intolerance: an average of 20-30g lactose / day
"Conventional" lactose intolerance: 8-10g lactose / day
Severe lactose intolerance: 5g lactose / day
When processing lactose, everyone has a different tolerance limit. Even people with lactose intolerance can often tolerate small amounts of lactose. Others, however, have to cut out dairy products completely.
Typical lactose intolerance symptoms
Flatulence – The gases that are produced escape as farts
Diarrhoea – The lactose in the intestine binds with water, which can lead to diarrhoea
Pressure discomfort in the intestinal area – The resulting gases inflate the large intestine and press heavily on the intestine
Nausea
Vomiting
General complaints – e.g. Dizziness, tiredness, headaches
Diagnosing lactose intolerance

The safest and most direct way to diagnose a lactose intolerance is to see a doctor. There are a few ways in which a lactose intolerance can be identified. We will introduce you to the two most common procedures:
Hydrogen breath test (H2 test)
A breath test with a before / after test is carried out.
First, a breath sample is taken on an empty stomach (after 12 hours of fasting).
The patient then drinks a lactose solution.
Breath samples are now taken every 10-30 minutes.
If the patient cannot process lactose, the lactose is broken down in the large intestine. Among other things, hydrogen (H2) is produced. Some of the hydrogen is passed on to the lungs via the bloodstream and exhaled from there.
If the hydrogen content in the breath sample is higher than in the test sample before, it is often concluded that there is lactose intolerance.
Lactose tolerance test
In this test procedure, the patient is also given a lactose solution. After a while, blood is taken and is checked for a change in the blood sugar level.
If you are lactose intolerant, the blood sugar level does not change because the lactose has not been processed and the glucose does not get into the blood. Note, this test is very inaccurate with diabetics.
Treatment options for lactose intolerance

Lactose-free / low-lactose diet
First of all, it is important to avoid lactose. Those who do not consume any or only small amounts of lactose will not have any symptoms. With a lactose-free diet, it is extremely important to know which products are safe to consume.
Lactase supplements
If you don't want to cut out dairy products completely, you can ask about lactase supplements at your pharmacy. These are industrially manufactured lactase tablets or powders that are supposed to help your body process the lactose.
Important: Before taking these supplements, you should speak to your doctor or pharmacist. In addition, you should not see the lactase supplements as a substitute for a lactose-free or low-lactose diet.
Lactose intolerance due to diseases?
Another form of lactose intolerance is a secondary lactose intolerance. This is usually caused by a previous illness of the intestine. In such cases, the intestine is damaged by the original disease and is no longer able to function as it should.
Among other things, the enzyme activity is reduced. The important enzyme lactase is produced in smaller quantities and the lactose can no longer be processed.
Secondary intolerance can often indicate intestinal diseases or inflammation (such as Crohn's disease). Once the main reason has been found and treated, the lactose intolerance will usually improve.
The cause of secondary lactose intolerance is usually other bowel diseases.
Products with lactose

Since lactose is the natural sugar found in milk, it is therefore present in almost all dairy products. You should even be careful with products that have been processed in the same factory as milk.
What can I eat if I am lactose intolerant?
You may not have to give up dairy products completely! Due to their processing, some products contain little or no lactose.
Milk is processed into yoghurt or cheese with the help of lactic acid bacteria. During this process, the lactic acid bacteria consumes the lactose contained in the milk.
As a result some dairy products can still be consumed because the natural lactose is no longer present in the product.
This includes e.g. cheese (as a rule the harder the cheese, the less lactose). Unfortunately, it does not always mean that there is no lactose anymore. Sometimes lactose is added back in to improve the texture of the food. However, manufacturers must specifically label this.
Hidden lactose
You should also be careful with e.g. sausage and meat products. Here there is also a chance that lactose is added. Products such as baked goods and confectionery often contain lactose. For this reason, it is important to look carefully at the packaging if you are avoiding lactose.
Have a look at the following, filterable table to find out which foods you can consume with a lactose intolerance!
Lebensmittel
Protein
Kcal
Fett
Carbs
Zucker
Ballaststoffe
Gesättigte Fettsäuren
Einfach ungesättigte Fettsäuren
Mehrfach ungesättigte Fettsäuren
Cholesterin
Vitamin A
Vitamin C
Vitamin D
Vitamin E
Vitamin K
Vitamin B1
Vitamin B2
Vitamin B6
Vitamin B12
Biotin
Folsäure
Niacin
Panthotensäure
Calcium
Chlor
Kalium
Magnesium
Natrium
Phosphor
Schwefel
Kupfer
Eisen
Fluor
Mangan
Jod
Zink
Alanin
Arginin
Aspargin
Asparginsäure
Cystein
Glutamin
Glutaminsäure
Glycerin
Histidin
Isoleucin
Leucin
Lysin
Methionin
Phenylalanin
Prolin
Serin
Threonin
Tryptophan
Tyrosin
Valin
Glykämischer Index
Glykämische Last
Ernährung
Intoleranz
Nährwerte
Kategorie
Lebensmittel
Protein
Kcal
Fett
Carbs
Zucker
Ballaststoffe
Gesättigte Fettsäuren
Einfach ungesättigte Fettsäuren
Mehrfach ungesättigte Fettsäuren
Cholesterin
Vitamin A
Vitamin C
Vitamin D
Vitamin E
Vitamin K
Vitamin B1
Vitamin B2
Vitamin B6
Vitamin B12
Biotin
Folsäure
Niacin
Panthotensäure
Calcium
Chlor
Kalium
Magnesium
Natrium
Phosphor
Schwefel
Kupfer
Eisen
Fluor
Mangan
Jod
Zink
Alanin
Arginin
Aspargin
Asparginsäure
Cystein
Glutamin
Glutaminsäure
Glycerin
Histidin
Isoleucin
Leucin
Lysin
Methionin
Phenylalanin
Prolin
Serin
Threonin
Tryptophan
Tyrosin
Valin
Glykämischer Index
Glykämische Last
Ernährung
Intoleranz
Nährwerte
Kategorie
Aal
17,1
286
23,2
0,0
0,0
0,0
5,5
14,1
2,2
0,2
0,80
1,50
0,00
8,40
0,00
0,20
0,30
0,20
0,00
0,00
0,00
2,20
0,10
21
58
204
23
65
244
169
104
636
38
35
3
1.530
1.242
1.029
32
1.993
187
22
3.009
1.126
338
742
1.304
1.383
476
665
697
687
783
175
654
916
0
0
Paleo, Pescetarisch
Fruktosearm, Glutenfrei, Laktosefrei, Sojafrei, Zuckerfrei
Low Carb, Low Salt, Keto, Slow Carb, Vitamin E, Gut für Cholesterinspiegel
Fisch
Aal (Konserve)
14,2
281
24,0
0,0
0,0
0,0
5,7
14,4
2,4
0,1
0,40
1,10
0,00
4,10
0,00
0,10
0,20
0,20
0,00
0,00
0,00
1,60
0,10
20
1.312
173
22
885
192
134
92
472
30
27
3
1.018
984
806
8
1.656
155
18
2.475
908
316
623
1.183
1.061
376
503
586
565
703
157
523
831
0
0
Pescetarisch
Fruktosearm, Glutenfrei, Laktosefrei, Sojafrei, Zuckerfrei
Low Carb, Keto, Slow Carb, Vitamin E, Gut für Cholesterinspiegel
Fisch
Bavaria Blu
18,9
359
30,3
0,0
0,0
0,0
17,9
9,4
1,1
0,1
0,50
0,00
0,00
0,60
0,00
0,00
0,60
0,20
0,00
0,00
0,00
1,10
1,30
279
1.188
188
21
658
285
185
64
294
92
32
21
2.730
454
561
252
1.086
86
891
3.847
294
474
935
1.665
1.169
407
879
2.025
957
784
244
847
1.082
0
0
Pescetarisch, Vegetarisch
Fruktosearm, Glutenfrei, Histaminarm, Sojafrei, Zuckerfrei
Low Carb, High Fat, Keto, Slow Carb, Zink
Käse & Käsezubereitungen
Blauschimmelkäse
21,8
381
30,9
1,0
0,0
0,0
19,2
8,8
1,2
0,1
0,30
0,00
0,00
0,70
0,00
0,00
0,50
0,10
0,00
0,00
0,00
0,90
1,80
540
1.872
118
22
1.160
392
216
76
127
144
35
9
5.253
571
684
160
1.379
91
507
4.379
349
477
1.135
2.051
1.669
507
1.026
2.142
1.112
921
261
1.048
1.347
0
0
Pescetarisch, Vegetarisch, Abnehmen, Muskelaufbau
Fruktosearm, Glutenfrei, Sojafrei, Zuckerfrei
Low Carb, High Fat, High Protein, Keto, Slow Carb, Calcium, Zink
Käse & Käsezubereitungen
Brie (Doppelrahmstufe, 60-87%)
17,8
396
34,7
0,0
0,0
0,0
20,7
10,8
1,1
0,1
0,40
0,00
0,00
0,80
0,00
0,00
0,40
0,20
0,00
0,00
0,00
1,20
0,70
272
1.034
161
20
546
232
214
67
282
100
28
19
2.704
445
515
245
1.073
82
819
3.581
293
446
935
1.708
1.193
421
804
1.776
839
668
205
765
995
0
0
Pescetarisch, Vegetarisch
Fruktosearm, Glutenfrei, Sojafrei, Zuckerfrei
Low Carb, High Fat, Keto, Slow Carb, Zink
Käse & Käsezubereitungen
Butter
0,7
787
83,9
0,6
0,0
0,0
49,5
26,1
3,1
0,2
0,70
0,20
0,00
2,10
0,10
0,00
0,00
0,00
0,00
0,00
0,00
0,00
0,00
13
21
15
3
5
21
9
14
83
139
38
4
244
23
23
10
47
5
27
126
14
15
40
63
49
14
31
61
38
25
10
30
39
0
0
Pescetarisch, Vegetarisch
Fruktosearm, Glutenfrei, Histaminarm, Sojafrei, Zuckerfrei
Low Carb, Low Salt, High Fat, Keto, Slow Carb
Milch & Milchprodukte
Butterkäse
22,8
321
24,5
0,0
0,0
0,0
15,3
7,0
0,9
0,1
0,30
0,00
0,00
0,70
0,00
0,00
0,30
0,10
0,00
0,00
0,00
0,10
0,80
765
1.122
83
38
736
412
197
118
396
127
52
34
4.280
580
709
257
1.251
83
933
4.535
371
490
1.085
1.958
1.579
524
1.106
2.578
1.117
863
293
1.161
1.312
0
0
Pescetarisch, Vegetarisch, Abnehmen, Muskelaufbau
Fruktosearm, Glutenfrei, Sojafrei, Zuckerfrei
Low Carb, High Protein, Keto, Slow Carb, Calcium, Zink
Käse & Käsezubereitungen
Butterkäse (Doppelrahmstufe, 60-87%)
15,5
373
33,3
0,0
0,0
0,0
20,6
9,6
1,2
0,1
0,40
0,00
0,00
1,00
0,00
0,10
0,30
0,10
0,00
0,00
0,00
0,10
0,70
558
981
100
29
763
273
221
101
412
107
42
33
4.160
431
561
42
1.096
70
15
3.304
256
392
884
1.694
1.211
399
891
1.853
911
760
212
893
1.050
0
0
Pescetarisch, Vegetarisch
Fruktosearm, Glutenfrei, Sojafrei, Zuckerfrei
Low Carb, High Fat, Keto, Slow Carb, Calcium, Zink
Käse & Käsezubereitungen
Butterkäse (Rahmstufe, >50%)
21,7
351
28,2
0,0
0,0
0,0
17,2
8,5
1,1
0,1
0,30
0,00
0,00
0,90
0,00
0,00
0,30
0,10
0,00
0,00
0,00
0,10
0,80
735
1.236
84
31
808
412
206
124
384
146
55
37
4.160
593
731
123
1.190
87
490
4.763
314
546
1.119
1.924
1.551
529
1.055
2.208
1.108
839
290
971
1.302
0
0
Pescetarisch, Vegetarisch, Abnehmen, Muskelaufbau
Fruktosearm, Glutenfrei, Sojafrei, Zuckerfrei
Low Carb, High Protein, Keto, Slow Carb, Calcium, Zink
Käse & Käsezubereitungen
Butterkäse (Vollfettstufe, >45%)
21,5
310
23,8
0,0
0,0
0,0
14,1
7,4
0,9
0,1
0,30
0,00
0,00
0,80
0,00
0,00
0,30
0,10
0,00
0,00
0,00
0,10
0,80
818
1.111
80
35
800
368
218
114
376
150
52
38
4.360
574
702
6
1.237
84
33
4.807
347
500
1.007
2.162
1.644
494
1.148
2.578
1.139
810
296
1.107
1.299
0
0
Pescetarisch, Vegetarisch, Abnehmen, Muskelaufbau
Fruktosearm, Glutenfrei, Sojafrei, Zuckerfrei
Low Carb, High Protein, Keto, Slow Carb, Calcium, Zink
Käse & Käsezubereitungen
Buttermilch
3,2
34
0,5
3,9
0,0
0,0
0,3
0,2
0,0
0,0
0,00
1,10
0,00
0,00
0,00
0,00
0,20
0,00
0,00
0,00
0,00
0,10
0,40
116
103
162
13
55
90
29
10
93
22
4
5
530
111
105
42
232
30
100
551
64
84
187
333
230
72
149
289
140
144
47
129
193
36
1,4
Pescetarisch, Vegetarisch
Fruktosearm, Glutenfrei, Sojafrei, Zuckerfrei
Low Carb, Low Fat, Low Salt, Keto, Slow Carb
Milch & Milchprodukte
Butterschmalz
0,3
866
92,8
0,0
0,0
0,0
55,5
27,9
3,8
0,4
1,00
0,00
0,00
3,70
0,00
0,00
0,00
0,00
0,00
0,00
0,00
0,00
0,00
7
26
3
1
2
1
1
10
200
28
5
0
187
8
7
5
17
2
16
52
5
6
14
22
18
5
12
22
13
10
3
12
16
0
0
Paleo, Pescetarisch, Vegetarisch
Fruktosearm, Glutenfrei, Histaminarm, Sojafrei, Zuckerfrei
Low Carb, Low Salt, High Fat, Keto, Slow Carb, Vitamin E
Milch & Milchprodukte
Camembert (Doppelrahmstufe, 60-87%)
17,3
367
31,8
0,0
0,0
0,0
18,7
9,9
1,3
0,1
0,40
0,00
0,00
0,80
0,00
0,00
0,40
0,20
0,00
0,00
0,00
1,30
0,60
380
1.308
113
32
721
304
237
73
273
102
31
22
2.727
481
587
101
1.042
91
347
3.581
264
398
906
1.708
1.253
409
835
1.721
926
661
203
827
963
0
0
Pescetarisch, Vegetarisch
Fruktosearm, Glutenfrei, Sojafrei, Zuckerfrei
Low Carb, High Fat, Keto, Slow Carb, Calcium, Zink
Käse & Käsezubereitungen
Camembert (Halbfettstufe, >20%)
24,5
183
8,9
0,0
0,0
0,0
5,4
2,7
0,3
0,0
0,10
0,90
0,00
0,20
0,00
0,00
0,60
0,20
0,00
0,00
0,00
1,30
1,30
558
1.425
184
20
1.056
600
210
72
324
97
29
18
3.180
695
802
64
1.432
112
246
5.485
373
670
1.509
2.238
1.622
570
1.129
2.517
1.163
976
341
1.040
1.562
0
0
Pescetarisch, Vegetarisch, Abnehmen, Muskelaufbau
Fruktosearm, Glutenfrei, Sojafrei, Zuckerfrei
Low Carb, High Protein, Keto, Slow Carb, Calcium, Zink
Käse & Käsezubereitungen
Camembert (leicht)
24,5
183
8,9
0,0
0,0
0,0
5,4
2,7
0,3
0,0
0,10
0,90
0,00
0,20
0,00
0,00
0,60
0,20
0,00
0,00
0,00
1,30
1,30
558
1.425
184
20
1.056
600
210
72
324
97
29
18
3.180
695
802
64
1.432
112
246
5.485
373
670
1.509
2.238
1.622
570
1.129
2.517
1.163
976
341
1.040
1.562
0
0
Pescetarisch, Vegetarisch, Abnehmen, Muskelaufbau
Fruktosearm, Glutenfrei, Sojafrei, Zuckerfrei
Low Carb, High Protein, Keto, Slow Carb, Calcium, Zink
Käse & Käsezubereitungen
Camembert (Vollfettstufe, >45%)
19,1
294
23,3
0,0
0,0
0,0
14,2
6,8
0,8
0,1
0,40
0,00
0,00
0,50
0,00
0,00
0,60
0,20
0,00
0,00
0,00
1,20
0,80
475
1.092
161
20
693
354
232
68
315
92
44
19
3.120
618
714
6
1.211
111
44
3.994
316
519
1.194
2.135
1.431
497
995
2.449
1.147
844
278
1.053
1.323
0
0
Pescetarisch, Vegetarisch
Fruktosearm, Glutenfrei, Sojafrei, Zuckerfrei
Low Carb, Keto, Slow Carb, Calcium, Zink
Käse & Käsezubereitungen
Cheddar
24,7
428
35,2
0,0
0,0
0,0
22,3
9,5
1,3
0,1
0,40
0,00
0,00
0,90
0,00
0,00
0,40
0,10
0,00
0,00
0,00
0,10
0,40
815
654
96
23
645
515
235
30
432
150
43
42
4.120
707
799
106
1.259
122
439
5.236
401
785
1.390
2.135
1.736
602
1.113
2.690
1.258
922
334
1.079
1.587
0
0
Paleo, Pescetarisch, Vegetarisch, Abnehmen, Muskelaufbau
Fruktosearm, Glutenfrei, Sojafrei, Zuckerfrei
Low Carb, High Fat, High Protein, Keto, Slow Carb, Calcium, Zink
Käse & Käsezubereitungen
Chester
25,7
385
30,1
0,0
0,0
0,0
18,2
9,0
1,2
0,1
0,30
0,00
0,00
0,80
0,00
0,00
0,50
0,10
0,00
0,00
0,00
0,10
0,30
790
1.010
97
28
679
535
204
46
412
153
36
50
4.104
795
864
32
1.452
124
15
5.896
413
761
1.707
2.690
1.975
596
1.292
2.732
1.488
1.063
351
1.205
1.735
0
0
Pescetarisch, Vegetarisch, Abnehmen, Muskelaufbau
Fruktosearm, Glutenfrei, Laktosefrei, Sojafrei, Zuckerfrei
Low Carb, High Fat, High Protein, Keto, Slow Carb, Calcium, Jod, Zink
Käse & Käsezubereitungen
Chester (Halbfettstufe, >20%)
30,8
231
11,3
0,0
0,0
0,0
6,5
3,7
0,4
0,0
0,10
0,00
0,00
0,30
0,00
0,00
0,50
0,10
0,00
0,00
0,00
0,10
0,40
1.037
1.144
97
32
832
763
192
54
475
127
40
48
4.680
986
1.115
25
1.836
159
1
7.238
466
994
1.940
3.272
2.544
808
1.633
3.606
1.863
1.428
452
1.571
2.108
0
0
Pescetarisch, Vegetarisch, Abnehmen, Muskelaufbau
Fruktosearm, Glutenfrei, Histaminarm, Laktosefrei, Sojafrei, Zuckerfrei
Low Carb, High Protein, Keto, Slow Carb, Calcium, Jod, Zink
Käse & Käsezubereitungen
Chester (Vollfettstufe, >45%)
25,4
389
30,7
0,0
0,0
0,0
18,7
9,3
1,1
0,1
0,30
0,00
0,00
0,90
0,00
0,00
0,40
0,10
0,00
0,00
0,00
0,10
0,40
798
950
85
27
735
455
184
52
408
127
40
48
3.534
707
927
4
1.376
126
19
6.010
393
842
1.535
2.386
1.821
646
1.167
3.237
1.334
1.107
333
1.267
1.701
0
0
Pescetarisch, Vegetarisch, Abnehmen, Muskelaufbau
Fruktosearm, Glutenfrei, Histaminarm, Laktosefrei, Sojafrei, Zuckerfrei
Low Carb, High Fat, High Protein, Keto, Slow Carb, Calcium, Jod, Zink
Käse & Käsezubereitungen
Edamer
24,1
367
28,9
0,0
0,0
0,0
17,7
8,5
1,0
0,1
0,30
0,00
0,00
0,40
0,00
0,00
0,30
0,10
0,00
0,00
0,00
0,10
0,40
728
873
104
35
594
594
251
106
309
109
40
36
3.838
657
802
32
1.661
97
23
5.494
373
587
1.341
2.239
1.990
599
1.142
2.649
1.380
1.088
322
1.178
1.671
0
0
Pescetarisch, Vegetarisch, Abnehmen, Muskelaufbau
Fruktosearm, Glutenfrei, Sojafrei, Zuckerfrei
Low Carb, High Protein, Keto, Slow Carb, Calcium, Zink
Käse & Käsezubereitungen
Edamer (gerieben)
24,1
367
28,9
0,0
0,0
0,0
17,7
8,5
1,0
0,1
0,30
0,00
0,00
0,40
0,00
0,00
0,30
0,10
0,00
0,00
0,00
0,10
0,40
728
873
104
35
594
594
251
106
309
109
40
36
3.838
657
802
32
1.661
97
23
5.494
373
587
1.341
2.239
1.990
599
1.142
2.649
1.380
1.088
322
1.178
1.671
0
0
Paleo, Pescetarisch, Vegetarisch, Abnehmen, Muskelaufbau
Fruktosearm, Glutenfrei, Histaminarm, Sojafrei, Zuckerfrei
Low Carb, High Protein, Keto, Slow Carb, Calcium, Zink
Käse & Käsezubereitungen
Edamer (Rahmstufe, >50%)
22,4
365
29,3
0,0
0,0
0,0
18,3
8,1
1,1
0,1
0,30
0,00
0,00
0,90
0,00
0,00
0,40
0,10
0,00
0,00
0,00
0,10
0,30
665
927
98
31
636
574
216
104
449
123
40
27
3.675
612
711
115
1.323
91
390
4.506
338
506
1.189
2.132
1.502
531
1.132
2.494
1.167
821
306
1.133
1.441
0
0
Pescetarisch, Vegetarisch, Abnehmen, Muskelaufbau
Fruktosearm, Glutenfrei, Sojafrei, Zuckerfrei
Low Carb, High Protein, Keto, Slow Carb, Calcium, Zink
Käse & Käsezubereitungen
Edamer (Vollfettstufe, >45%)
25,0
375
29,3
0,0
0,0
0,0
18,0
8,5
1,0
0,1
0,30
0,00
0,00
0,50
0,00
0,00
0,30
0,10
0,00
0,00
0,00
0,10
0,40
816
909
98
36
636
561
232
109
312
121
38
38
4.104
697
883
2
1.415
106
38
5.494
409
530
1.328
2.404
1.990
536
1.106
2.946
1.187
1.088
312
1.240
1.687
0
0
Pescetarisch, Vegetarisch, Abnehmen, Muskelaufbau
Fruktosearm, Glutenfrei, Sojafrei, Zuckerfrei
Low Carb, High Protein, Keto, Slow Carb, Calcium, Zink
Käse & Käsezubereitungen
Emmentaler
31,3
400
29,3
0,0
0,0
0,0
17,8
8,6
1,1
0,1
0,40
0,00
0,00
0,60
0,00
0,10
0,40
0,10
0,00
0,00
0,00
0,10
0,40
1.144
576
92
41
300
756
202
655
300
152
41
37
4.968
806
985
430
1.655
153
1.676
6.449
461
878
1.765
2.751
1.997
627
1.426
3.062
1.402
1.201
384
1.439
1.736
0
0
Pescetarisch, Vegetarisch, Abnehmen, Muskelaufbau
Fruktosearm, Glutenfrei, Sojafrei, Zuckerfrei
Low Carb, High Protein, Keto, Slow Carb, Calcium, Zink
Käse & Käsezubereitungen
Emmentaler (Vollfettstufe, >45%)
31,0
391
28,5
0,0
0,0
0,0
16,9
8,8
1,2
0,1
0,30
0,00
0,00
0,50
0,00
0,10
0,30
0,10
0,00
0,00
0,00
0,10
0,40
1.144
642
93
40
273
637
202
603
321
168
40
38
4.646
752
1.032
450
1.527
131
1.829
6.206
409
784
1.765
2.751
2.038
653
1.412
3.157
1.507
1.071
388
1.254
1.880
0
0
Paleo, Pescetarisch, Vegetarisch, Abnehmen, Muskelaufbau
Fruktosearm, Glutenfrei, Sojafrei, Zuckerfrei
Low Carb, High Protein, Keto, Slow Carb, Calcium, Zink
Käse & Käsezubereitungen
Ente
18,8
239
17,5
0,0
0,0
0,0
4,9
9,4
2,2
0,1
0,00
0,00
0,00
0,00
0,00
0,30
0,20
0,30
0,00
0,00
0,00
3,30
1,00
13
84
227
20
35
202
184
247
2.280
42
51
1
2.006
1.026
1.220
426
1.548
244
769
2.796
843
570
997
1.358
1.716
504
782
782
760
775
213
583
912
0
Paleo
Fruktosearm, Glutenfrei, Histaminarm, Laktosefrei, Sojafrei, Zuckerfrei
Low Carb, Low Salt, Keto, Slow Carb
Fleisch
Erdnussbutter (natur)
27,1
627
49,9
12,7
0,0
8,1
9,3
26,0
12,3
0,0
0,00
0,00
0,00
6,90
0,00
0,10
0,10
0,60
0,00
0,10
0,05
15,50
1,30
59
504
760
196
230
369
369
637
1.940
20
1.642
0
3.180
1.028
2.897
565
2.937
264
1.011
5.262
1.592
699
967
1.917
949
235
1.240
1.167
1.409
627
279
1.008
1.091
40
4,9
Pescetarisch, Vegan, Vegetarisch, Muskelaufbau
Glutenfrei, Laktosefrei, Sojafrei, Zuckerfrei
High Fat, High Protein, Slow Carb, Ballaststoffe, Magnesium, Vitamin E, Zink
Nüsse & Samen
Erdnüsse
27,3
617
50,6
8,6
0,0
10,7
8,4
25,6
14,6
0,0
0,00
0,00
0,00
11,30
0,00
0,90
0,10
0,40
0,00
0,00
0,10
14,20
2,60
39
7
614
152
12
330
414
819
1.838
120
1.488
13
2.575
650
3.376
755
2.996
402
1.130
4.481
1.311
637
942
1.829
985
235
1.378
1.282
1.609
735
292
997
1.248
15
1,3
Pescetarisch, Vegan, Vegetarisch, Abnehmen, Muskelaufbau
Glutenfrei, Laktosefrei, Sojafrei, Zuckerfrei
Low Carb, Low Salt, High Fat, High Protein, Slow Carb, Ballaststoffe, Magnesium, Vitamin B1, Vitamin E, Zink, Gut für Cholesterinspiegel
Nüsse & Samen
Erdnussmus
26,3
620
50,6
10,4
0,0
7,7
8,8
25,8
13,7
0,0
0,00
0,00
0,00
8,10
0,00
0,10
0,10
0,40
0,00
0,00
0,00
13,80
0,90
38
26
662
145
16
333
357
567
1.854
141
1.820
13
2.782
631
3.384
58
3.207
374
86
4.765
1.224
677
1.045
1.867
1.046
281
1.334
1.198
1.659
788
269
1.060
1.324
25
2,1
Pescetarisch, Vegan, Vegetarisch, Muskelaufbau
Glutenfrei, Laktosefrei, Sojafrei, Zuckerfrei
Low Salt, High Fat, High Protein, Slow Carb, Ballaststoffe, Magnesium, Vitamin E, Zink, Gut für Cholesterinspiegel
Getreideprodukte, Nährmittel, Backwaren
Erdnussöl
0,0
918
98,4
0,2
0,0
0,0
16,9
48,5
28,7
0,0
0,00
0,00
0,00
11,10
0,00
0,00
0,00
0,00
0,00
0,00
0,00
0,00
0,00
1
1
1
1
1
1
0
3
67
0
2
0
9
0
0
19
0
0
44
0
0
0
0
0
0
0
0
0
0
0
0
0
0
0
0
Pescetarisch, Vegan, Vegetarisch
Glutenfrei, Laktosefrei, Sojafrei, Zuckerfrei
Low Carb, Low Salt, High Fat, Keto, Slow Carb, Vitamin E, Gut für Cholesterinspiegel
Fette & Speiseöle
Flunder
17,7
101
3,2
0,0
0,0
0,0
0,7
0,7
0,9
0,1
0,00
0,70
0,00
0,80
0,00
0,20
0,20
0,20
0,00
0,00
0,00
3,40
0,70
29
135
342
26
100
194
296
44
497
33
41
31
520
1.014
921
867
1.763
160
1.153
2.343
710
399
816
1.248
1.501
450
640
608
789
676
173
523
901
0
0
Paleo, Pescetarisch
Fruktosearm, Glutenfrei, Histaminarm, Laktosefrei, Sojafrei, Zuckerfrei
Low Carb, Low Fat, Low Salt, Keto, Slow Carb
Fisch
Flunder (Konserve in Öl)
13,6
147
9,8
0,0
0,0
0,0
1,3
2,2
5,6
0,0
0,00
0,50
0,00
7,00
0,00
0,10
0,10
0,10
0,00
0,00
0,00
1,80
0,30
25
1.188
238
21
878
145
244
41
397
25
32
25
363
881
913
37
1.504
130
37
2.079
674
351
641
1.130
1.213
347
562
546
660
595
154
498
761
0
0
Paleo, Pescetarisch
Fruktosearm, Glutenfrei, Laktosefrei, Sojafrei, Zuckerfrei
Low Carb, Keto, Slow Carb, Vitamin E
Fisch
Frischkäse
11,4
363
32,8
2,6
0,0
0,0
20,3
9,5
1,2
0,1
0,30
0,20
0,00
0,70
0,00
0,00
0,20
0,10
0,00
0,00
0,00
0,10
0,50
85
599
96
8
354
150
120
12
86
12
5
8
378
321
374
64
743
53
194
2.230
174
300
630
1.076
866
238
481
1.271
623
410
133
546
713
1
1
Pescetarisch, Vegetarisch
Fruktosearm, Glutenfrei, Histaminarm, Sojafrei, Zuckerfrei
Low Carb, High Fat, Keto
Käse & Käsezubereitungen
Frischkäse (Doppelrahmstufe, 60-87%)
10,7
341
30,8
2,6
0,0
0,0
18,0
9,8
1,1
0,1
0,30
0,20
0,00
0,70
0,00
0,00
0,20
0,10
0,00
0,00
0,00
0,10
0,40
89
581
93
6
322
152
112
14
74
13
6
8
417
288
334
36
668
55
24
2.115
181
329
588
1.014
784
261
486
1.295
578
460
144
476
620
1
1
Paleo, Pescetarisch, Vegetarisch
Fruktosearm, Glutenfrei, Histaminarm, Sojafrei, Zuckerfrei
Low Carb, High Fat, Keto
Käse & Käsezubereitungen
Garnelen
17,5
92
1,8
1,1
0,0
0,0
0,3
0,3
0,6
0,2
0,00
2,10
0,00
3,80
0,00
0,10
0,00
0,10
0,00
0,00
0,00
2,60
0,30
51
93
200
36
149
217
309
282
1.785
105
49
122
2.185
1.254
1.517
164
2.112
219
212
2.739
1.207
293
827
1.512
1.538
521
726
877
1.014
827
221
683
832
0
0
Paleo, Pescetarisch
Fruktosearm, Glutenfrei, Laktosefrei, Sojafrei, Zuckerfrei
Low Carb, Low Fat, Keto, Slow Carb, Jod, Vitamin E, Zink
Schalentiere & Krustentiere
Geriebener Käse (vegan)
0,0
288
23,0
21,0
0,0
0,0
20,1
0,0
0,0
900
0
0
Vegan, Vegetarisch
Fruktosearm, Glutenfrei, Histaminarm, Laktosefrei, Sojafrei, Zuckerfrei
Slow Carb
Käse & Käsezubereitungen
Ghee
0,5
896
99,0
0,5
0,0
0,5
61,9
28,7
3,7
2
0
0
Paleo, Pescetarisch, Vegetarisch
Fruktosearm, Glutenfrei, Histaminarm, Sojafrei, Zuckerfrei
Low Carb, High Fat, Keto
Fette & Speiseöle
Gouda
25,8
389
30,5
0,0
0,0
0,0
19,3
8,3
1,1
0,1
0,30
0,00
0,00
0,70
0,00
0,00
0,30
0,10
0,00
0,00
0,00
0,10
0,40
832
981
95
34
576
506
220
102
300
118
37
32
3.534
696
791
324
1.707
93
919
4.850
432
552
1.418
2.295
1.932
616
1.225
2.724
1.246
952
335
1.186
1.462
0
0
Pescetarisch, Vegetarisch, Abnehmen, Muskelaufbau
Fruktosearm, Glutenfrei, Sojafrei, Zuckerfrei
Low Carb, High Fat, High Protein, Keto, Slow Carb, Calcium, Zink
Käse & Käsezubereitungen
Gouda (Doppelrahmstufe, 60-87%)
20,6
437
37,9
0,0
0,0
0,0
22,4
12,0
1,5
0,1
0,30
0,00
0,00
0,70
0,00
0,10
0,40
0,10
0,00
0,00
0,00
0,10
0,80
714
1.128
57
43
800
455
205
101
97
112
39
30
3.800
502
719
261
1.166
82
928
4.138
291
428
938
2.014
1.440
460
931
2.093
967
763
252
980
1.247
0
0
Pescetarisch, Vegetarisch, Abnehmen, Muskelaufbau
Fruktosearm, Glutenfrei, Histaminarm, Sojafrei, Zuckerfrei
Low Carb, High Fat, High Protein, Keto, Slow Carb, Calcium, Zink
Käse & Käsezubereitungen
Gouda (Fettstufe, >40%)
25,4
314
22,5
0,0
0,0
0,0
13,5
6,9
0,8
0,0
0,30
0,00
0,00
0,60
0,00
0,00
0,30
0,10
0,00
0,00
0,00
0,10
0,40
864
918
108
39
642
583
226
97
306
105
41
36
4.120
700
758
330
1.500
92
1.032
4.697
367
562
1.361
2.230
1.964
602
1.186
2.773
1.258
1.023
308
1.173
1.525
0
0
Pescetarisch, Vegetarisch, Abnehmen, Muskelaufbau
Fruktosearm, Glutenfrei, Histaminarm, Sojafrei, Zuckerfrei
Low Carb, High Protein, Keto, Slow Carb, Calcium, Zink
Käse & Käsezubereitungen
Gouda (Vollfettstufe, >45%)
23,5
377
30,2
0,0
0,0
0,0
18,8
8,6
1,0
0,1
0,30
0,00
0,00
0,80
0,00
0,00
0,30
0,10
0,00
0,00
0,00
0,10
0,40
832
891
107
39
636
545
238
102
294
114
44
37
3.838
689
850
11
1.565
109
23
5.170
424
564
1.418
2.513
1.970
558
1.338
2.724
1.445
1.098
345
1.250
1.671
0
0
Pescetarisch, Vegetarisch, Abnehmen, Muskelaufbau
Fruktosearm, Glutenfrei, Histaminarm, Sojafrei, Zuckerfrei
Low Carb, High Fat, High Protein, Keto, Slow Carb, Calcium, Zink
Käse & Käsezubereitungen
Haferflocken (Vollkorn)
11,8
388
7,0
67,7
0,0
5,5
1,2
2,7
2,7
0,0
0,00
0,00
0,00
1,60
0,10
0,60
0,20
0,20
0,00
0,00
0,00
1,00
1,00
51
56
355
136
7
383
200
572
4.606
35
4.862
4
3.695
589
711
19
1.022
256
33
2.701
565
198
628
830
409
176
608
857
730
380
137
413
689
40
23,3
Pescetarisch, Vegan, Vegetarisch
Fruktosearm, Histaminarm, Laktosefrei, Sojafrei, Zuckerfrei
Low Salt, High Carb, Slow Carb, Eisen, Magnesium, Vitamin B1, Zink
Getreideprodukte, Nährmittel, Backwaren
Haferkleie
17,3
370
7,0
50,8
0,0
15,4
1,3
2,4
2,8
0,0
0,00
0,00
0,00
1,70
1,20
0,22
0,17
0,00
0,05
0,93
1,50
58
0
566
235
4
734
5.410
3,1
9
15
6,1
Pescetarisch, Vegan, Vegetarisch
Fruktosearm, Histaminarm, Laktosefrei, Sojafrei, Zuckerfrei
Low Salt, Slow Carb, Ballaststoffe, Eisen, Folsäure, Magnesium, Vitamin B1
Getreideprodukte, Nährmittel, Backwaren
Hähnchen (Brust)
24,0
102
0,7
0,0
0,0
0,0
1,3
1,7
0,9
0,1
0,01
0,00
1,50
0,62
0,04
0,08
0,14
0,57
0,00
0,00
0,01
0,01
0,87
4
69
329
26
39
208
140
1.100
40
20
0,6
1.004
322
1.859
2.157
1.041
273
1.189
0
0
Paleo, Abnehmen, Muskelaufbau
Fruktosearm, Glutenfrei, Histaminarm, Laktosefrei, Sojafrei, Zuckerfrei
Low Carb, Low Fat, Low Salt, High Protein, Keto, Slow Carb, Vitamin D
Fleisch
Hartkäse
34,5
308
18,1
0,0
0,0
0,0
10,3
5,9
0,7
0,0
0,20
0,00
0,00
0,50
0,00
0,00
0,50
0,10
0,00
0,00
0,00
0,10
0,50
837
1.045
104
27
744
612
190
53
420
137
42
54
4.725
792
1.137
645
1.679
168
2.572
6.695
455
976
1.795
2.847
2.106
785
1.452
3.404
1.692
1.413
415
1.555
1.869
0
0
Paleo, Pescetarisch, Vegetarisch, Abnehmen, Muskelaufbau
Fruktosearm, Glutenfrei, Sojafrei, Zuckerfrei
Low Carb, High Protein, Keto, Slow Carb, Calcium, Jod, Zink
Käse & Käsezubereitungen
Hartkäse (Magerstufe, <10%)
40,5
174
1,0
0,0
0,0
0,0
0,6
0,3
0,0
0,0
0,20
0,00
0,00
0,40
0,00
0,00
0,60
0,10
0,00
0,00
0,00
0,10
0,40
990
1.147
116
33
978
761
213
53
567
162
43
59
4.944
993
1.188
542
2.228
195
2.072
8.516
568
1.160
2.088
3.600
2.476
932
1.882
4.127
1.951
1.538
448
1.586
2.459
0
0
Pescetarisch, Vegetarisch, Abnehmen, Muskelaufbau
Fruktosearm, Glutenfrei, Histaminarm, Sojafrei, Zuckerfrei
Low Carb, Low Fat, High Protein, Keto, Slow Carb, Calcium, Jod, Zink
Käse & Käsezubereitungen
Hartkäse (Vollfettstufe, >45%)
29,6
411
31,2
0,0
0,0
0,0
19,1
9,4
1,0
0,1
0,30
0,00
0,00
0,50
0,00
0,00
0,40
0,10
0,00
0,00
0,00
0,10
0,40
1.111
570
98
41
324
707
182
648
312
170
43
40
4.646
806
947
57
1.655
143
212
6.206
453
895
1.732
2.913
1.997
640
1.373
3.410
1.596
1.083
373
1.280
1.790
0
0
Pescetarisch, Vegetarisch, Abnehmen, Muskelaufbau
Fruktosearm, Glutenfrei, Histaminarm, Sojafrei, Zuckerfrei
Low Carb, High Fat, High Protein, Keto, Slow Carb, Calcium, Zink
Käse & Käsezubereitungen
Haselnussöl
0,0
898
96,4
0,0
0,0
0,0
7,7
74,7
9,5
0,0
0,00
0,00
0,00
10,30
0,00
0,00
0,00
0,00
0,00
0,00
0,00
0,00
0,00
0
0
0
0
1
0
0
0
0
0
0
0
0
0
0
28
0
0
2
0
0
0
0
0
0
0
0
0
0
0
0
0
0
0
0
Paleo, Pescetarisch, Vegan, Vegetarisch
Fruktosearm, Glutenfrei, Laktosefrei, Sojafrei, Zuckerfrei
Low Carb, Low Salt, High Fat, Keto, Slow Carb, Vitamin E
Fette & Speiseöle
Heilbutt
18,9
93
1,7
0,0
0,0
0,0
0,2
0,4
0,6
0,0
0,00
0,00
0,00
0,90
0,00
0,10
0,10
0,30
0,00
0,00
0,00
4,90
0,40
14
200
257
30
81
184
194
214
594
32
12
56
424
1.286
1.230
19
2.147
195
34
2.797
847
476
936
1.552
1.996
518
741
802
897
959
217
630
1.076
0
0
Paleo, Pescetarisch
Fruktosearm, Glutenfrei, Histaminarm, Laktosefrei, Sojafrei, Zuckerfrei
Low Carb, Low Fat, Low Salt, Keto, Slow Carb, Jod, Gut für Cholesterinspiegel
Fisch
Heilbutt (Konserve)
20,4
98
1,7
0,0
0,0
0,0
0,2
0,4
0,5
0,0
0,00
0,00
0,00
0,40
0,00
0,10
0,00
0,20
0,00
0,00
0,00
3,20
0,20
18
1.346
204
26
920
175
171
161
494
28
15
45
379
1.319
1.153
673
2.020
217
984
2.954
784
520
942
1.608
1.695
500
700
723
847
856
193
674
1.050
0
0
Pescetarisch, Abnehmen, Muskelaufbau
Fruktosearm, Glutenfrei, Laktosefrei, Sojafrei, Zuckerfrei
Low Carb, Low Fat, High Protein, Keto, Slow Carb, Gut für Cholesterinspiegel
Fisch
Hirseflocken
9,9
369
4,1
71,5
0,0
3,8
0,9
0,9
1,8
0,0
0,00
0,00
0,00
0,40
0,00
0,40
0,10
0,70
0,00
0,00
0,00
1,70
1,00
21
15
40
165
3
332
108
842
9.270
49
1.919
2
1.836
1.021
329
85
547
128
297
1.900
248
175
444
1.197
208
221
419
851
621
358
152
210
527
70
48
Paleo, Pescetarisch, Vegan, Vegetarisch
Fruktosearm, Glutenfrei, Histaminarm, Laktosefrei, Sojafrei, Zuckerfrei
Low Fat, Low Salt, High Carb, Eisen, Magnesium, Vitamin B1
Getreideprodukte, Nährmittel, Backwaren
Hirsemehl
5,6
356
1,6
78,4
0,0
2,0
0,4
0,3
0,7
0,0
0,00
0,00
0,00
0,20
0,00
0,20
0,20
0,60
0,00
0,00
0,00
1,70
1,00
44
11
366
149
2
268
124
700
5.460
32
1.410
2
950
661
193
23
291
75
24
1.221
160
95
284
740
144
132
206
539
403
191
91
144
293
Paleo, Pescetarisch, Vegan, Vegetarisch
Fruktosearm, Glutenfrei, Histaminarm, Laktosefrei, Sojafrei, Zuckerfrei
Low Fat, Low Salt, High Carb, Eisen, Magnesium
Getreideprodukte, Nährmittel, Backwaren
Hüttenkäse
11,8
98
4,3
2,4
0,0
0,0
2,5
1,3
0,2
0,0
0,10
0,00
0,00
0,10
0,00
0,00
0,20
0,10
0,00
0,00
0,00
0,10
0,60
86
455
87
9
407
147
99
19
96
16
6
20
525
343
379
8
812
59
36
2.686
188
350
680
1.113
1.011
299
592
1.414
622
558
172
568
696
0
0
Pescetarisch, Vegetarisch
Fruktosearm, Glutenfrei, Histaminarm, Sojafrei, Zuckerfrei
Low Carb, Low Fat, Keto, Slow Carb
Käse & Käsezubereitungen
Hüttenkäse (Halbfettstufe, >20%)
13,2
103
4,1
2,7
0,0
0,0
2,5
1,2
0,1
0,0
0,10
0,00
0,00
0,10
0,00
0,00
0,30
0,10
0,00
0,00
0,00
0,10
0,60
78
525
73
8
410
144
106
18
102
17
6
20
505
316
408
191
711
67
679
2.528
194
376
714
0
0
0
0
0
0
0
0
0
0
0
0
Pescetarisch, Vegetarisch, Abnehmen
Fruktosearm, Glutenfrei, Histaminarm, Sojafrei, Zuckerfrei
Low Carb, Low Fat, Keto, Slow Carb
Käse & Käsezubereitungen
Hüttenkäse (Magerstufe, <10%)
13,6
83
1,5
3,4
0,0
0,0
0,9
0,4
0,0
0,0
0,00
0,00
0,00
0,00
0,00
0,00
0,20
0,10
0,00
0,00
0,00
0,10
0,30
67
539
91
6
376
137
100
18
151
17
1
11
428
341
470
42
751
66
153
2.697
226
413
747
1.323
988
300
588
1.566
720
550
176
643
806
1
1
Pescetarisch, Vegetarisch
Fruktosearm, Glutenfrei, Histaminarm, Sojafrei, Zuckerfrei
Low Carb, Low Fat, Keto
Käse & Käsezubereitungen
Kabeljau
19,0
84
0,8
0,0
0,0
0,0
0,1
0,1
0,3
0,1
0,00
2,00
0,00
0,50
0,00
0,10
0,10
0,30
0,00
0,00
0,00
2,10
0,30
17
145
339
30
72
201
235
246
422
26
17
175
540
1.125
981
1.215
1.756
183
1.556
2.249
696
447
810
1.289
1.555
461
681
681
832
853
164
528
904
0
0
Paleo, Pescetarisch
Fruktosearm, Glutenfrei, Histaminarm, Laktosefrei, Sojafrei, Zuckerfrei
Low Carb, Low Fat, Low Salt, Keto, Slow Carb, Jod
Fisch
Kabeljau (Konserve in Öl)
14,0
138
8,7
0,0
0,0
0,0
1,2
1,9
5,1
0,0
0,00
1,20
0,00
7,90
0,00
0,00
0,00
0,10
0,00
0,00
0,00
1,00
0,10
17
1.297
255
27
845
143
174
189
332
25
17
127
366
1.042
968
20
1.419
149
41
2.247
661
392
688
1.152
1.420
392
607
590
665
672
142
526
799
0
0
Paleo, Pescetarisch
Fruktosearm, Glutenfrei, Laktosefrei, Sojafrei, Zuckerfrei
Low Carb, Keto, Slow Carb, Jod, Vitamin E
Fisch
Kabeljau (Konserve)
17,3
77
0,7
0,0
0,0
0,0
0,1
0,1
0,3
0,1
0,00
1,30
0,00
0,20
0,00
0,00
0,00
0,10
0,00
0,00
0,00
1,30
0,10
20
1.361
257
33
905
165
168
216
345
24
19
137
415
1.131
1.091
511
1.663
171
703
2.290
686
473
889
1.284
1.646
415
612
664
764
749
161
521
900
0
0
Paleo, Pescetarisch
Fruktosearm, Glutenfrei, Laktosefrei, Sojafrei, Zuckerfrei
Low Carb, Low Fat, Keto, Slow Carb, Jod
Fisch
Kakaopulver
5,9
392
6,1
76,6
0,0
6,5
3,5
2,2
0,2
0,0
0,00
0,00
0,00
0,20
0,00
0,10
0,00
0,00
0,00
0,00
0,00
0,50
0,40
32
138
447
138
270
198
198
1.166
2.304
92
1.860
2
1.729
203
282
729
451
85
1.267
784
189
70
149
238
150
65
180
247
240
180
63
114
254
20
2,2
Paleo, Pescetarisch, Vegan, Vegetarisch
Fruktosearm, Glutenfrei, Laktosefrei, Sojafrei, Zuckerfrei
High Carb, Slow Carb, Magnesium
Nüsse & Samen
Kasseler (Braten)
15,5
173
11,5
0,8
0,0
0,0
4,2
5,3
1,4
0,1
0,00
0,00
0,00
0,30
0,00
0,60
0,20
0,40
0,00
0,00
0,00
2,00
0,40
30
3.210
245
51
2.594
128
154
56
1.417
45
60
3
1.127
952
1.049
4
1.437
203
44
2.660
899
553
834
1.058
1.355
395
713
727
751
694
176
550
865
0
0
Pescetarisch, Vegan, Vegetarisch
Fruktosearm, Glutenfrei, Laktosefrei, Sojafrei
Low Fat, Low Sugar, Slow Carb
Fleisch
Kidney-Bohnen (Glas/Dose)
22,1
246
1,5
35,0
0,0
23,2
0,2
0,1
0,9
0,0
0,00
3,80
0,00
0,60
0,20
0,60
0,20
0,40
0,00
0,00
0,00
1,90
0,80
100
2
1.411
152
19
373
175
673
6.976
12
1.104
1
3.210
924
1.147
1.043
2.891
179
1.071
2.969
832
644
924
1.506
1.607
262
1.218
766
1.349
946
207
547
1.068
40
6,4
Paleo, Pescetarisch
Fruktosearm, Glutenfrei, Laktosefrei, Sojafrei, Zuckerfrei
Low Carb, Low Fat, Keto, Slow Carb, Jod, Folsäure
Gemüse
King Prawns (TK)
11,4
60
0,6
1,2
0,0
0,0
0,1
0,1
0,2
0,2
1,76
1,00
0,00
0,82
0,14
0,09
0,08
0,00
0,01
5,72
0,00
30
0
210
0
190
205
300
91
0
0
0,1
Paleo, Pescetarisch, Vegan, Vegetarisch
Glutenfrei, Histaminarm, Laktosefrei, Sojafrei
Low Fat, Low Salt, High Sugar, Slow Carb
Schalentiere & Krustentiere
Kokosfett
0,8
945
99,0
0,0
0,0
0,0
87,6
6,2
1,3
0,0
0,00
0,00
0,00
2,00
0,00
0,00
0,00
0,00
0,00
0,00
0,00
0,00
0,00
2
0
2
0
2
1
0
2
20
0
0
0
0
39
106
13
68
15
28
151
38
16
35
63
28
14
32
33
39
25
7
22
44
0
0
Paleo, Pescetarisch, Vegan, Vegetarisch
Glutenfrei, Histaminarm, Laktosefrei, Sojafrei
Low Carb, Low Salt, High Fat, Slow Carb, Ballaststoffe, Magnesium
Fette & Speiseöle
Kokosöl
1,0
878
99,0
0,0
0,0
0,0
85,9
6,0
1,4
0,00
0,00
0,00
2,12
0,00
0,00
0,00
0,00
0,00
0,00
0,00
0,00
0,00
2
0
2
0
2
1
0
2
20
0
0
1,6
0
14
59
30
27
7
43
0
0
Paleo, Pescetarisch, Vegan, Vegetarisch
Fruktosearm, Glutenfrei, Histaminarm, Laktosefrei, Sojafrei
Low Carb, Low Fat, Low Salt, Low Sugar, Keto
Fette & Speiseöle
Krabben
16,9
85
1,5
0,7
0,0
0,0
0,2
0,3
0,5
0,1
0,00
2,00
0,00
3,80
0,00
0,10
0,00
0,10
0,00
0,00
0,00
3,20
0,40
91
91
285
62
136
211
318
298
1.918
154
30
131
2.344
1.277
1.446
14
1.879
171
39
2.751
1.127
290
765
1.477
1.423
482
686
744
822
843
190
684
770
5
0,1
Pescetarisch
Fruktosearm, Glutenfrei, Histaminarm, Laktosefrei, Sojafrei
Low Carb, Low Sugar, High Fat, Keto, Slow Carb, Vitamin B1
Schalentiere & Krustentiere
Kräuter (TK, italienisch)
0,0
13
0,0
0,0
0,0
5,2
0,1
0,0
0,0
0,70
94,30
0,00
2,30
0,00
0,20
0,30
0,30
0,00
0,00
0,00
0,00
0,30
201
0
694
38
0
96
300
4.300
77
1.900
7
1.053
0
0
Paleo, Pescetarisch, Vegan, Vegetarisch
Fruktosearm, Glutenfrei, Histaminarm, Laktosefrei, Sojafrei
Low Fat, Low Salt, Slow Carb
Gewürze & Kräuter
Kreuzkümmel
17,1
411
22,1
33,3
0,0
10,0
0,9
10,8
4,6
0,0
0,10
0,00
0,00
0,00
0,00
0,60
0,40
0,20
0,00
0,00
0,00
3,60
0,50
1.028
56
1.380
374
152
556
108
1.303
71.070
55
2.940
5
4.578
896
1.671
29
1.675
338
19
3.626
852
438
868
1.186
699
359
833
733
885
667
246
610
932
0
0
Paleo, Pescetarisch, Vegan, Vegetarisch, Abnehmen, Muskelaufbau
Fruktosearm, Glutenfrei, Laktosefrei, Sojafrei
Low Carb, Low Salt, Low Sugar, High Fat, High Protein, Keto, Slow Carb, Ballaststoffe, Eisen, Magnesium, Vitamin E, Zink
Gewürze & Kräuter
Kürbiskernöl
0,0
917
98,4
0,0
0,0
0,0
22,1
21,5
50,0
0,0
0,00
0,00
0,00
3,90
0,00
0,00
0,00
0,00
0,00
0,00
0,00
0,00
0,00
0
0
1
0
0
0
0
0
0
0
0
0
0
0
0
10
0
0
26
0
0
0
0
0
0
0
0
0
0
0
0
0
0
0
0
Paleo, Pescetarisch, Vegan, Vegetarisch
Fruktosearm, Glutenfrei, Histaminarm, Laktosefrei, Sojafrei
Low Salt, High Carb, High Sugar, Slow Carb, Eisen, Magnesium, Zink
Fette & Speiseöle
Lachs
17,7
131
6,4
0,0
0,0
0,0
1,6
2,4
1,7
0,0
0,00
0,00
0,00
2,40
0,00
0,20
0,20
0,90
0,00
0,00
0,00
8,00
1,10
12
58
341
31
52
263
167
214
1.080
29
21
31
736
1.249
1.181
8
1.929
177
30
2.744
862
459
812
1.378
1.797
511
678
734
804
861
195
601
897
0
0
Paleo, Pescetarisch
Fruktosearm, Glutenfrei, Laktosefrei, Sojafrei, Zuckerfrei
Low Carb, Keto, Slow Carb, Vitamin E, Gut für Cholesterinspiegel
Fisch
Lachs (Konserve in Öl)
15,6
179
12,4
0,0
0,0
0,0
1,8
3,1
6,8
0,0
0,00
0,00
0,00
9,00
0,00
0,10
0,10
0,50
0,00
0,00
0,00
4,10
0,60
15
1.160
288
27
819
212
156
163
776
23
22
29
597
1.096
998
72
1.517
171
110
2.314
686
386
838
1.284
1.454
411
576
650
690
792
156
538
907
0
0
Paleo, Pescetarisch
Fruktosearm, Glutenfrei, Laktosefrei, Sojafrei, Zuckerfrei
Low Carb, Low Salt, Keto, Slow Carb, Omega 3, Gut für Cholesterinspiegel
Fisch
Lachs (Scheiben)
19,5
140
6,6
0,0
0,0
0,0
1,6
2,4
1,8
0,0
0,00
0,00
0,00
2,10
0,00
0,10
0,10
0,60
0,00
0,00
0,00
5,70
0,80
13
68
335
28
52
252
187
195
975
31
24
36
820
1.297
1.261
315
2.042
199
415
2.683
896
536
888
1.397
1.776
546
718
696
976
955
187
629
1.063
0
0
Paleo
Fruktosearm, Glutenfrei, Histaminarm, Laktosefrei, Sojafrei, Zuckerfrei
Low Carb, Low Fat, Low Salt, Keto, Slow Carb
Fisch
Lamm
12,9
92
4,3
0,0
0,0
0,0
1,6
1,2
0,2
0,3
0,00
18,40
0,00
0,40
0,00
0,00
0,30
0,00
0,00
0,00
0,00
3,60
1,10
8
115
458
22
76
420
132
218
1.649
208
75
4
1.805
743
892
191
981
171
408
2.102
825
365
529
968
1.156
212
490
707
549
534
173
312
572
0
Pescetarisch, Vegan, Vegetarisch
Fruktosearm, Histaminarm, Laktosefrei, Sojafrei
Low Fat, Low Sugar, High Carb
Fleisch
Leberwurst
15,7
305
25,5
1,0
0,0
0,0
9,4
11,2
3,2
0,2
0,01
1,90
0,00
0,60
0,00
0,30
1,50
0,40
0,00
0,00
0,00
5,70
2,60
14
1.230
198
19
875
189
146
586
6.788
136
173
3
3.650
779
877
600
1.320
192
979
2.155
811
519
619
1.057
1.169
386
701
769
613
621
158
518
821
0
0
Fruktosearm, Glutenfrei, Laktosefrei, Sojafrei
Low Carb, Low Sugar, Keto, Slow Carb
Fleischwaren & Wurstwaren
Leinöl
0,0
922
98,9
0,0
0,0
0,0
9,5
18,5
66,3
0,0
0,00
0,00
0,00
5,90
0,00
0,00
0,00
0,00
0,00
0,00
0,00
0,00
0,00
1
0
1
1
1
1
0
0
0
0
0
0
0
0
0
37
0
0
38
0
0
0
0
0
0
0
0
0
0
0
0
0
0
0
0
Paleo, Pescetarisch, Vegan, Vegetarisch, Abnehmen, Muskelaufbau
Fruktosearm, Glutenfrei, Histaminarm, Laktosefrei, Sojafrei, Zuckerfrei
Low Carb, High Protein, Keto, Slow Carb, Ballaststoffe, Eisen, Magnesium, Gut für Cholesterinspiegel
Fette & Speiseöle
Leinsamen
26,3
385
29,8
0,0
0,0
35,5
3,1
5,8
19,5
0,0
0,10
0,00
0,00
1,50
0,00
0,20
0,40
0,60
0,00
0,00
0,00
0,80
0,50
241
60
463
388
0
719
167
411
8.847
83
1.294
10
1.649
1.203
2.460
447
2.288
486
1.020
5.215
1.454
474
1.062
1.733
911
527
1.279
933
1.266
904
439
723
1.501
35
1,1
Paleo, Pescetarisch, Vegan, Vegetarisch, Abnehmen
Fruktosearm, Glutenfrei, Histaminarm, Laktosefrei, Sojafrei, Zuckerfrei
Low Carb, High Protein, Keto, Ballaststoffe, Gut für Cholesterinspiegel
Getreideprodukte, Nährmittel, Backwaren
Leinsamenmehl
36,8
257
12,0
0,1
0,0
40,6
35
1,1
Paleo, Pescetarisch, Vegan, Vegetarisch
Glutenfrei, Laktosefrei, Sojafrei
Low Carb, Low Fat, Low Salt, Low Sugar, Keto, Slow Carb, Vitamin C
Getreideprodukte, Nährmittel, Backwaren
Macadamianuss
7,9
797
74,8
0,0
0,0
16,2
11,0
58,3
2,3
0,0
0,00
0,00
0,00
1,40
0,00
0,30
0,10
0,30
0,00
0,00
0,00
1,60
0,70
54
41
276
104
5
196
245
381
1.428
101
5.060
3
1.442
287
843
105
677
836
250
1.622
360
153
229
397
262
90
233
321
330
228
92
275
285
Paleo, Pescetarisch, Vegetarisch
Fruktosearm, Glutenfrei, Histaminarm, Sojafrei, Zuckerfrei
Low Carb, Low Fat, Low Salt, Slow Carb
Nüsse & Samen
Magermilch (bis 0,5% Fett)
4,2
42
0,3
5,7
0,0
0,0
0,1
0,1
0,0
0,0
0,00
1,50
0,00
0,00
0,00
0,00
0,20
0,10
0,00
0,00
0,00
0,10
0,40
152
106
171
16
54
102
30
7
64
11
5
5
428
136
127
66
296
31
169
764
77
101
228
394
284
84
178
365
192
156
53
189
268
30
15
Pescetarisch, Vegetarisch
Fruktosearm, Glutenfrei, Histaminarm, Laktosefrei, Sojafrei
Low Carb, Low Fat, Low Salt, Slow Carb
Milch & Milchprodukte
Magerquark (<10% Fett)
13,6
74
0,2
4,1
0,0
0,0
0,1
0,1
0,0
0,0
0,00
0,70
0,00
0,00
0,00
0,00
0,30
0,10
0,00
0,00
0,00
0,20
0,70
115
111
153
11
43
192
106
16
420
16
7
10
576
394
468
17
770
65
34
2.878
203
416
795
1.392
972
292
602
1.590
681
593
192
615
875
30
15
Pescetarisch, Vegan, Vegetarisch
Glutenfrei, Laktosefrei, Sojafrei
Low Fat, Low Salt, Low Sugar, High Carb, Ballaststoffe, Magnesium, Zink
Milch & Milchprodukte
Makrele
17,7
188
12,5
0,0
0,0
0,0
3,2
5,0
3,0
0,1
0,10
0,40
0,00
1,70
0,00
0,10
0,30
0,40
0,00
0,00
0,00
8,00
0,50
12
150
372
28
94
251
173
158
960
27
37
50
460
1.186
1.170
39
2.014
175
45
2.437
864
898
857
1.531
1.744
501
654
705
809
826
173
599
961
0
0
Pescetarisch
Fruktosearm, Glutenfrei, Laktosefrei, Sojafrei, Zuckerfrei
Low Carb, Keto, Gut für Cholesterinspiegel
Fisch
Makrele (Konserve)
18,2
180
11,4
0,0
0,0
0,0
3,1
4,2
2,8
0,1
0,00
0,20
0,00
0,80
0,00
0,10
0,20
0,20
0,00
0,00
0,00
4,60
0,30
17
1.263
319
28
858
215
175
153
852
28
36
38
445
1.158
992
246
1.817
185
328
2.428
785
836
973
1.362
1.602
532
748
676
879
806
178
601
1.041
0
0
Paleo, Pescetarisch, Vegan, Vegetarisch
Glutenfrei, Laktosefrei, Sojafrei
Low Fat, Low Salt, Low Sugar, Slow Carb, Vitamin C, Antioxidantien
Fisch
Mandelmilch
0,6
15
1,1
0,6
0,0
0,0
0,0
0,7
0,2
0,04
0,00
0,00
2,81
0,00
0,06
0,05
0,02
0,00
0,00
0,00
0,00
0,03
197
0
67
7
71
10
30
350
0
40
0
70
40
150
89
74
24
122
30
2,4
Paleo, Pescetarisch, Vegan, Vegetarisch
Fruktosearm, Glutenfrei, Laktosefrei, Sojafrei, Zuckerfrei
Low Salt, High Fat, Slow Carb, Eisen, Magnesium, Vitamin E, Zink
Getränke
Mandelmus
14,2
663
56,5
19,3
0,0
1,4
4,6
37,4
11,6
0,0
0,00
0,50
0,00
5,30
0,00
0,10
0,60
0,10
0,00
0,00
0,00
2,90
0,30
270
4
735
309
6
423
153
824
3.515
81
1.881
1
2.568
657
1.741
20
1.553
236
17
3.607
791
368
527
960
379
192
745
761
525
452
125
476
807
25
1,9
Paleo, Pescetarisch, Vegan, Vegetarisch
Fruktosearm, Glutenfrei, Laktosefrei, Sojafrei, Zuckerfrei
Low Carb, Low Salt, High Fat, Keto, Slow Carb, Ballaststoffe, Eisen, Magnesium, Vitamin E, Zink
Nüsse & Samen
Mandeln
18,5
619
56,7
3,6
0,0
16,1
4,2
39,4
10,7
0,0
0,00
0,80
0,00
28,20
0,00
0,20
0,60
0,20
0,00
0,00
0,00
4,10
0,60
250
37
835
218
5
441
141
850
3.800
86
1.976
2
2.889
749
2.406
4
1.872
291
45
4.520
1.002
457
683
1.279
540
239
885
907
658
482
141
527
936
15
0,8
Paleo, Pescetarisch, Vegan, Vegetarisch
Fruktosearm, Glutenfrei, Sojafrei
Low Carb, Low Sugar, High Fat, Keto, Slow Carb, Ballaststoffe
Nüsse & Samen
Margarine
0,2
723
77,3
0,4
0,0
0,0
22,0
33,4
18,3
0,0
0,60
0,10
0,00
16,80
0,10
0,00
0,00
0,00
0,00
0,00
0,00
0,00
0,10
9
147
6
14
107
10
13
40
63
9
12
1
173
6
7
4
14
2
12
43
4
5
10
20
16
5
9
17
10
8
3
9
12
0
0
Pescetarisch, Vegan, Vegetarisch
Glutenfrei, Histaminarm, Laktosefrei
Low Carb, Low Salt, Low Sugar, High Fat, Keto, Slow Carb, Vitamin D
Milch & Milchprodukte
Mascarpone
7,6
455
47,0
0,0
0,0
0,0
29,2
15,2
1,6
0,1
0,33
0,00
0,28
1,00
0,01
0,22
0,04
0,03
0,00
0,01
1,27
0,00
68
0
53
0
86
97
0
90
0
29
180
0
1
1
Pescetarisch
Fruktosearm, Glutenfrei, Histaminarm, Laktosefrei, Sojafrei, Zuckerfrei
Low Carb, Keto, Slow Carb, Jod, Gut für Cholesterinspiegel
Milch & Milchprodukte
Matjeshering
19,5
292
22,8
0,0
0,0
0,0
4,9
11,6
4,0
0,1
0,00
0,30
0,00
2,20
0,00
0,00
0,20
0,30
0,00
0,00
0,00
3,80
0,80
40
136
402
38
122
200
216
436
1.365
360
22
60
918
1.428
954
1.126
1.765
184
1.364
2.139
971
486
946
1.500
1.639
491
677
592
699
679
184
669
981
0
0
Pescetarisch
Fruktosearm, Glutenfrei, Laktosefrei, Sojafrei, Zuckerfrei
Low Carb, Keto, Slow Carb, Gut für Cholesterinspiegel
Fisch
Matjeshering (Konserve)
16,9
278
22,4
0,0
0,0
0,0
4,3
11,5
4,4
0,1
0,00
0,20
0,00
1,20
0,00
0,00
0,10
0,20
0,00
0,00
0,00
2,30
0,50
47
1.419
298
33
959
185
176
412
1.105
277
22
45
807
1.407
1.073
37
1.830
180
4
2.243
928
474
942
1.364
1.486
531
718
629
653
773
166
648
1.076
0
0
Pescetarisch, Vegan, Vegetarisch
Fruktosearm, Glutenfrei, Histaminarm, Sojafrei
Low Carb, Low Sugar, High Fat, Slow Carb
Fisch
Meersalz
0,0
0
0,0
0,0
0,0
0,0
0,0
0,0
0,0
0,0
0,00
0,00
0,00
0,00
0,00
0,00
0,00
0,00
0,00
0,00
0,00
0,00
0,00
50
55.800
54
37
34.580
1
21
132
3.090
437
192
2120
70
0
0
13
0
0
18
0
0
0
0
0
0
0
0
0
0
0
0
0
0
0
0
Pescetarisch, Vegan, Vegetarisch
Fruktosearm, Histaminarm, Laktosefrei, Sojafrei
Low Fat, Low Salt, Low Sugar, High Carb
Gewürze & Kräuter
Mineralwasser
0,0
0
0,0
0,0
0,0
0,0
0,0
0,0
0,0
0,0
0,00
0,00
0,00
0,00
0,00
0,00
0,00
0,00
0,00
0,00
0,00
0,00
0,00
37
4
1
12
13
0
1
4
0
20
3
0
7
0
0
20
0
0
1
0
0
0
0
0
0
0
0
0
0
0
0
0
0
0
0
Paleo, Pescetarisch, Vegan, Vegetarisch
Glutenfrei, Histaminarm, Laktosefrei, Sojafrei
Low Fat, Slow Carb
Getränke
Mozzarella
17,7
250
19,1
0,0
0,0
0,0
11,8
5,7
0,5
0,0
0,30
0,00
0,00
0,60
0,00
0,00
0,30
0,10
0,00
0,00
0,00
0,30
0,40
407
707
152
20
535
297
212
48
268
55
21
14
1.547
554
715
37
1.284
102
39
3.822
321
665
891
1.587
1.676
485
857
1.696
1.047
672
242
948
1.011
0
0
Pescetarisch, Vegetarisch
Fruktosearm, Glutenfrei, Histaminarm, Laktosefrei, Sojafrei
Low Carb, Keto, Slow Carb, Calcium
Käse & Käsezubereitungen
Mozzarisella (vegan)
0,7
183
16,0
8,5
0,0
14,0
600
0
0
Paleo, Pescetarisch, Vegan, Vegetarisch, Abnehmen, Muskelaufbau
Fruktosearm, Glutenfrei, Histaminarm, Laktosefrei, Sojafrei
Low Fat, Low Salt, Low Sugar, High Protein, Slow Carb, Ballaststoffe, Eisen, Magnesium, Vitamin B1, Zink
Käse & Käsezubereitungen
Oliven (grün)
1,5
136
13,2
1,8
0,0
2,3
2,0
9,1
1,4
0,0
0,10
0,00
0,00
2,00
0,00
0,00
0,10
0,00
0,00
0,00
0,00
0,50
0,00
95
3.306
45
19
2.100
16
39
263
1.488
31
59
4
149
67
127
27
138
27
63
316
66
39
62
98
55
30
60
59
62
50
22
42
80
15
0,2
Paleo, Pescetarisch, Vegan, Vegetarisch
Glutenfrei, Laktosefrei, Sojafrei, Zuckerfrei
Low Carb, High Fat, Keto, Slow Carb
Gemüse
Oliven (schwarz)
2,2
366
36,2
4,7
0,0
3,6
5,6
25,9
3,1
0,0
0,00
0,00
0,00
0,50
0,00
0,00
0,10
0,00
0,00
0,00
0,00
0,10
0,00
86
3.648
38
15
3.321
30
38
216
1.728
30
48
4
159
108
231
41
230
41
28
480
108
60
109
154
76
48
96
84
106
83
32
74
114
15
0,2
Paleo, Pescetarisch, Vegan, Vegetarisch
Fruktosearm, Glutenfrei, Laktosefrei, Sojafrei, Zuckerfrei
Low Carb, Low Salt, High Fat, Keto, Slow Carb, Vitamin E, Gut für Cholesterinspiegel
Gemüse
Olivenöl
0,0
884
94,7
0,2
0,0
0,0
13,9
67,0
9,3
0,0
0,20
0,00
0,00
11,70
0,00
0,00
0,00
0,00
0,00
0,00
0,00
0,00
0,00
1
105
0
0
1
1
0
64
109
0
0
5
59
0
0
26
0
0
26
0
0
0
0
0
0
0
0
0
0
0
0
0
0
0
0
Paleo, Pescetarisch, Vegan, Vegetarisch
Glutenfrei, Laktosefrei, Sojafrei
Low Carb, Low Fat, Low Salt, Slow Carb, Vitamin C, Gut für Cholesterinspiegel
Fette & Speiseöle
Palmfett
0,0
915
98,1
0,0
0,0
0,0
46,8
36,5
10,2
0,0
0,00
0,00
0,00
9,00
0,00
0,00
0,00
0,00
0,00
0,00
0,00
0,00
0,00
1
1
1
1
1
1
0
1
11
0
1
0
9
0
0
3
0
0
0
0
0
0
0
0
0
0
0
0
0
0
0
0
0
0
0
Paleo, Pescetarisch, Vegan, Vegetarisch
Fruktosearm, Glutenfrei, Histaminarm, Laktosefrei, Sojafrei, Zuckerfrei
Low Carb, Low Salt, High Fat, Keto, Slow Carb, Vitamin E
Fette & Speiseöle
Palmöl
0,0
892
95,7
0,0
0,0
0,0
41,7
39,6
10,1
0,0
0,00
0,00
0,00
10,30
0,00
0,00
0,00
0,00
0,00
0,00
0,00
0,00
0,00
1
1
1
1
1
1
0
1
10
0
1
0
9
0
0
15
0
0
1
0
0
0
0
0
0
0
0
0
0
0
0
0
0
0
0
Paleo, Pescetarisch, Vegan, Vegetarisch
Glutenfrei, Histaminarm, Laktosefrei, Sojafrei
Low Carb, Low Fat, Low Salt, Slow Carb, Vitamin C
Fette & Speiseöle
Pangasius
14,9
77
1,8
0,0
0,0
0,0
0,8
0,8
0,2
0,0
0,00
0,00
0,00
0,32
0,00
0,00
0,17
0,13
0,01
0,00
0,61
0,00
0,00
0
66
240
18
234
151
0
120
0
0
0
0
180
1.310
1.500
720
170
790
0
0
Pescetarisch, Vegan, Vegetarisch
Fruktosearm, Histaminarm, Laktosefrei, Sojafrei, Zuckerfrei
Low Fat, High Carb, Fast Carb
Fisch
Paniermehl
9,6
361
2,1
74,3
0,0
4,9
0,5
0,3
0,8
0,0
0,00
0,00
0,00
0,40
0,00
0,20
0,00
0,10
0,00
0,00
0,00
0,80
0,60
55
721
124
21
436
93
109
122
1.116
56
582
2
891
375
455
38
465
200
27
3.271
474
175
426
650
254
146
493
1.116
551
267
96
297
441
90
64
Paleo, Pescetarisch, Vegan, Vegetarisch
Glutenfrei, Laktosefrei, Sojafrei
Low Carb, Low Fat, Low Salt, Low Sugar, Keto, Vitamin C
Getreideprodukte, Nährmittel, Backwaren
Paranuss
12,9
686
66,4
3,5
0,0
8,1
16,8
23,7
22,9
0,0
0,00
0,70
0,00
7,80
0,00
1,00
0,00
0,10
0,00
0,00
0,00
0,20
0,20
141
58
600
150
2
736
238
1.300
3.672
121
564
0
4.360
499
2.074
44
989
429
39
2.906
625
316
528
946
366
839
557
633
569
371
149
406
665
5
0
Pescetarisch, Abnehmen, Muskelaufbau
Fruktosearm, Glutenfrei, Sojafrei, Zuckerfrei
Low Carb, High Fat, High Protein, Keto, Slow Carb, Calcium, Zink, Gut für Cholesterinspiegel
Nüsse & Samen
Parmesan
35,2
489
37,1
0,0
0,0
0,0
23,0
10,8
1,3
0,1
0,40
0,00
0,00
1,00
0,00
0,00
0,50
0,10
0,00
0,00
0,00
0,20
1,30
1.152
1.853
106
48
1.104
705
245
214
546
158
43
40
3.564
916
970
576
1.863
170
2.138
6.916
466
1.056
1.929
3.155
2.110
713
1.397
3.731
1.680
1.324
458
1.441
2.198
0
0
Pescetarisch, Abnehmen
Fruktosearm, Glutenfrei, Laktosefrei, Sojafrei
Low Carb, Low Sugar, High Protein, Keto, Slow Carb, Calcium, Jod
Käse & Käsezubereitungen
Parmesan (Fettstufe, >40%)
35,3
427
30,4
0,0
0,0
0,0
17,6
9,8
1,1
0,1
0,40
0,00
0,00
1,00
0,00
0,00
0,40
0,10
0,00
0,00
0,00
0,20
1,10
1.164
1.683
98
40
1.224
803
232
188
642
150
40
39
3.564
935
1.121
151
1.806
160
600
7.199
551
1.060
1.909
3.448
2.508
757
1.641
3.999
1.945
1.406
433
1.625
2.075
0
0
Paleo, Pescetarisch, Vegetarisch
Glutenfrei, Laktosefrei, Sojafrei
Low Carb, Low Fat, Low Sugar, Keto, Slow Carb
Käse & Käsezubereitungen
Pesto Basilico (vegan)
1,9
384
39,0
5,2
0,0
2,5
2,4
900
15
2,4
Paleo, Pescetarisch, Vegan, Vegetarisch
Fruktosearm, Glutenfrei, Histaminarm, Laktosefrei, Sojafrei
Low Carb, Low Fat, Low Salt, Low Sugar, Slow Carb, Eisen, Vitamin C
Gemüse
Pfifferlinge
1,5
11
0,5
0,2
0,0
5,3
0,1
0,0
0,2
0,0
0,20
5,90
0,00
0,10
0,00
0,00
0,20
0,00
0,00
0,00
0,00
7,10
2,40
8
32
487
13
3
59
38
416
6.305
47
178
3
696
77
93
75
74
133
104
103
42
31
36
115
39
9
86
80
47
128
53
85
67
15
0,1
Paleo, Pescetarisch, Vegan, Vegetarisch
Fruktosearm, Glutenfrei, Laktosefrei, Sojafrei
Low Carb, Low Fat, Low Salt, Low Sugar, Keto, Slow Carb, Ballaststoffe, Eisen, Magnesium, Zink
Gemüse
Pfifferlinge (Konserve)
1,6
12
0,5
0,2
0,0
5,7
0,1
0,0
0,3
0,0
0,20
1,40
0,00
0,10
0,00
0,00
0,20
0,00
0,00
0,00
0,00
3,70
1,20
15
480
341
14
281
49
34
353
5.907
57
136
5
648
67
85
128
71
121
189
105
38
27
39
114
39
8
87
86
46
121
50
75
63
15
0,1
Paleo, Pescetarisch, Vegan, Vegetarisch
Glutenfrei, Histaminarm, Laktosefrei, Sojafrei
Low Carb, Low Fat, Low Salt, Low Sugar, Slow Carb
Gemüse
Pinienkerne
23,3
599
51,2
6,6
0,0
6,8
6,6
20,4
21,8
0,0
0,00
1,90
0,00
14,10
0,00
0,80
0,20
0,10
0,00
0,00
0,00
3,70
0,20
24
38
552
254
4
495
137
979
9.108
46
4.601
2
4.420
1.297
4.308
5
1.964
400
19
4.000
1.258
533
879
1.714
864
396
906
1.348
974
763
297
882
1.224
15
3,2
Paleo, Pescetarisch, Vegan, Vegetarisch
Fruktosearm, Glutenfrei, Laktosefrei, Sojafrei, Zuckerfrei
Low Salt, High Fat, Slow Carb, Ballaststoffe, Eisen, Magnesium, Vitamin B1, Vitamin E
Nüsse & Samen
Pistazien
16,6
567
48,6
11,4
0,0
10,4
6,8
32,3
6,9
0,0
0,00
6,90
0,00
5,50
0,10
0,70
0,20
0,30
0,00
0,00
0,00
1,50
1,30
142
43
1.030
171
6
495
268
1.097
7.300
110
469
5
883
799
1.771
19
1.526
362
28
3.852
870
392
711
1.384
1.010
324
873
701
979
538
190
503
1.022
15
3,2
Paleo, Pescetarisch, Vegan, Vegetarisch
Glutenfrei, Histaminarm, Laktosefrei, Sojafrei
Low Carb, Low Fat, Low Salt, Slow Carb
Nüsse & Samen
Pute
18,7
217
15,1
0,0
0,0
0,0
5,1
3,9
5,1
0,1
0,00
0,00
0,00
0,50
0,00
0,10
0,20
0,50
0,00
0,00
0,00
10,60
1,10
23
112
300
26
59
240
210
94
1.302
41
36
1
2.000
1.101
1.337
29
1.798
279
16
3.337
969
655
975
1.468
1.649
493
758
964
882
934
216
771
1.058
0
0
Paleo, Abnehmen, Muskelaufbau
Fruktosearm, Glutenfrei, Histaminarm, Laktosefrei, Sojafrei, Zuckerfrei
Low Carb, Low Fat, Low Salt, High Protein, Keto, Slow Carb
Fleisch
Putenbrust
22,9
103
1,1
0,0
0,0
0,0
0,3
0,3
0,3
0,1
0,00
0,00
0,00
0,80
0,00
0,00
0,10
0,40
0,00
0,00
0,00
12,20
0,60
14
109
340
18
48
214
216
133
920
42
29
1
1.854
1.223
1.518
69
2.061
300
118
3.543
1.157
752
1.228
1.898
2.264
608
877
1.161
906
1.032
276
793
1.111
0
0
Paleo, Abnehmen, Muskelaufbau
Fruktosearm, Glutenfrei, Histaminarm, Laktosefrei, Sojafrei, Zuckerfrei
Low Carb, Low Fat, Low Salt, High Protein, Keto, Slow Carb
Fleisch
Putenbrust (Scheiben)
22,9
103
1,1
0,0
0,0
0,0
0,3
0,3
0,3
0,1
0,00
0,00
0,00
0,80
0,00
0,00
0,10
0,40
0,00
0,00
0,00
12,20
0,60
14
109
340
18
48
214
216
133
920
42
29
1
1.854
1.223
1.518
69
2.061
300
118
3.543
1.157
752
1.228
1.898
2.264
608
877
1.161
906
1.032
276
793
1.111
0
0
Paleo
Fruktosearm, Glutenfrei, Histaminarm, Laktosefrei, Sojafrei
Low Fat, Slow Carb
Fleischwaren & Wurstwaren
Quark
12,7
69
0,2
3,8
0,0
0,0
0,1
0,1
0,0
0,0
0,00
0,70
0,00
0,00
0,00
0,00
0,30
0,10
0,00
0,00
0,00
0,20
0,70
128
105
134
10
40
182
105
18
364
17
7
10
588
365
415
21
812
69
13
2.935
227
408
693
1.315
962
302
664
1.560
716
571
167
627
794
30
1,2
Pescetarisch, Vegetarisch
Fruktosearm, Glutenfrei, Histaminarm, Sojafrei, Zuckerfrei
Low Carb, Low Salt, Keto, Slow Carb
Milch & Milchprodukte
Quark (Doppelrahmstufe, 60-87%)
7,0
227
20,2
2,7
0,0
0,0
12,0
6,2
0,8
0,1
0,20
0,00
0,00
0,60
0,20
0,00
0,20
0,00
0,00
0,00
0,00
0,10
0,50
103
108
108
8
37
155
91
13
84
14
6
8
378
194
225
41
475
33
20
1.618
107
214
379
666
581
161
356
774
387
291
85
330
456
30
1,2
Pescetarisch, Vegetarisch
Fruktosearm, Glutenfrei, Histaminarm, Sojafrei, Zuckerfrei
Low Carb, Low Salt, Keto, Slow Carb
Milch & Milchprodukte
Quark (Fettstufe, >40%)
8,4
140
9,9
3,3
0,0
0,0
6,0
2,9
0,3
0,0
0,10
0,00
0,00
0,30
0,00
0,00
0,20
0,10
0,00
0,00
0,00
0,10
0,60
118
112
131
10
38
167
93
14
96
14
6
8
535
243
318
6
513
46
12
1.881
144
279
505
846
635
213
426
932
449
380
112
414
562
0
0
Pescetarisch, Vegetarisch
Fruktosearm, Glutenfrei, Histaminarm, Sojafrei, Zuckerfrei
Low Carb, Low Fat, Low Salt, Keto, Slow Carb
Milch & Milchprodukte
Quark (Halbfettstufe, >20%)
10,7
101
4,5
3,9
0,0
0,0
2,6
1,4
0,2
0,0
0,10
0,60
0,00
0,10
0,00
0,00
0,30
0,10
0,00
0,00
0,00
0,10
0,70
115
118
127
11
43
173
115
16
104
17
6
10
525
283
377
37
704
50
111
2.099
178
310
542
1.057
867
263
487
1.083
573
403
136
452
680
0
0
Pescetarisch, Vegetarisch
Fruktosearm, Glutenfrei, Histaminarm, Laktosefrei, Sojafrei
Low Carb, Low Fat, Low Salt, Low Sugar, Keto, Slow Carb
Milch & Milchprodukte
Quark (Vollfettstufe, >45%)
8,1
162
12,6
2,9
0,0
0,0
8,1
3,4
0,5
0,0
0,10
0,00
0,00
0,40
0,10
0,00
0,30
0,10
0,00
0,00
0,00
0,10
0,60
105
121
122
10
36
176
96
14
95
14
6
10
545
212
256
10
527
39
38
1.706
140
252
450
842
581
214
360
946
407
325
104
368
495
0
0
Pescetarisch, Vegan, Vegetarisch
Fruktosearm, Glutenfrei, Histaminarm, Laktosefrei, Sojafrei
Low Salt, Low Sugar, High Carb, Slow Carb, Magnesium, Vitamin E, Zink
Milch & Milchprodukte
Rapsöl
0,0
865
92,8
0,0
0,0
0,0
8,0
51,8
29,0
0,0
0,60
0,00
0,00
22,40
0,10
0,00
0,00
0,00
0,00
0,00
0,00
0,00
0,00
1
1
1
1
1
1
0
1
91
0
1
0
1
0
0
41
0
0
9
0
0
0
0
0
0
0
0
0
0
0
0
0
0
Pescetarisch, Vegetarisch, Abnehmen, Muskelaufbau
Fruktosearm, Glutenfrei, Histaminarm, Laktosefrei, Sojafrei, Zuckerfrei
Low Carb, High Protein, Keto, Slow Carb, Calcium, Zink
Fette & Speiseöle
Raquelettekäse
24,5
354
27,3
0,0
0,0
0,0
16,0
8,5
1,0
0,1
0,30
0,00
0,00
0,90
0,00
0,00
0,30
0,10
0,00
0,00
0,00
0,10
0,40
705
837
109
32
546
540
228
101
273
109
40
28
4.033
607
682
453
1.169
115
1.715
4.427
327
647
1.409
2.240
1.709
491
1.065
2.522
1.086
1.005
295
1.065
1.487
0
0
Paleo, Pescetarisch, Vegetarisch
Fruktosearm, Glutenfrei, Histaminarm, Laktosefrei, Sojafrei
Low Fat, Low Salt, Low Sugar, High Carb
Käse & Käsezubereitungen
Reispudding
0,6
428
0,5
95,0
0,0
0,3
0,1
0,1
0,3
0,0
0,00
0,00
0,00
0,00
0,00
0,00
0,00
0,00
0,00
0,00
0,00
0,00
0,00
15
470
59
7
317
28
1
131
1.358
0
0
0
0
41
24
8
34
9
25
111
24
17
23
69
15
10
27
57
29
21
4
24
28
85
80,8
Pescetarisch, Vegan, Vegetarisch
Fruktosearm, Glutenfrei, Histaminarm, Laktosefrei, Sojafrei
Low Fat, Low Sugar, High Carb, Fast Carb
Getreideprodukte, Nährmittel, Backwaren
Ricotta (Doppelrahmstufe, 60-87%)
9,7
186
15,6
0,4
0,0
0,0
9,4
4,8
0,6
0,1
0,30
0,00
0,00
0,70
0,00
0,00
0,20
0,00
0,00
0,00
0,00
0,10
0,60
249
1.712
100
14
89
262
185
693
353
96
24
10
1.140
262
308
62
583
49
192
1.807
164
284
549
888
777
223
454
1.046
454
382
133
463
610
1
1
Pescetarisch, Vegetarisch
Fruktosearm, Glutenfrei, Histaminarm, Sojafrei, Zuckerfrei
Low Carb, Low Salt, Keto, Slow Carb
Käse & Käsezubereitungen
Ricotta (Vollfettstufe, >45%)
10,9
166
12,9
0,5
0,0
0,0
7,4
4,3
0,5
0,0
0,30
0,00
0,00
0,70
0,00
0,00
0,20
0,00
0,00
0,00
0,00
0,10
0,60
197
1.664
103
12
77
145
187
658
391
82
25
9
1.125
310
353
10
635
52
34
2.235
171
334
553
1.026
786
282
497
1.288
545
471
145
539
656
1
1
Paleo, Abnehmen, Muskelaufbau
Fruktosearm, Glutenfrei, Histaminarm, Laktosefrei, Sojafrei, Zuckerfrei
Low Carb, Low Salt, High Protein, Keto, Slow Carb, Zink
Käse & Käsezubereitungen
Rind
27,8
219
11,3
0,0
0,0
0,0
5,2
5,0
0,4
0,1
0,00
0,00
0,00
0,50
0,00
0,10
0,20
0,10
0,00
0,00
0,00
3,50
0,50
5
60
183
17
35
175
218
91
2.847
79
22
0
5.740
1.754
1.891
961
2.309
272
1.617
3.888
1.081
908
1.359
2.140
2.140
688
1.084
1.051
941
1.069
281
935
1.400
0
0
Paleo
Fruktosearm, Glutenfrei, Histaminarm, Laktosefrei, Sojafrei, Zuckerfrei
Low Carb, Low Salt, Keto, Slow Carb, Zink
Fleisch
Rind Hackfleisch
20,0
208
13,4
0,4
0,0
0,0
5,4
6,8
0,5
0,1
0,00
0,00
0,00
0,40
0,00
0,20
0,20
0,20
0,00
0,00
0,00
7,00
0,50
6
51
316
20
62
156
180
86
1.939
55
19
0
3.507
1.242
1.163
219
1.774
222
387
3.145
874
615
1.042
1.719
1.830
516
830
838
701
917
207
608
1.198
0
0
Paleo, Abnehmen, Muskelaufbau
Fruktosearm, Glutenfrei, Histaminarm, Laktosefrei, Sojafrei, Zuckerfrei
Low Carb, Low Fat, Low Salt, High Protein, Keto, Slow Carb, Zink
Fleisch
Rinderfilet
21,0
125
4,2
0,0
0,0
0,0
1,9
1,7
0,2
0,1
0,00
0,00
0,00
0,50
0,00
0,10
0,10
0,20
0,00
0,00
0,00
4,50
1,00
3
54
367
21
43
149
181
78
2.507
97
21
0
4.013
1.209
1.433
4
2.195
221
0
3.460
980
743
1.190
1.820
1.846
509
930
808
786
970
238
735
1.136
0
0
Paleo, Abnehmen, Muskelaufbau
Fruktosearm, Glutenfrei, Histaminarm, Laktosefrei, Sojafrei, Zuckerfrei
Low Carb, Low Salt, High Protein, Keto, Slow Carb, Zink
Fleisch
Rindergulasch
20,2
165
8,9
0,0
0,0
0,0
3,8
4,0
0,4
0,1
0,00
0,00
0,00
0,50
0,00
0,10
0,20
0,20
0,00
0,00
0,00
5,00
0,50
4
52
288
19
48
205
190
80
2.238
63
21
0
4.771
1.227
1.159
418
1.843
226
696
3.073
923
620
1.050
1.539
1.639
451
875
819
670
906
206
720
1.128
0
0
Fruktosearm, Glutenfrei, Histaminarm, Laktosefrei, Sojafrei
Low Carb, Low Sugar, Keto, Slow Carb, Zink
Fleisch
Roastbeef
21,3
130
4,6
0,0
0,0
0,0
2,1
1,9
0,2
0,1
0,00
0,00
0,00
0,50
0,00
0,10
0,20
0,20
0,00
0,00
0,00
5,10
0,30
3
100
342
25
58
162
198
74
2.080
65
21
0
4.029
1.462
1.576
38
2.218
259
1
3.520
1.028
763
1.085
1.727
1.877
561
856
948
735
1.077
267
794
1.190
0
0
Pescetarisch
Fruktosearm, Histaminarm, Sojafrei
Low Fat, Low Sugar, Ballaststoffe
Fleisch
Roquefort
20,6
372
30,9
0,0
0,0
0,0
19,8
7,9
1,4
0,1
0,30
0,00
0,00
0,80
0,00
0,00
0,60
0,20
0,00
0,00
0,00
0,80
1,60
609
2.400
100
32
1.664
384
214
115
525
170
62
43
2.400
869
638
34
1.032
101
26
3.820
125
522
1.120
2.098
1.641
515
1.026
1.949
1.653
933
265
898
1.426
1
1
Paleo, Pescetarisch, Vegetarisch
Fruktosearm, Glutenfrei, Histaminarm, Laktosefrei, Sojafrei
Low Carb, Low Fat, Low Salt, Low Sugar, Keto, Slow Carb, Vitamin C
Käse & Käsezubereitungen
Rum (weißer)
0,0
246
0,0
0,0
0,0
0,0
0
0
Abnehmen, Muskelaufbau
Fruktosearm, Glutenfrei, Laktosefrei, Sojafrei
Low Carb, Low Sugar, High Fat, High Protein, Keto, Slow Carb, Vitamin B1
Getränke
Sardelle
18,3
95
2,3
0,0
0,0
0,0
0,8
0,5
0,8
0,0
0,00
0,50
0,00
0,50
0,00
0,10
0,30
0,10
0,00
0,00
0,00
19,20
0,80
80
185
398
44
112
252
218
230
3.348
340
74
28
1.858
1.534
1.054
33
2.030
205
15
2.337
1.018
510
926
1.640
1.932
589
780
648
804
890
207
683
1.006
0
0
Pescetarisch, Abnehmen, Muskelaufbau
Fruktosearm, Glutenfrei, Laktosefrei, Sojafrei, Zuckerfrei
Low Carb, Low Fat, Low Salt, High Protein, Keto, Slow Carb, Zink
Fisch
Sardine
20,8
126
4,5
0,0
0,0
0,0
1,6
1,0
1,5
0,0
0,00
0,40
0,00
0,50
0,00
0,00
0,20
0,90
0,00
0,00
0,00
9,50
0,70
84
175
412
25
104
266
221
156
2.544
375
126
30
3.103
1.397
1.150
1.085
1.921
211
1.328
2.352
971
493
865
1.599
1.780
563
729
638
776
835
210
713
1.142
0
0
Pescetarisch, Abnehmen, Muskelaufbau
Fruktosearm, Glutenfrei, Laktosefrei, Sojafrei, Zuckerfrei
Low Carb, Low Fat, High Protein, Keto, Slow Carb, Zink, Gut für Cholesterinspiegel
Fisch
Sardine (Konserve)
20,7
125
4,4
0,0
0,0
0,0
1,4
0,9
1,6
0,0
0,00
0,30
0,00
0,20
0,00
0,00
0,10
0,50
0,00
0,00
0,00
5,90
0,40
83
1.337
334
23
943
212
178
144
2.017
309
105
29
2.282
1.378
1.145
1.099
1.818
197
1.503
2.488
969
476
900
1.392
1.857
534
758
683
774
738
195
710
1.053
0
0
Paleo, Pescetarisch, Vegetarisch
Fruktosearm, Glutenfrei, Histaminarm, Sojafrei
Low Carb, Low Salt, Low Sugar, Slow Carb, Gut für Cholesterinspiegel
Fisch
Sauerrahmbutter
0,6
765
81,6
0,7
0,0
0,0
49,0
24,8
2,9
0,2
0,60
0,20
0,00
2,10
0,10
0,00
0,00
0,00
0,00
0,00
0,00
0,00
0,00
13
22
15
3
5
22
9
16
92
135
41
4
246
21
21
11
46
5
6
148
14
17
41
59
48
14
34
61
37
26
9
32
40
1
1
Pescetarisch, Vegetarisch
Fruktosearm, Glutenfrei, Histaminarm, Sojafrei, Zuckerfrei
Low Carb, Low Salt, Keto, Slow Carb
Milch & Milchprodukte
Saure Sahne
3,2
123
10,4
3,2
0,0
0,0
6,2
3,3
0,4
0,0
0,10
1,00
0,00
0,30
0,00
0,00
0,20
0,00
0,00
0,00
0,00
0,10
0,40
103
74
139
12
37
85
26
24
98
11
4
11
447
93
108
61
218
24
164
585
59
68
168
316
220
75
142
265
151
121
38
146
202
1
1
Pescetarisch, Vegetarisch
Fruktosearm, Glutenfrei, Histaminarm, Sojafrei
Low Carb, Low Sugar, Keto, Slow Carb
Milch & Milchprodukte
Schafskäse
17,0
263
19,0
0,0
0,0
0,0
12,1
4,7
0,9
0,21
0,00
0,00
0,49
0,03
0,04
0,30
0,10
0,00
0,00
0,03
3,88
0,50
450
1.900
150
25
1.300
360
0
80
650
110
35
25
2.000
0
0
0
0
85
0
0
0
0
0
1.649
1.428
0
0
0
0
748
221
0
1.241
36
2
Pescetarisch, Vegetarisch
Fruktosearm, Glutenfrei, Laktosefrei, Sojafrei
Low Carb, Low Sugar, Keto, Slow Carb, Jod
Käse & Käsezubereitungen
Schafsmilch
6,9
102
5,9
4,6
0,0
0,0
3,8
1,5
0,3
0,0
0,10
4,20
0,00
0,20
0,00
0,10
0,30
0,10
0,00
0,00
0,00
0,50
0,50
175
77
167
17
53
151
33
95
94
20
17
10
500
336
217
24
370
35
27
1.214
42
193
416
713
617
163
329
643
568
317
86
299
475
1
1
Paleo, Pescetarisch, Vegan, Vegetarisch
Fruktosearm, Glutenfrei, Histaminarm, Laktosefrei, Sojafrei
Low Carb, Low Fat, Low Salt, Low Sugar, Keto, Slow Carb
Milch & Milchprodukte
Schellfisch
19,3
84
0,6
0,0
0,0
0,0
0,1
0,1
0,2
0,1
0,00
1,90
0,00
0,40
0,00
0,10
0,10
0,30
0,00
0,00
0,00
2,90
0,20
19
186
277
40
122
174
205
251
659
38
21
236
385
1.680
972
880
1.823
193
1.209
2.506
891
347
859
1.383
1.527
561
722
526
949
762
179
460
903
1
1
Pescetarisch
Fruktosearm, Glutenfrei, Laktosefrei, Sojafrei, Zuckerfrei
Low Carb, Low Fat, Keto, Slow Carb, Jod
Fisch
Schellfisch (Konserve)
17,8
79
0,7
0,0
0,0
0,0
0,1
0,1
0,2
0,1
0,00
1,10
0,00
0,20
0,00
0,10
0,10
0,20
0,00
0,00
0,00
1,90
0,10
22
1.323
238
35
875
151
191
198
517
33
21
204
345
1.543
1.028
638
1.644
190
882
2.272
847
360
900
1.376
1.474
476
619
524
811
736
160
441
900
1
1
Pescetarisch
Fruktosearm, Glutenfrei, Laktosefrei, Sojafrei, Zuckerfrei
Low Carb, Keto, Slow Carb, Jod, Vitamin E
Fisch
Schellfisch (Konserve in Öl)
16,3
157
9,7
0,0
0,0
0,0
1,2
2,0
6,0
0,1
0,00
1,10
0,00
7,50
0,00
0,00
0,10
0,10
0,00
0,00
0,00
1,80
0,10
18
1.317
222
32
868
148
172
184
495
28
22
180
284
1.372
886
658
1.490
162
949
2.150
780
295
745
1.094
1.443
449
568
475
707
681
139
399
839
1
1
Paleo, Abnehmen, Muskelaufbau
Fruktosearm, Glutenfrei, Laktosefrei, Sojafrei, Zuckerfrei
Low Carb, Low Fat, High Protein, Keto, Slow Carb
Fisch
Schinken (Scheiben)
20,1
127
4,4
1,1
0,0
0,0
1,4
2,0
0,4
0,1
0,00
0,00
0,00
0,20
0,00
0,30
0,20
0,20
0,00
0,00
0,00
1,70
0,40
23
2.493
158
23
1.110
116
169
58
1.207
65
69
3
1.777
1.039
1.081
450
1.953
233
775
3.364
942
629
923
1.308
1.574
453
709
867
897
918
206
757
982
1
1
Paleo, Abnehmen, Muskelaufbau
Fruktosearm, Glutenfrei, Laktosefrei, Sojafrei, Zuckerfrei
Low Carb, Low Salt, High Protein, Keto, Slow Carb, Vitamin B1
Fleisch
Schinkenspeck (Scheiben)
20,3
156
7,9
0,0
0,0
0,0
2,5
3,7
0,9
0,1
0,00
0,00
0,00
0,30
0,00
0,90
0,20
0,50
0,00
0,00
0,00
3,20
0,60
2
57
296
22
65
148
186
49
1.223
54
66
1
1.956
1.219
1.210
97
1.791
236
193
3.546
1.087
648
942
1.420
1.748
528
828
904
909
856
233
805
1.098
1
1
Paleo
Fruktosearm, Glutenfrei, Laktosefrei, Sojafrei
Low Carb, Low Sugar, Keto, Slow Carb
Fleischwaren & Wurstwaren
Schlagsahne
2,4
302
30,1
2,9
0,0
0,0
17,7
9,5
1,2
0,1
0,30
1,00
0,00
0,90
0,00
0,00
0,20
0,00
0,00
0,00
0,00
0,10
0,30
80
50
104
8
31
55
22
17
105
10
3
10
349
90
77
21
196
21
27
472
56
58
150
239
183
59
115
230
133
99
33
120
158
34
1
Paleo, Vegetarisch
Fruktosearm, Glutenfrei, Histaminarm, Laktosefrei, Sojafrei
Low Carb, Low Salt, Low Sugar, Keto, Slow Carb
Milch & Milchprodukte
Schmelzkäse
13,6
337
29,8
0,9
0,0
0,0
18,1
9,1
1,0
0,1
0,30
0,00
0,00
0,60
0,00
0,00
0,30
0,10
0,00
0,00
0,00
0,10
0,50
612
882
137
41
1.144
792
270
128
1.116
141
50
36
3.424
335
440
89
793
61
294
2.621
215
352
770
1.304
1.000
292
662
1.525
638
584
184
613
824
1
1
Pescetarisch, Vegetarisch, Abnehmen, Muskelaufbau
Fruktosearm, Glutenfrei, Sojafrei, Zuckerfrei
Low Carb, High Protein, Keto, Slow Carb, Calcium, Zink
Käse & Käsezubereitungen
Schmelzkäse (Halbfettstufe, 20%)
24,8
217
12,0
1,0
0,0
0,0
7,3
3,7
0,4
0,0
0,20
0,00
0,00
0,30
0,00
0,00
0,40
0,10
0,00
0,00
0,00
0,20
1,00
686
800
218
31
1.177
1.284
255
112
981
141
50
37
2.820
671
944
35
1.741
142
5
5.304
449
760
1.473
2.565
1.883
664
1.292
2.825
1.348
1.096
330
1.167
1.669
1
1
Pescetarisch, Vegetarisch
Fruktosearm, Glutenfrei, Sojafrei, Zuckerfrei
Low Carb, High Fat, Keto, Slow Carb, Calcium, Zink
Käse & Käsezubereitungen
Schmelzkäse (Doppelrahmstufe, 60-87%)
13,1
349
31,3
0,8
0,0
0,0
19,9
8,6
1,1
0,1
0,30
0,00
0,00
0,50
0,00
0,00
0,40
0,10
0,00
0,00
0,00
0,10
0,50
552
954
129
45
1.199
768
250
113
1.188
129
48
37
3.008
331
401
24
777
63
87
2.759
192
349
734
1.354
980
328
558
1.324
707
541
186
589
784
1
1
Paleo, Pescetarisch, Vegan, Vegetarisch
Fruktosearm, Glutenfrei, Histaminarm, Laktosefrei, Sojafrei
Low Carb, Low Fat, Low Salt, Low Sugar, Keto, Slow Carb, Vitamin C
Käse & Käsezubereitungen
Schokoladenstreuselflocken
6,3
453
19,1
61,1
0,0
10,3
11,6
6,0
0,7
0,0
0,00
0,00
0,00
0,30
0,00
0,00
0,10
0,00
0,00
0,00
0,00
0,80
0,30
36
11
573
121
5
191
68
1.288
4.370
35
1.024
0
1.752
238
363
688
463
104
1.184
796
196
72
168
310
181
74
228
293
265
205
70
151
287
43
12
Paleo, Pescetarisch, Vegan, Vegetarisch
Glutenfrei, Histaminarm, Laktosefrei, Sojafrei
Low Fat, Low Salt, Slow Carb, Vitamin C
Süßspeisen
Schweinefilet
20,9
105
2,1
0,0
0,0
0,0
0,7
1,0
0,2
0,1
0,00
0,00
0,00
0,40
0,00
0,90
0,20
0,50
0,00
0,00
0,00
4,70
0,80
2
63
364
24
74
167
195
57
1.123
57
82
1
2.020
1.198
1.246
0
2.206
264
28
3.590
1.167
688
951
1.509
1.777
501
818
960
908
968
264
768
1.189
0
0
Paleo, Pescetarisch
Fruktosearm, Glutenfrei, Laktosefrei, Sojafrei, Zuckerfrei
Low Carb, Low Fat, Low Salt, Keto, Slow Carb
Fleisch
Seelachsfilet
22,3
115
2,7
0,0
0,0
0,0
0,8
0,9
1,1
0,00
0,00
0,00
1,30
0,00
0,08
0,48
0,22
0,00
0,00
0,01
3,19
0,00
0
178
394
28
53
229
0
245
156
0
78,1
0
284
1.883
2.215
1.030
260
1.185
0
0
Pescetarisch, Abnehmen
Fruktosearm, Histaminarm, Sojafrei
Low Carb, Low Fat, High Protein, Keto, Slow Carb, Eisen, Gut für Cholesterinspiegel
Fisch
Seitan
28,0
148
2,5
2,0
0,0
0,0
0,3
0,2
0,8
0,00
0,00
0,00
0,00
0,00
0,00
0,00
0,00
0,00
0,00
0,00
0,00
0,00
142
0
0
25
0
0
0
5.200
0
0
0
0
0
0
0
0
0
0
0
0
Pescetarisch, Vegan, Vegetarisch
Fruktosearm, Histaminarm, Laktosefrei, Sojafrei, Zuckerfrei
Low Fat, High Carb
Getreideprodukte, Nährmittel, Backwaren
Semmelbrösel
10,5
373
2,1
76,5
0,0
5,4
0,5
0,3
0,7
0,0
0,00
0,00
0,00
0,40
0,00
0,20
0,10
0,10
0,00
0,00
0,00
0,80
0,60
46
658
122
25
368
95
106
109
1.248
64
594
2
972
361
455
47
465
184
331
3.271
474
200
414
657
251
163
488
1.093
520
311
99
279
441
65
45
Pescetarisch, Vegan, Vegetarisch
Glutenfrei, Laktosefrei, Sojafrei
Low Carb, Low Fat, Low Sugar, Slow Carb, Magnesium
Getreideprodukte, Nährmittel, Backwaren
Sesam
16,8
580
50,7
9,7
0,0
12,0
6,3
19,1
23,0
0,0
0,00
0,00
0,00
2,60
0,00
0,90
0,20
0,50
0,00
0,00
0,10
4,50
1,40
790
11
476
333
43
643
212
1.548
10.100
64
1.597
11
7.153
883
2.366
30
1.416
324
14
3.924
877
433
612
1.178
535
569
833
726
946
713
250
608
911
15
1
Pescetarisch, Vegan, Vegetarisch
Fruktosearm, Glutenfrei, Histaminarm, Laktosefrei, Sojafrei, Zuckerfrei
Low Carb, Low Salt, High Fat, Keto, Slow Carb
Nüsse & Samen
Sesamöl
0,2
995
99,5
0,0
0,0
0,0
13,8
43,1
45,4
0,0
0,00
0,00
0,00
3,20
0,00
0,00
0,10
0,00
0,00
0,00
0,00
0,10
0,00
9
0
20
0
2
0
0
0
105
0
0
0,0
0
9
25
1
15
4
2
45
9
5
7
13
5
5
8
7
10
8
3
7
10
0
0
Pescetarisch, Vegan, Vegetarisch
Fruktosearm, Histaminarm, Laktosefrei, Sojafrei
Low Carb, Low Salt, High Fat, Slow Carb, Ballaststoffe, Calcium, Magnesium, Vitamin B1, Vitamin E
Fette & Speiseöle
Sojabrot
38,6
382
24,0
0,4
0,0
15,5
3,2
4,7
14,4
0,0
0,00
0,00
0,00
1,20
0,10
0,60
0,10
0,50
0,00
0,00
0,00
1,50
0,90
274
7
1.754
269
4
541
203
1.241
10.244
329
2.831
6
4.158
1.387
2.333
1.130
4.493
559
1.694
6.732
1.367
787
1.833
2.926
2.060
571
2.007
1.949
1.724
1.433
410
1.377
1.873
25
0,8
Vegan, Vegetarisch
Fruktosearm, Glutenfrei, Laktosefrei
Low Fat, Low Sugar, Slow Carb
Getreideprodukte, Nährmittel, Backwaren
Sojamilch
15,9
160
10,1
0,2
0,0
7,6
1,5
2,2
5,9
0,0
0,00
0,00
0,00
0,70
0,00
0,40
0,10
0,30
0,00
0,00
0,00
0,80
0,60
96
2
657
92
1
255
91
365
4.094
162
1.129
2
1.777
690
1.085
364
1.759
267
555
2.677
598
333
702
1.261
802
260
798
875
810
593
193
535
725
44
7
Pescetarisch, Vegan, Vegetarisch
Fruktosearm, Glutenfrei, Histaminarm, Laktosefrei, Zuckerfrei
Low Carb, High Fat, Keto, Slow Carb, Vitamin E
Getränke
Sojaöl
0,0
923
99,1
0,0
0,0
0,0
13,2
25,2
56,5
0,0
0,60
0,00
0,00
16,20
0,00
0,00
0,00
0,00
0,00
0,00
0,00
0,00
0,00
0
0
1
0
0
0
0
0
20
0
0
0
204
0
0
23
0
0
11
0
0
0
0
0
0
0
0
0
0
0
0
0
0
0
0
Vegan, Vegetarisch
Fruktosearm, Glutenfrei, Laktosefrei
Low Carb, Low Fat, Low Sugar, Keto, Slow Carb, Eisen, Vitamin B1, Gut für Cholesterinspiegel
Fette & Speiseöle
Sonnenblumenkerne
24,3
601
48,2
12,9
0,0
5,9
5,3
10,1
30,8
0,0
0,00
0,00
0,00
38,50
0,00
1,90
0,20
0,50
0,00
0,00
0,10
3,80
3,40
108
47
710
403
2
674
131
2.338
5.859
82
2.266
13
5.457
920
2.108
426
2.028
461
1.147
5.462
1.337
490
1.178
1.550
817
428
1.140
1.024
900
809
312
540
1.191
35
7
Paleo, Pescetarisch, Vegan, Vegetarisch, Muskelaufbau
Fruktosearm, Glutenfrei, Histaminarm, Laktosefrei, Sojafrei, Zuckerfrei
Low Salt, High Protein, Ballaststoffe, Calcium, Eisen, Magnesium, Vitamin B1, Vitamin E, Zink, Gut für Cholesterinspiegel
Nüsse & Samen
Sonnenblumenkernmehl
40,0
387
10,8
30,4
0,0
9,3
1,3
2,4
6,7
0,0
0,00
0,00
0,00
8,10
0,00
1,50
0,50
1,20
0,00
0,00
0,10
29,00
5,80
378
58
744
370
3
624
105
2.692
6.336
70
1.526
13
4.899
1.579
3.710
881
3.588
717
1.984
8.075
2.363
932
1.686
2.603
1.269
653
1.617
1.838
1.595
1.385
549
916
2.020
35
7
Pescetarisch, Vegan, Vegetarisch
Fruktosearm, Glutenfrei, Laktosefrei, Sojafrei, Zuckerfrei
Low Carb, Low Salt, High Fat, Keto, Vitamin E, Gut für Cholesterinspiegel
Getreideprodukte, Nährmittel, Backwaren
Sonnenblumenöl
0,0
933
100,0
0,0
0,0
0,0
11,2
23,9
60,2
0,0
0,00
0,00
0,00
63,80
0,00
0,00
0,00
0,00
0,00
0,00
0,00
0,00
0,00
1
1
1
1
1
1
0
1
29
0
0
0
0
0
0
18
0
0
14
0
0
0
0
0
0
0
0
0
0
0
0
0
0
0
0
Pescetarisch, Vegan, Vegetarisch
Fruktosearm, Histaminarm, Laktosefrei, Sojafrei
Low Fat, Low Salt, Low Sugar, High Carb, Gut für Cholesterinspiegel
Fette & Speiseöle
Speisesalz
0,0
0
0,0
0,0
0,0
0,0
0,0
0,0
0,0
0,0
0,00
0,00
0,00
0,00
0,00
0,00
0,00
0,00
0,00
0,00
0,00
0,00
0,00
232
62.296
4
118
35.742
140
21
98
107
53
192
20
48
0
0
12
0
0
34
0
0
0
0
0
0
0
0
0
0
0
0
0
0
0
0
Paleo, Pescetarisch, Vegan, Vegetarisch
Fruktosearm, Glutenfrei, Laktosefrei, Sojafrei
Low Carb, Low Fat, Low Salt, Low Sugar, Keto, Eisen, Vitamin C
Gewürze & Kräuter
Sprotte
15,5
215
16,3
0,0
0,0
0,0
4,8
6,9
2,9
0,1
0,10
0,20
0,00
1,60
0,00
0,00
0,30
0,20
0,00
0,00
0,00
3,60
1,10
84
175
273
32
93
196
208
78
1.843
347
28
58
1.575
1.118
1.009
22
1.570
159
17
2.088
845
478
867
1.256
1.381
484
661
538
648
733
164
550
1.002
0
0
Paleo, Pescetarisch, Vegan, Vegetarisch
Fruktosearm, Glutenfrei, Laktosefrei, Sojafrei, Zuckerfrei
Low Carb, Keto, Jod, Gut für Cholesterinspiegel
Fisch
Sprotte (Konserve)
17,0
218
16,0
0,0
0,0
0,0
4,4
6,6
3,3
0,1
0,00
0,10
0,00
0,70
0,00
0,00
0,10
0,10
0,00
0,00
0,00
2,60
0,60
72
1.469
244
28
835
157
157
82
1.551
291
27
46
1.177
1.198
959
570
1.763
153
705
2.184
934
405
760
1.384
1.433
449
672
565
659
622
165
565
825
0
0
Paleo, Pescetarisch, Vegan, Vegetarisch
Fruktosearm, Glutenfrei, Histaminarm, Laktosefrei, Sojafrei
Low Carb, Low Fat, Low Sugar, Keto, Gut für Cholesterinspiegel
Fisch
Stevia Süßstoff
0,0
371
0,0
92,8
0,0
0,0
0,0
0,0
0,0
0,00
0,00
0,00
0,00
0,00
0,00
0,00
0,00
0,00
0,00
0,00
0,00
0,00
0
0
0
0
0
0
0
0
0
0
0
0
0
0
0
0
0
0
0
0
Pescetarisch, Vegan, Vegetarisch, Abnehmen
Glutenfrei, Histaminarm, Laktosefrei, Sojafrei
Low Fat, Low Sugar, High Protein
Süßspeisen
Süße Sahne
2,5
293
29,0
3,0
0,0
0,0
17,5
8,8
1,2
0,1
0,40
1,10
0,00
0,80
0,00
0,00
0,10
0,00
0,00
0,00
0,00
0,10
0,30
86
54
100
9
32
60
22
18
113
10
3
9
291
77
88
22
189
20
35
528
49
60
150
242
169
55
117
219
131
95
34
108
152
35
2
Paleo, Pescetarisch, Vegan, Vegetarisch
Glutenfrei, Histaminarm, Laktosefrei, Sojafrei
Low Fat, Low Salt, Low Sugar, Vitamin C, Vitamin E
Milch & Milchprodukte
Süssrahmbutter
0,7
770
82,0
0,6
0,0
0,0
48,0
26,3
2,8
0,3
0,60
0,20
0,00
2,00
0,10
0,00
0,00
0,00
0,00
0,00
0,00
0,00
0,00
12
21
17
3
5
20
10
16
97
118
42
4
251
21
23
24
51
5
35
148
14
17
36
63
48
15
29
66
37
26
9
29
45
1
1
Pescetarisch, Vegan, Vegetarisch
Fruktosearm, Glutenfrei, Histaminarm, Laktosefrei, Sojafrei, Zuckerfrei
Low Carb, Low Fat, High Salt, Keto
Milch & Milchprodukte
Süssstoff
0,0
0
0,0
0,0
0,0
0,0
0,0
0,0
0,0
0,0
0,00
0,00
0,00
0,00
0,00
0,00
0,00
0,00
0,00
0,00
0,00
0,00
0,00
0
0
0
0
10.925
0
0
0
0
0
0
0
0
0
0
43
0
0
26
0
0
0
0
0
0
0
0
0
0
0
0
0
0
0
0
Paleo, Pescetarisch, Vegan, Vegetarisch
Fruktosearm, Glutenfrei, Laktosefrei, Sojafrei
Low Carb, Low Fat, Low Sugar, Keto
Süßspeisen
Tatar
21,2
114
3,0
0,0
0,0
0,0
1,2
1,3
0,2
0,1
0,00
0,00
0,00
0,50
0,00
0,20
0,30
0,20
0,00
0,00
0,00
8,10
0,60
6
52
392
21
63
188
164
90
2.117
10
21
3
4.333
1.340
1.502
26
1.972
244
34
3.664
876
692
1.091
1.716
1.732
535
947
903
770
999
249
743
1.232
0
0
Pescetarisch
Fruktosearm, Glutenfrei, Histaminarm, Laktosefrei, Sojafrei
Low Carb, Low Sugar, High Fat, Keto, Vitamin B1
Fleisch
Thunfisch
22,4
233
15,2
0,0
0,0
0,0
4,2
4,1
5,5
0,1
0,50
1,00
0,00
1,30
0,00
0,20
0,20
0,60
0,00
0,00
0,00
9,00
0,70
27
127
383
32
35
226
223
86
980
28
15
53
886
1.426
1.248
497
2.323
286
745
3.477
1.007
1.067
972
1.457
1.930
541
703
661
810
965
200
924
1.201
15
5
Paleo, Pescetarisch
Fruktosearm, Glutenfrei, Laktosefrei, Sojafrei, Zuckerfrei
Low Carb, Keto, Vitamin E, Gut für Cholesterinspiegel
Fisch
Thunfisch (Dose in Öl)
18,7
228
16,3
0,0
0,0
0,0
3,2
4,0
8,0
0,1
0,20
0,60
0,00
8,80
0,00
0,10
0,10
0,40
0,00
0,00
0,00
4,90
0,40
29
1.299
359
29
883
190
203
80
842
28
16
40
719
1.219
1.055
20
2.347
245
31
2.707
940
1.005
972
1.477
1.650
515
649
657
861
856
204
861
1.098
0
0
Paleo, Pescetarisch, Abnehmen, Muskelaufbau
Fruktosearm, Glutenfrei, Laktosefrei, Sojafrei
Low Carb, Low Fat, Low Sugar, High Protein, Keto, Gut für Cholesterinspiegel
Fisch
Tilsiter
27,9
374
27,9
0,0
0,0
0,0
17,5
7,8
0,9
0,1
0,30
0,00
0,00
0,80
0,00
0,00
0,40
0,10
0,00
0,00
0,00
0,20
0,50
750
1.428
108
34
788
530
206
103
380
124
37
29
3.724
675
833
392
1.664
101
1.295
5.497
413
617
1.421
2.521
2.131
587
1.186
2.724
1.245
1.056
366
1.381
1.773
1
1
Pescetarisch, Vegetarisch
Fruktosearm, Glutenfrei, Histaminarm, Sojafrei, Zuckerfrei
Low Carb, High Fat, Keto, Calcium, Zink
Käse & Käsezubereitungen
Tilsiter (Doppelrahmstufe, 60-87%)
19,4
442
39,0
0,0
0,0
0,0
24,4
11,1
1,3
0,1
0,40
0,00
0,00
1,10
0,00
0,00
0,30
0,10
0,00
0,00
0,00
0,10
0,40
552
1.417
91
40
927
412
192
94
505
118
41
29
4.200
472
658
108
1.260
75
334
3.892
325
406
959
1.931
1.382
437
857
2.216
1.047
717
267
912
1.125
1
1
Pescetarisch, Vegetarisch, Abnehmen, Muskelaufbau
Fruktosearm, Glutenfrei, Histaminarm, Sojafrei, Zuckerfrei
Low Carb, High Protein, Keto, Calcium, Zink
Käse & Käsezubereitungen
Tilsiter (Fettstufe, >40%)
25,0
311
22,5
0,0
0,0
0,0
14,2
6,3
0,8
0,1
0,30
0,00
0,00
0,70
0,00
0,00
0,40
0,10
0,00
0,00
0,00
0,10
0,50
856
963
100
41
570
511
184
96
428
108
36
31
4.360
697
793
36
1.676
107
115
5.338
377
524
1.164
2.546
1.990
587
1.227
2.541
1.187
976
309
1.327
1.531
1
1
Pescetarisch, Vegetarisch, Abnehmen, Muskelaufbau
Fruktosearm, Glutenfrei, Histaminarm, Sojafrei, Zuckerfrei
Low Carb, High Protein, Keto, Calcium, Zink
Käse & Käsezubereitungen
Tilsiter (Halbfettstufe, >20%)
26,9
200
9,8
0,0
0,0
0,0
5,7
3,1
0,4
0,0
0,10
0,00
0,00
0,20
0,00
0,10
0,30
0,10
0,00
0,00
0,00
0,10
0,90
1.000
1.404
96
40
954
594
186
94
500
125
38
30
3.960
733
906
35
1.774
107
29
6.290
481
699
1.385
2.690
2.302
686
1.388
3.184
1.534
1.125
349
1.505
2.008
1
1
Pescetarisch, Vegetarisch, Abnehmen, Muskelaufbau
Fruktosearm, Glutenfrei, Histaminarm, Sojafrei, Zuckerfrei
Low Carb, Low Fat, High Protein, Keto, Calcium, Zink
Käse & Käsezubereitungen
Tilsiter (Magerstufe, <10%)
30,0
131
1,0
0,0
0,0
0,0
0,6
0,3
0,0
0,0
0,00
0,00
0,00
0,00
0,00
0,00
0,40
0,10
0,00
0,00
0,00
0,10
0,80
1.313
1.326
95
36
918
981
210
98
470
118
43
30
3.840
766
948
0
2.031
136
19
6.065
454
732
1.527
3.201
2.551
747
1.514
3.129
1.671
1.305
422
1.482
1.946
1
1
Pescetarisch, Vegetarisch, Abnehmen, Muskelaufbau
Fruktosearm, Glutenfrei, Histaminarm, Sojafrei, Zuckerfrei
Low Carb, High Protein, Keto, Calcium, Zink
Käse & Käsezubereitungen
Tilsiter (Vollfettstufe, >45%)
23,9
339
25,9
0,0
0,0
0,0
15,3
8,0
0,9
0,1
0,30
0,00
0,00
0,80
0,00
0,10
0,30
0,10
0,00
0,00
0,00
0,20
0,50
705
1.414
97
37
719
530
208
91
364
123
41
31
3.876
710
937
8
1.745
100
29
5.277
434
653
1.314
2.396
1.914
641
1.341
2.781
1.245
981
342
1.420
1.508
1
1
Pescetarisch, Vegetarisch
Fruktosearm, Histaminarm, Laktosefrei, Sojafrei
Low Fat, Low Sugar
Käse & Käsezubereitungen
Tofu
16,7
150
8,5
0,7
0,0
0,7
1,3
1,6
5,1
0,0
0,00
0,00
0,00
0,60
0,00
0,00
0,00
0,20
0,00
0,00
0,00
0,60
0,30
161
10
364
53
7
118
35
22
2.500
12
651
1
213
693
1.046
440
1.823
137
679
2.817
818
316
789
1.137
750
211
797
1.083
878
742
187
542
842
20
5
Paleo, Pescetarisch, Vegan, Vegetarisch
Fruktosearm, Glutenfrei, Laktosefrei, Zuckerfrei
Low Carb, Low Salt, Keto
Gemüse
Tofu (gebröselt)
16,7
150
8,5
0,7
0,0
0,7
1,3
1,6
5,1
0,0
0,00
0,00
0,00
0,60
0,00
0,00
0,00
0,20
0,00
0,00
0,00
0,60
0,30
161
10
364
53
7
118
35
22
2.500
12
651
1
213
693
1.046
440
1.823
137
679
2.817
818
316
789
1.137
750
211
797
1.083
878
742
187
542
842
15
0,3
Paleo, Pescetarisch, Vegan, Vegetarisch
Glutenfrei, Laktosefrei, Sojafrei
Low Carb, Low Fat, Low Salt, Low Sugar, Keto
Gemüse
Trinkwasser
0,0
0
0,0
0,0
0,0
0,0
0,0
0,0
0,0
0,0
0,00
0,00
0,00
0,00
0,00
0,00
0,00
0,00
0,00
0,00
0,00
0,00
0,00
5
2
0
1
1
0
1
36
12
12
2
2
106
0
0
16
0
0
0
0
0
0
0
0
0
0
0
0
0
0
0
0
0
0
0
Paleo, Pescetarisch, Vegan, Vegetarisch, Abnehmen, Muskelaufbau
Fruktosearm, Glutenfrei, Histaminarm, Laktosefrei, Sojafrei
Low Fat, Low Salt, Low Sugar, High Protein, Ballaststoffe, Eisen, Folsäure, Magnesium, Vitamin B1, Zink, Gut für Cholesterinspiegel
Getränke
Vanille
0,0
0
0,0
0,0
0,0
0,0
0,0
0,0
0,0
0,0
0,00
0,00
0,00
0,00
0,00
0,00
0,00
0,00
0,00
0,00
0,00
0,00
0,00
0
0
0
0
0
0
0
0
0
0
0
0
0
0
0
29
0
0
35
0
0
0
0
0
0
0
0
0
0
0
0
0
0
35
2,5
Paleo, Pescetarisch, Vegan, Vegetarisch
Fruktosearm, Glutenfrei, Histaminarm, Laktosefrei, Sojafrei
Low Fat, Low Salt, High Sugar, Ballaststoffe, Calcium, Eisen, Zink
Gewürze & Kräuter
Vanillezucker
0,0
373
0,0
91,8
0,0
0,0
0,0
0,0
0,0
0,0
0,00
0,00
0,00
0,00
0,00
0,00
0,00
0,00
0,00
0,00
0,00
0,00
0,00
1
2
2
0
0
0
0
14
310
0
10
0
20
0
0
1
0
0
5
0
0
0
0
0
0
0
0
0
0
0
0
0
0
70
70
Paleo, Pescetarisch, Vegan, Vegetarisch
Fruktosearm, Glutenfrei, Histaminarm, Laktosefrei, Sojafrei, Zuckerfrei
Low Carb, Low Fat, Keto
Gewürze & Kräuter
Vanillin echt
0,0
0
0,0
0,0
0,0
0,0
0,0
0,0
0,0
0,0
0,00
0,00
0,00
0,00
0,00
0,00
0,00
0,00
0,00
0,00
0,00
0,00
0,00
0
0
0
0
0
0
0
0
0
0
0
0
0
0
0
41
0
0
14
0
0
0
0
0
0
0
0
0
0
0
0
0
0
0
0
Paleo, Pescetarisch, Vegan, Vegetarisch
Fruktosearm, Glutenfrei, Histaminarm, Laktosefrei, Sojafrei, Zuckerfrei
Low Carb, Low Fat, Keto
Getreideprodukte, Nährmittel, Backwaren
Vanillin falsch
0,0
0
0,0
0,0
0,0
0,0
0,0
0,0
0,0
0,0
0,00
0,00
0,00
0,00
0,00
0,00
0,00
0,00
0,00
0,00
0,00
0,00
0,00
0
0
0
0
0
0
0
0
0
0
0
0
0
0
0
17
0
0
16
0
0
0
0
0
0
0
0
0
0
0
0
0
0
0
0
Pescetarisch, Vegan, Vegetarisch
Fruktosearm, Glutenfrei, Histaminarm, Laktosefrei, Sojafrei, Zuckerfrei
Low Fat, High Carb
Getreideprodukte, Nährmittel, Backwaren
Vanillinzucker
0,0
389
0,0
95,8
0,0
0,0
0,0
0,0
0,0
0,0
0,00
0,00
0,00
0,00
0,00
0,00
0,00
0,00
0,00
0,00
0,00
0,00
0,00
1
2
2
0
0
0
0
14
287
0
9
0
18
0
0
5
0
0
6
0
0
0
0
0
0
0
0
0
0
0
0
0
0
70
70
Pescetarisch, Vegan, Vegetarisch
Fruktosearm, Laktosefrei, Sojafrei
Low Salt, High Carb, Ballaststoffe, Eisen, Magnesium, Vitamin B1, Zink
Getreideprodukte, Nährmittel, Backwaren
Vollkornbrot (glutenfrei)
8,0
218
5,6
39,0
0,0
9,8
1,0
1,5
2,4
0,0
0,01
11,50
0,00
1,00
0,00
0,20
0,10
0,20
0,00
0,00
0,00
0,90
0,30
61
13
310
60
4
129
42
230
1.665
37
711
2
1.156
281
337
104
488
71
160
754
240
104
182
347
190
90
210
239
199
172
53
158
246
40
18
Pescetarisch, Vegan, Vegetarisch
Fruktosearm, Histaminarm, Laktosefrei, Sojafrei
Low Fat, Low Salt, Low Sugar, Ballaststoffe, Eisen, Magnesium, Vitamin B1, Zink
Getreideprodukte, Nährmittel, Backwaren
Walnuss
14,3
706
65,2
9,8
0,0
5,5
7,2
14,9
40,0
0,0
0,00
1,10
0,00
6,70
0,00
0,20
0,10
0,50
0,00
0,00
0,00
0,70
0,50
85
19
455
114
2
343
135
857
2.307
563
1.649
3
2.260
656
1.442
478
1.610
195
838
2.820
793
246
467
787
256
163
490
723
740
407
129
419
622
15
3
Paleo, Pescetarisch, Vegan, Vegetarisch
Fruktosearm, Glutenfrei, Histaminarm, Laktosefrei, Sojafrei
Low Fat, Gut für Cholesterinspiegel
Nüsse & Samen
Wasser
0,0
0
0,0
0,0
0,0
0,0
0,0
0,0
0,0
0,0
0,00
0,00
0,00
0,00
0,00
0,00
0,00
0,00
0,00
0,00
0,00
0,00
0,00
8
2
1
1
1
0
2
4
0
40
3
0
6
0
0
13
0
0
12
0
0
0
0
0
0
0
0
0
0
0
0
0
0
0
0
Paleo, Pescetarisch, Vegan, Vegetarisch
Glutenfrei, Histaminarm, Laktosefrei, Sojafrei
Low Carb, Low Fat, Low Salt, Gut für Cholesterinspiegel
Getränke
Weinstein Backpulver
0,2
177
0,1
43,7
0,0
0,0
0
0
Paleo, Pescetarisch, Vegan, Vegetarisch
Glutenfrei, Histaminarm, Laktosefrei, Sojafrei
Low Fat, Low Salt, High Sugar
Getreideprodukte, Nährmittel, Backwaren
Weiße Bohnen
22,2
274
1,5
41,8
0,0
17,2
0,2
0,1
0,9
0,0
0,10
2,60
0,00
0,20
0,20
0,50
0,20
0,40
0,00
0,00
0,10
2,10
0,80
115
51
1.216
137
4
435
179
616
6.725
84
1.567
0
2.819
576
1.316
732
1.882
179
1.459
3.748
700
614
1.300
1.827
1.544
217
1.137
790
1.001
962
204
801
1.163
35
15
Pescetarisch, Vegan, Vegetarisch
Fruktosearm, Glutenfrei, Laktosefrei, Sojafrei
Low Fat, Low Salt, Low Sugar, Vitamin C
Gemüse
Weißlachs
21,7
151
6,7
0,0
0,0
0,0
1,7
2,5
1,7
0,0
0,00
3,20
0,00
0,60
0,00
0,00
0,10
1,10
0,00
0,00
0,00
6,40
1,00
21
61
396
32
52
254
171
204
945
621
14
30
744
1.325
1.254
1.293
1.853
195
1.892
2.713
788
553
879
1.552
1.666
553
779
771
851
941
199
611
1.023
0
0
Paleo, Pescetarisch
Fruktosearm, Glutenfrei, Laktosefrei, Sojafrei, Zuckerfrei
Low Carb, Keto, Gut für Cholesterinspiegel
Fisch
Weißlachs (Konserve)
17,9
134
6,6
0,0
0,0
0,0
1,7
2,4
1,8
0,0
0,00
1,80
0,00
0,30
0,00
0,00
0,00
0,60
0,00
0,00
0,00
3,90
0,60
23
1.293
329
25
924
232
154
166
812
469
17
25
631
1.344
1.129
32
2.057
184
14
2.534
894
534
913
1.545
1.940
550
790
775
911
831
200
615
1.081
0
0
Abnehmen, Muskelaufbau
Fruktosearm, Glutenfrei, Sojafrei
Low Carb, Low Sugar, High Protein, Keto, Vitamin B1, Zink, Gut für Cholesterinspiegel
Fisch
Wels
15,1
165
11,1
0,0
0,0
0,0
2,4
4,9
2,4
0,1
0,00
1,30
0,00
0,50
0,00
0,00
0,00
0,20
0,00
0,00
0,00
1,70
0,90
25
72
292
29
19
165
225
101
546
187
79
4
412
1.018
964
198
1.409
150
318
2.260
619
374
734
1.277
1.324
378
633
587
697
627
156
540
884
0
0
Pescetarisch, Vegan, Vegetarisch
Glutenfrei, Laktosefrei, Sojafrei
Low Carb, Low Fat, Low Salt, Low Sugar, Keto, Gut für Cholesterinspiegel
Fisch
Weißweinessig
0,4
19
0,0
1,0
0,0
0,0
0,0
0,00
0,00
0,00
0,00
0,00
0,00
0,00
0,00
0,00
0,00
0,00
0,00
0,00
15
47
89
22
20
32
40
500
20
250
100
4
4
9
29
1
8
0
0
Pescetarisch, Vegan, Vegetarisch
Fruktosearm, Histaminarm, Laktosefrei, Sojafrei
Low Fat, Low Salt, Low Sugar, High Carb, Zink
Fette & Speiseöle
Weizenmehl
3,3
111
0,4
23,2
0,0
1,3
0,0
0,0
0,2
0,0
0,00
0,00
0,00
0,10
0,00
0,00
0,00
0,00
0,00
0,00
0,00
0,20
0,10
6
20
46
8
1
29
41
72
652
21
192
0
411
109
128
10
147
75
40
1.218
134
68
139
248
60
47
181
398
164
91
35
96
146
85
60,4
Pescetarisch, Vegan, Vegetarisch, Abnehmen
Fruktosearm, Laktosefrei, Sojafrei
Low Fat, Low Salt, Low Sugar, High Carb, Ballaststoffe, Eisen, Magnesium, Vitamin B1
Getreideprodukte, Nährmittel, Backwaren
Weizenstärke
0,0
351
0,1
85,8
0,0
1,2
0,0
0,0
0,0
0,0
0,07
0,00
0,00
0,00
0,00
0,00
0,00
0,00
0,00
0,01
0,00
0
5
16
4
2
20
0
0
0
100
100
Pescetarisch, Vegan, Vegetarisch
Fruktosearm, Histaminarm, Laktosefrei, Sojafrei
Low Fat, Low Sugar, Ballaststoffe, Zink
Getreideprodukte, Nährmittel, Backwaren
Ziegenkäse (ca. 45% Fett)
20,0
275
21,8
0,0
0,0
0,0
13,2
0,1
0,28
0,00
0,00
0,40
0,00
0,05
0,46
0,20
0,00
0,01
0,05
1,20
0,31
700
290
43
1.000
500
70
500
100
30
20
3.000
666
1.252
102
4.222
526
1.172
1.920
1.434
464
930
2.202
1.050
828
262
930
1.272
1
1
Pescetarisch, Vegetarisch
Fruktosearm, Glutenfrei, Histaminarm, Sojafrei, Zuckerfrei
Low Carb, Low Fat, Low Salt, Keto
Milch & Milchprodukte
Ziegenmilch
3,2
72
4,3
4,8
0,0
0,0
2,7
1,2
0,2
0,0
0,10
1,50
0,00
0,10
0,00
0,00
0,20
0,00
0,00
0,00
0,00
0,30
0,30
124
131
185
14
39
113
26
38
72
14
9
4
371
123
110
20
211
65
11
591
56
68
192
269
306
73
146
357
162
189
40
201
217
32
4
Paleo, Pescetarisch, Vegan, Vegetarisch
Fruktosearm, Glutenfrei, Histaminarm, Laktosefrei, Sojafrei
Low Fat, Low Salt, High Sugar, Ballaststoffe, Calcium, Eisen
Milch & Milchprodukte
Zitronensäure
0,0
0
0,0
0,0
0,0
0,0
0,0
0,0
0,0
0,0
0,00
0,00
0,00
0,00
0,00
0,00
0,00
0,00
0,00
0,00
0,00
0,00
0,00
0
0
0
0
0
0
0
0
0
0
0
0
0
0
0
3
0
0
26
0
0
0
0
0
0
0
0
0
0
0
0
0
0
0
0
Paleo, Pescetarisch, Vegan, Vegetarisch
Fruktosearm, Glutenfrei, Histaminarm, Laktosefrei, Sojafrei
Low Carb, Low Fat, Low Salt, Low Sugar, Keto
Fette & Speiseöle
Harzer Käse
30,0
125
0,5
0,1
0,0
0,0
15,8
0,01
0,00
0,00
0,02
0,00
0,03
0,36
0,03
0,00
0,00
0,05
0,00
1,20
300
1.200
106
13
0
260
0
0
0
0
0,01
2
150
2.850
2.250
1.230
390
1.800
0
0
Pescetarisch, Vegetarisch, Abnehmen
Fruktosearm, Glutenfrei, Laktosefrei, Sojafrei
Low Carb, Low Fat, Low Sugar, High Protein, Keto, Slow Carb
Käse & Käsezubereitungen
Currypulver
9,9
319
8,9
49,1
0,0
9,8
2,2
2,4
2,3
2,53
16,33
0,00
0,00
0,00
0,21
0,30
0,12
0,00
0,00
0,02
4,33
0,23
241
3.148
1.862
187
1.984
263
451
29.664
110
6.784
5,3
3.437
96
750
627
370
115
623
0
0
Paleo, Pescetarisch, Vegan, Vegetarisch
Fruktosearm, Glutenfrei, Histaminarm, Laktosefrei, Sojafrei
Slow Carb, Ballaststoffe
Gewürze & Kräuter
Baguette
7,4
267
1,4
55,2
0,1
3,0
0,3
0,3
0,5
0,0
0,00
0,00
0,00
0,40
0,00
0,10
0,10
0,10
0,00
0,00
0,00
0,80
0,10
16
694
109
21
465
81
72
189
1.405
43
526
2
998
224
266
39
358
166
2
2.518
285
138
308
499
165
110
366
810
402
218
77
205
332
70
38,8
Pescetarisch, Vegan, Vegetarisch
Fruktosearm, Histaminarm, Laktosefrei, Sojafrei
Low Fat, Low Sugar
Getreideprodukte, Nährmittel, Backwaren
Basmati-Reis
7,3
342
0,6
75,4
0,1
1,3
0,1
0,2
0,2
0,0
0,00
0,00
0,00
0,20
0,00
0,10
0,00
0,10
0,00
0,00
0,00
1,30
0,60
6
26
106
59
5
122
75
138
570
53
2.180
2
495
443
432
188
604
84
418
1.344
298
109
343
575
250
134
342
366
312
290
63
282
431
58
22
Paleo, Pescetarisch, Vegan, Vegetarisch
Fruktosearm, Glutenfrei, Histaminarm, Laktosefrei, Sojafrei
Low Fat, Low Salt, Low Sugar, High Carb
Gemüse
Bierwurst
13,7
274
23,4
0,2
0,1
0,1
8,7
11,0
2,4
0,0
0,00
21,30
0,00
0,30
0,00
0,30
0,20
0,20
0,00
0,00
0,00
2,70
0,30
13
1.098
202
19
851
116
106
75
1.179
37
53
2
1.920
762
833
277
1.143
144
490
2.020
656
492
637
1.083
1.182
355
564
543
514
637
139
427
775
0
0
Fruktosearm, Glutenfrei, Histaminarm, Laktosefrei, Sojafrei
Low Carb, Low Sugar, Keto, Slow Carb
Fleischwaren & Wurstwaren
Buchweizen
9,3
362
1,7
75,9
0,1
4,0
0,3
0,5
0,5
0,0
0,00
0,00
0,00
0,80
0,00
0,20
0,10
0,60
0,00
0,00
0,00
3,00
1,10
22
13
298
81
2
231
73
864
3.200
172
2.080
0
2.575
461
660
320
767
176
669
1.603
614
184
329
487
504
140
328
377
449
336
133
195
519
40
28
Pescetarisch, Vegan, Vegetarisch
Fruktosearm, Glutenfrei, Laktosefrei, Sojafrei
Low Fat, Low Salt, Low Sugar, High Carb, Slow Carb, Eisen, Zink
Getreideprodukte, Nährmittel, Backwaren
Bulgur
9,5
328
1,0
68,9
0,1
10,3
0,1
0,1
0,5
0,0
0,00
0,00
0,00
0,70
0,00
0,30
0,10
0,40
0,00
0,00
0,00
3,90
1,00
28
21
283
136
5
293
94
554
5.029
53
2.180
0
2.730
340
409
94
410
176
621
2.700
426
185
330
579
238
124
385
934
500
284
92
254
369
55
38
Pescetarisch, Vegan, Vegetarisch
Fruktosearm, Histaminarm, Laktosefrei, Sojafrei
Low Fat, Low Salt, Low Sugar, High Carb, Ballaststoffe, Eisen, Magnesium, Zink
Getreideprodukte, Nährmittel, Backwaren
Champignons (Dose/Glas)
2,6
15
0,2
0,5
0,1
2,0
0,1
0,0
0,1
0,0
0,00
1,10
0,00
0,10
0,00
0,10
0,30
0,00
0,00
0,00
0,00
3,20
1,00
18
510
322
14
309
100
29
348
1.034
43
69
18
490
125
198
327
123
16
523
197
63
48
97
120
163
25
75
136
77
83
22
63
81
Paleo, Pescetarisch, Vegan, Vegetarisch
Fruktosearm, Glutenfrei, Laktosefrei, Sojafrei
Low Carb, Low Fat, Low Sugar, Keto
Gemüse
Endivie
1,9
11
0,2
0,3
0,1
1,2
0,1
0,0
0,1
0,0
0,30
10,20
0,00
1,00
0,20
0,10
0,10
0,00
0,00
0,00
0,00
0,40
0,90
51
77
356
9
57
55
25
47
1.498
68
150
6
337
80
92
177
176
13
228
227
69
27
104
124
88
20
81
94
60
72
18
50
90
15
0,1
Pescetarisch, Vegan, Vegetarisch
Glutenfrei, Histaminarm, Sojafrei
Low Carb, Low Fat, Low Salt, Low Sugar, Keto, Slow Carb
Gemüse
Gemüsebrühe
0,7
22
1,7
1,2
0,1
0,9
0,4
0,2
0,1
0,0
0,12
6,05
0,00
0,25
0,03
0,02
0,04
0,04
0,00
0,00
0,01
0,44
0,17
17
279
95
7
177
20
10
72
400
20
70
4
200
5
32
33
21
6
26
Pescetarisch, Vegan, Vegetarisch
Fruktosearm, Glutenfrei, Histaminarm, Laktosefrei, Sojafrei
Low Carb, Low Fat, Low Sugar, Keto
Gewürze & Kräuter
Hafermehl
15,1
385
7,0
63,5
0,1
5,0
1,4
2,5
2,7
0,0
0,00
0,00
0,00
1,50
0,10
0,60
0,10
0,20
0,00
0,00
0,00
1,00
1,10
52
69
279
130
6
401
170
230
4.410
104
3.441
4
3.267
684
854
320
1.077
336
1.004
3.377
644
283
659
1.016
508
195
777
693
740
428
156
538
786
40
23,3
Pescetarisch, Vegan, Vegetarisch
Fruktosearm, Glutenfrei, Histaminarm, Laktosefrei, Sojafrei
Low Salt, Low Sugar, High Carb, Eisen, Magnesium, Vitamin B1, Zink
Getreideprodukte, Nährmittel, Backwaren
Hirsebrot
7,0
241
1,9
47,9
0,1
3,6
0,5
0,4
0,7
0,0
0,00
0,00
0,00
0,40
0,00
0,20
0,10
0,20
0,00
0,00
0,00
1,60
0,50
21
846
209
61
552
202
59
363
3.210
44
1.717
3
1.598
322
271
34
328
154
208
1.996
230
142
287
589
160
107
313
722
401
218
81
166
296
70
48
Pescetarisch, Vegan, Vegetarisch
Fruktosearm, Histaminarm, Laktosefrei, Sojafrei
Low Fat, Low Sugar, Eisen
Getreideprodukte, Nährmittel, Backwaren
Hirsebrot (glutenfrei)
4,8
260
2,2
54,1
0,1
5,6
0,3
0,5
1,1
0,0
0,00
0,00
0,00
1,00
0,00
0,20
0,10
0,20
0,00
0,00
0,00
1,00
0,30
30
471
145
58
295
130
50
219
2.239
55
872
3
1.665
348
212
122
294
67
354
852
183
98
179
472
143
77
200
354
251
177
53
112
215
48
Pescetarisch, Vegan, Vegetarisch
Fruktosearm, Glutenfrei, Histaminarm, Laktosefrei, Sojafrei
Low Fat, Low Sugar
Getreideprodukte, Nährmittel, Backwaren
Hirsebrötchen
6,7
234
1,9
46,5
0,1
3,6
0,4
0,4
0,7
0,0
0,00
0,00
0,00
0,40
0,00
0,20
0,10
0,20
0,00
0,00
0,00
1,70
0,40
21
924
223
68
505
197
62
421
3.346
50
1.808
3
1.574
343
274
33
324
174
17
2.340
276
146
330
632
181
124
343
801
375
218
87
194
328
70
48
Pescetarisch, Vegan, Vegetarisch
Fruktosearm, Histaminarm, Laktosefrei, Sojafrei
Low Fat, Low Sugar, Eisen
Getreideprodukte, Nährmittel, Backwaren
Knollensellerie
1,9
19
0,3
2,2
0,1
4,5
0,1
0,0
0,1
0,0
0,00
8,60
0,00
0,60
0,10
0,00
0,10
0,20
0,00
0,00
0,00
0,90
0,50
71
153
350
9
80
79
14
124
535
15
149
2
358
54
50
374
318
11
237
201
55
26
54
82
66
15
49
41
55
48
24
21
72
15
3,2
Paleo, Pescetarisch, Vegan, Vegetarisch
Fruktosearm, Glutenfrei, Histaminarm, Laktosefrei, Sojafrei
Low Carb, Low Fat, Low Salt, Low Sugar, Keto, Slow Carb, Vitamin C
Gemüse
Kokosnussdrink
0,3
24
0,4
4,8
0,1
0,0
0,4
0,0
0,0
0,0
0,00
2,10
0,00
0,00
0,00
0,00
0,00
0,00
0,00
0,00
0,00
0,10
0,10
25
193
294
31
46
28
25
240
105
0
384
0
93
13
32
3
25
4
7
55
12
5
13
19
9
4
10
10
13
8
2
7
14
Paleo, Pescetarisch, Vegan, Vegetarisch
Glutenfrei, Histaminarm, Laktosefrei, Sojafrei, Zuckerfrei
Low Carb, Low Salt, High Fat, Keto, Slow Carb
Getränke
Mais
8,2
353
3,8
69,8
0,1
8,8
0,5
1,4
1,4
0,0
0,20
0,00
0,00
2,10
0,00
0,30
0,20
0,40
0,00
0,00
0,00
1,40
0,60
14
12
300
116
6
241
78
206
1.590
59
490
2
2.675
622
382
8
497
136
22
1.712
301
249
316
972
240
156
410
790
389
279
58
299
431
65
14,3
Paleo, Pescetarisch, Vegan, Vegetarisch
Fruktosearm, Glutenfrei, Histaminarm, Laktosefrei, Sojafrei
Low Carb, Low Fat, Low Salt, Slow Carb, Calcium, Eisen
Gemüse
Mehl
10,6
361
1,1
75,9
0,1
4,1
0,1
0,1
0,5
0,0
0,00
0,00
0,00
0,30
0,00
0,10
0,00
0,20
0,00
0,00
0,00
0,70
0,20
15
49
113
20
2
80
106
170
1.400
50
576
0
1.132
282
370
72
408
218
618
3.507
370
181
346
700
203
125
432
1.220
490
262
95
265
420
60,4
Pescetarisch, Vegan, Vegetarisch
Fruktosearm, Glutenfrei, Laktosefrei, Sojafrei
Low Fat, Low Salt, Low Sugar, High Carb, Slow Carb
Getreideprodukte, Nährmittel, Backwaren
Mehrkornvollkornbrot
7,2
209
1,3
41,2
0,1
9,0
0,2
0,2
0,6
0,0
0,00
0,00
0,00
0,90
0,00
0,10
0,10
0,20
0,00
0,00
0,00
1,40
0,50
21
684
275
57
473
252
95
330
3.077
110
2.353
4
2.199
355
316
115
502
113
394
1.727
354
145
250
450
233
105
303
641
318
262
73
174
321
65
32,4
Paleo, Pescetarisch, Vegan, Vegetarisch
Glutenfrei, Histaminarm, Laktosefrei, Sojafrei
Low Carb, Low Fat, Low Salt
Getreideprodukte, Nährmittel, Backwaren
Pumpernickel
6,0
192
1,0
39,1
0,1
8,5
0,1
0,1
0,5
0,0
0,00
0,00
0,00
0,90
0,00
0,10
0,10
0,10
0,00
0,00
0,00
1,30
0,50
20
712
307
56
430
246
95
292
2.688
103
2.310
4
2.385
278
305
7
502
121
14
1.696
339
141
234
417
247
95
258
624
288
236
61
142
289
40
15
Paleo
Fruktosearm, Glutenfrei, Histaminarm, Laktosefrei, Sojafrei, Zuckerfrei
Low Carb, Low Salt, Keto, Slow Carb
Getreideprodukte, Nährmittel, Backwaren
Roggenvollkorn
8,3
276
1,6
56,1
0,1
14,3
0,2
0,2
0,7
0,0
0,00
0,00
0,00
2,10
0,00
0,30
0,20
0,30
0,00
0,00
0,00
1,70
1,60
61
21
551
131
4
385
137
472
5.001
138
4.343
7
4.197
389
463
41
588
147
29
2.168
385
175
353
570
340
136
435
1.097
388
315
90
171
496
34
21
Pescetarisch, Vegan, Vegetarisch
Fruktosearm, Histaminarm, Laktosefrei, Sojafrei
Low Fat, Low Salt, Low Sugar, High Carb, Slow Carb, Ballaststoffe, Eisen, Magnesium, Vitamin B1, Zink
Getreideprodukte, Nährmittel, Backwaren
Roggenvollkornmehl
9,2
303
1,7
61,5
0,1
15,0
0,2
0,2
0,8
0,0
0,00
0,00
0,00
1,80
0,00
0,40
0,20
0,30
0,00
0,00
0,00
2,00
1,50
69
18
469
120
4
328
120
500
4.855
138
4.051
7
4.119
451
445
18
624
156
73
2.494
409
165
343
642
369
122
389
1.035
412
293
96
194
450
34
21
Pescetarisch
Fruktosearm, Glutenfrei, Laktosefrei, Sojafrei
Low Carb, Keto, Slow Carb
Getreideprodukte, Nährmittel, Backwaren
Röstbrotwürfel
10,0
276
1,6
54,4
0,1
4,3
0,2
0,2
0,7
0,0
0,00
0,00
0,00
0,60
0,00
0,20
0,10
0,10
0,00
0,00
0,00
2,70
0,40
115
1.050
118
25
598
103
102
163
1.768
98
465
6
570
304
303
109
379
221
872
3.043
354
160
339
612
173
138
477
1.078
465
254
95
261
407
75
40
Paleo, Pescetarisch, Vegan, Vegetarisch
Fruktosearm, Glutenfrei, Histaminarm, Laktosefrei, Sojafrei
Low Fat, Low Salt, High Sugar, Slow Carb, Folsäure
Getreideprodukte, Nährmittel, Backwaren
Shirataki-Nudeln
1,1
12
0,1
0,1
0,1
3,6
0,0
99
0
0
Pescetarisch, Vegan, Vegetarisch
Fruktosearm, Glutenfrei, Laktosefrei
Low Carb, Low Salt, Low Sugar, Slow Carb, Vitamin B1, Vitamin C
Getreideprodukte, Nährmittel, Backwaren
Sojabrötchen
9,1
256
2,7
47,7
0,1
4,3
0,5
0,6
1,3
0,0
0,00
0,00
0,00
0,40
0,00
0,10
0,10
0,10
0,00
0,00
0,00
0,80
0,20
30
633
212
37
442
108
75
227
1.713
66
603
2
1.174
320
417
1
560
178
22
2.654
373
188
352
612
293
133
485
1.011
519
269
93
277
374
25
0,8
Paleo, Vegan, Vegetarisch
Fruktosearm, Glutenfrei, Histaminarm, Laktosefrei
Low Salt, High Protein, Slow Carb, Ballaststoffe
Getreideprodukte, Nährmittel, Backwaren
Vollkornbrot
6,9
188
1,0
37,2
0,1
9,0
0,1
0,1
0,4
0,0
0,00
0,00
0,00
1,00
0,00
0,10
0,10
0,20
0,00
0,00
0,00
1,40
0,50
21
726
264
61
404
218
91
295
2.555
104
2.150
4
2.337
302
278
112
507
116
393
1.779
313
148
232
421
235
92
286
631
294
217
67
159
292
40
18
Pescetarisch, Vegan, Vegetarisch
Fruktosearm, Glutenfrei, Histaminarm, Laktosefrei, Sojafrei, Zuckerfrei
Low Salt, Ballaststoffe
Getreideprodukte, Nährmittel, Backwaren
Vollkornmehl
11,9
292
2,3
54,8
0,1
9,8
0,3
0,3
1,1
0,0
0,00
0,00
0,00
1,40
0,00
0,50
0,20
0,40
0,00
0,00
0,00
5,20
1,20
30
38
327
134
3
331
133
687
3.230
92
3.038
2
3.570
435
528
45
598
210
276
3.701
557
210
445
718
308
157
488
1.366
547
308
105
325
539
40
18
Paleo, Pescetarisch, Vegan, Vegetarisch
Fruktosearm, Glutenfrei, Laktosefrei, Sojafrei, Zuckerfrei
Low Carb, Low Salt, High Fat, Magnesium, Vitamin E, Zink
Getreideprodukte, Nährmittel, Backwaren
Weißwein (11% vol.)
0,0
72
0,0
0,1
0,1
0,0
0,0
0,0
0,0
0,0
0,00
0,00
0,00
0,00
0,00
0,00
0,02
0,00
0,00
0,10
0,03
9
4
80
10
5
14
300
10
0
0
0
Pescetarisch, Vegan, Vegetarisch
Glutenfrei, Laktosefrei, Sojafrei
Low Carb, Low Fat, Low Salt, Low Sugar, Keto, Folsäure
Getränke
Weißwein (12,5% vol.)
0,0
72
0,0
0,1
0,1
0,0
0,0
0,0
0,0
0,0
0,00
0,00
0,00
0,00
0,00
0,01
0,02
0,10
0,00
0,10
0,02
10
5
95
10
2
15
600
10
0
0
0
Pescetarisch, Vegan, Vegetarisch
Glutenfrei, Laktosefrei, Sojafrei, Zuckerfrei
Low Carb, Low Fat, Low Salt, Keto
Getränke
Weizen Griess
8,7
342
0,8
73,7
0,1
7,2
0,1
0,1
0,3
0,0
0,00
0,00
0,00
0,70
0,00
0,10
0,00
0,10
0,00
0,00
0,00
1,40
0,50
15
90
106
32
1
90
142
155
1.030
64
636
0
3.366
332
409
12
445
206
36
2.634
449
177
347
660
281
146
431
1.145
488
291
95
296
413
60
44
Pescetarisch, Vegan, Vegetarisch
Fruktosearm, Histaminarm, Laktosefrei, Sojafrei
Low Fat, Low Salt, Low Sugar, High Carb, Zink
Getreideprodukte, Nährmittel, Backwaren
Weizen Griessmehl
8,9
346
0,8
74,4
0,1
7,5
0,1
0,1
0,4
0,0
0,00
0,00
0,00
0,80
0,00
0,10
0,00
0,10
0,00
0,00
0,00
1,40
0,50
19
94
111
27
1
85
139
155
1.010
55
594
0
3.498
287
345
24
402
202
24
3.160
368
160
381
716
169
139
427
1.201
522
276
87
229
394
60
44
Pescetarisch, Vegan, Vegetarisch
Fruktosearm, Histaminarm, Laktosefrei, Sojafrei
Low Fat, Low Sugar
Getreideprodukte, Nährmittel, Backwaren
Weizenbrot
6,9
233
1,3
47,6
0,1
2,8
0,3
0,3
0,4
0,0
0,00
0,00
0,00
0,30
0,00
0,10
0,10
0,10
0,00
0,00
0,00
0,70
0,20
15
680
103
19
389
69
73
161
1.145
41
456
2
859
247
235
17
327
156
111
2.137
281
124
270
473
146
109
340
819
356
191
66
185
321
70
38,8
Pescetarisch, Vegan, Vegetarisch
Fruktosearm, Histaminarm, Laktosefrei, Sojafrei
Low Fat, Low Sugar
Getreideprodukte, Nährmittel, Backwaren
Weizenfladenbrot
7,7
225
1,3
44,7
0,1
3,1
0,3
0,3
0,4
0,0
0,00