Going to a restaurant or having a business dinner? These simple tips will help you avoid fat traps when eating out
Author:
Till Ebener
· Proofreader:  · Updated: · 3 min read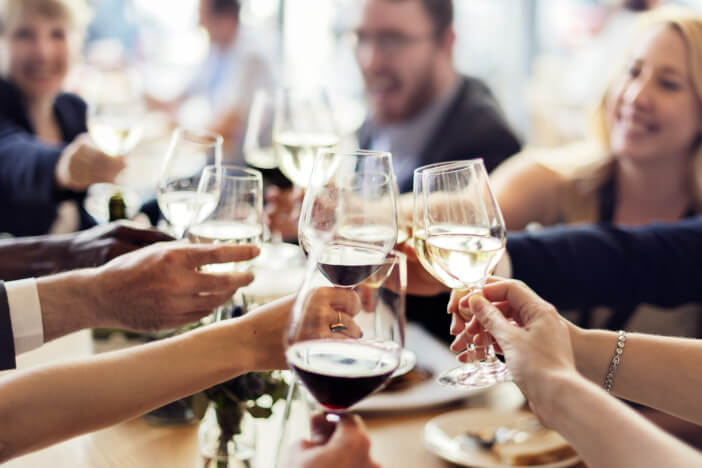 Slimming despite business meals
Have you finally managed to shed those unwanted kilos? (Calculate your optimal weight easily with our BMI-calculator.) Or do you finally want to put your six-pack plans into practice and are highly motivated to stick to your diet? But then an anniversary comes along, or a celebration, or you are invited out to dinner with your colleagues. There always seems to be a reason to eat out in a restaurant. How does this fit into your dietary plan? How do you avoid the fat traps of restaurants and manage to get through a restaurant visit or a business dinner without deviating from a healthy diet? We show you how you can continue to lose weight whilst still being able to eat at restaurants.
The right choice of restaurant
It may happen that the restaurant has already been selected, in which case you can skip this point and go on to the next. However, if you are able to help choose the restaurant, try to find one that offers healthy and balanced meals. Pizza and pasta, for example, are high in carbohydrates, but good Italian restaurants also offer salads and steaks. You can find more restaurants that we recommend in our restaurant guide. If you want to visit a restaurant that won't sabotage your diet, you should avoid all-you-can-eat buffets, as the risk of eating too much is very high. Don't keep eating once you are full.
Exercise before or after the business dinner
Especially if you do not have a say in the choice of restaurant, try to exercise before eating if possible. If you train before eating, you empty the glycogen stores in your body, and the food then replenishes these stores and does not end up directly in your fat reserves. If you can't manage to go to the gym before eating, it is best to train the following morning so that you can use the energy of the food right away.
Drink plenty of water
Order a bottle of water right at the beginning and drink it throughout the meal. It quenches thirst immediately and has no calories. Water also fills the stomach and ensures that you don't order one beer or wine after another. Keep topping your glass up with water and drink from it regularly.
Alcohol at business meals
Of course, it would be healthiest to skip alcohol completely, but in restaurants and with company, many want to drink something. Here you should also pay attention to the right choice of alcoholic drinks, a dry red or white wine is a good option here. Compared to beer or mixed drinks, dry wine has significantly less sugar and therefore fewer calories, which makes it less detrimental to weight loss. In addition, you tend to drink a wine more slowly and with more pleasure.
The starter in the restaurant
Skip the bread and dips with the starter if you are serious about losing weight. Order a salad or soup instead. Both starters have the advantage of being low in calories but are also very filling. The salad is satiating due to the high amount of fibre, but pay attention to the dressing and choose vinegar and oil dressings or balsamic dressings instead of yoghurt dressings. A soup is also filling due to the high amount of liquid. In comparison, bread is full of carbohydrates and white bread has little fibre. In addition, we usually eat more bread than we intend to before the main course is served.
The main course in the restaurant
Take a good look at the dishes on the menu. The safest option is a dish that contains a lot of vegetables and is low in carbohydrates, so don't choose a dish with a lot of rice or pasta. The dish you choose in a restaurant should be a source of protein such as fish, poultry or beef, and make sure it doesn't come with a fatty sauce. If you are vegetarian or vegan, the best choice is a vegetable pan or a high protein dish with beans, tofu or seitan. Always pay attention to the sauces. It may be possible to have the sauce served on the side, so you can determine yourself how much sauce to add to the dish. If you managed to go to the gym before eating out, you can treat yourself to a few more carbohydrates.
The dessert in the restaurant
Avoid the calorie bombs like cake or soufflé for dessert. Fresh fruit is a wonderful dessert. Fruit plates are rich in vitamins and will satisfy a sweet tooth. However, if you are already full after the main course, you can order an espresso instead of dessert.
Exercise after a business dinner
Try to avoid falling straight into bed after dinner. Get some exercise instead. This could be the walk home or a short walk around the block. This will make your sleep much more restful and you will burn a few calories.
Losing weight despite going to restaurants and having an office job
If you follow the above tips, a meal in a restaurant or a business dinner need not become a problem for your weight loss plans. Choose a salad or soup as a starter, a lean protein source and lots of vegetables for the main course and an espresso or fruit for dessert. Always drink plenty of water during the meal, or a dry wine. Do some exercise before the meal or the next morning and get some exercise by going for a walk directly after eating.
Your diet plan for losing weight
Restaurant visits are of course a nice change, but it is much easier to lose weight if you prepare your own meals. A nutrition plan is very helpful if you want to make the leap to healthy eating and your dream figure. With the help of Upfit you can create your own individual diet plan for losing weight. Both diets and intolerances are taken into account. Now create your own tailor-made diet plan to lose weight.